Diabetic angiopathy and angiogenic defects
Fibrogenesis & Tissue Repair
2012
5:13
Received: 6 May 2012
Accepted: 12 July 2012
Published: 1 August 2012
Abstract
Diabetes is one of the most serious health problems in the world. A major complication of diabetes is blood vessel disease, termed angiopathy, which is characterized by abnormal angiogenesis. In this review, we focus on angiogenesis abnormalities in diabetic complications and discuss its benefits and drawbacks as a therapeutic target for diabetic vascular complications. Additionally, we discuss glucose metabolism defects that are associated with abnormal angiogenesis in atypical diabetic complications such as cancer.
Keywords
DiabetesComplicationAngiogenesisVEGF
Review
The epidemic of obesity-associated type 2 diabetes has prompted the need for strategies to prevent and treat diabetic complications [1]. In diabetes, diverse sets of organs are damaged. Such organ damage is certainly fundamentally associated with glucose metabolism defects. Therefore, normalizing blood glucose levels is essential for diabetic therapy [2–4]. However, recent evidence suggests that normalization of blood glucose levels is challenging in diabetes, and such intensive therapies in diabetic patients are associated with increased mortality risk, likely associated with frequent hypoglycemia [5]. To this end, patients enrolled in the intensive therapy group of the ACCORD trial, which employed intensive blood glucose lowering strategies aimed to normalize blood sugar levels, exhibited increased mortality [5]. Therefore, to prevent diabetic complications, additional therapeutic strategies are required in addition to those that target blood glucose normalization.
Angiopathy is a term for vascular defects that are associated with angiogenic abnormalities [6]. Understanding the precise molecular mechanisms that lead to diabetic angiopathy is essential for designing new therapeutic strategies to treat diabetic complications. In this review, we focus on diabetic vascular defects and abnormal angiogenesis.
Conclusion
In diabetes, the VEGF response likely depends on the cell type and organ (Figure 
3
). Additionally, hypoxic responses and the induction of the master hypoxia transcription factor, HIF-1α, depends on the cell type [
13
,
14
]. Altered angiogenesis is a well-defined pathogenesis of diabetic angiopathy, although to therapeutically target angiogenesis defects, further research to identify tissue, organ, and disease-specific molecules is necessary.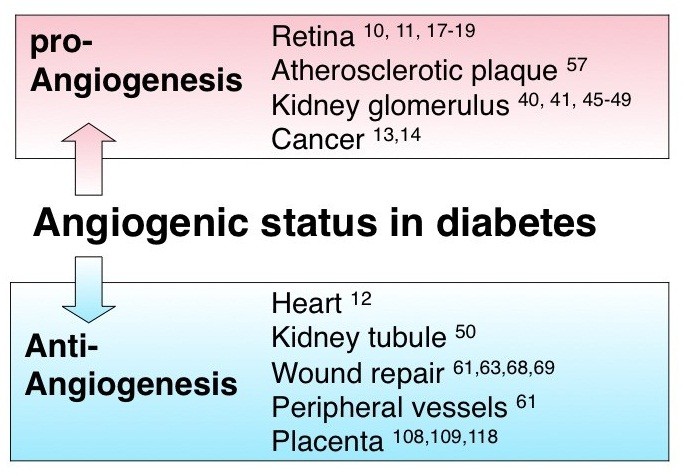 Abbreviations
ACCORD:

Action to Control Cardiovascular Risk in Diabetes
eNOS:

Endothelial Nitric Oxide Synthase
EPC:

Endothelial progenitor cells
HIF-1α:

Hypoxia inducible factor-1α
IGF:

Like growth factor
sFlt1:

Soluble fms-like tyrosine kinase-1 (same as VEGF type1 receptor)
VEGF:

Vascular endothelial growth factor.
Declarations
Acknowledgments
KK, DK, and MK are supported by grants from the Japan Society for the Promotion of Science and several foundation grants. LX was supported by the foreign scholar grants from Kanazawa Medical University.
Authors' Affiliations
(1)
Division of Diabetology & Endocrinology, Kanazawa Medical University, Uchinada, Japan
(2)
Division of Diabetology & Endocrinology, The Affiliated Hospital of Luzhou Medical College, Luzhou, Peoples' Republic of China
Copyright
© Xu et al.; licensee BioMed Central Ltd. 2012
This article is published under license to BioMed Central Ltd. This is an Open Access article distributed under the terms of the Creative Commons Attribution License (http://creativecommons.org/licenses/by/2.0), which permits unrestricted use, distribution, and reproduction in any medium, provided the original work is properly cited.