Endothelial progenitor cells and integrins: adhesive needs
Fibrogenesis & Tissue Repair
2012
5:4
Received: 14 December 2011
Accepted: 12 March 2012
Published: 12 March 2012
Abstract
In the last decade there have been multiple studies concerning the contribution of endothelial progenitor cells (EPCs) to new vessel formation in different physiological and pathological settings. The process by which EPCs contribute to new vessel formation in adults is termed postnatal vasculogenesis and occurs via four inter-related steps. They must respond to chemoattractant signals and mobilize from the bone marrow to the peripheral blood; home in on sites of new vessel formation; invade and migrate at the same sites; and differentiate into mature endothelial cells (ECs) and/or regulate pre-existing ECs via paracrine or juxtacrine signals. During these four steps, EPCs interact with different physiological compartments, namely bone marrow, peripheral blood, blood vessels and homing tissues. The success of each step depends on the ability of EPCs to interact, adapt and respond to multiple molecular cues. The present review summarizes the interactions between integrins expressed by EPCs and their ligands: extracellular matrix components and cell surface proteins present at sites of postnatal vasculogenesis. The data summarized here indicate that integrins represent a major molecular determinant of EPC function, with different integrin subunits regulating different steps of EPC biology. Specifically, integrin α4β1 is a key regulator of EPC retention and/or mobilization from the bone marrow, while integrins α5β1, α6β1, αvβ3 and αvβ5 are major determinants of EPC homing, invasion, differentiation and paracrine factor production. β2 integrins are the major regulators of EPC transendothelial migration. The relevance of integrins in EPC biology is also demonstrated by many studies that use extracellular matrix-based scaffolds as a clinical tool to improve the vasculogenic functions of EPCs. We propose that targeted and tissue-specific manipulation of EPC integrin-mediated interactions may be crucial to further improve the usage of this cell population as a relevant clinical agent.
Keywords
Vascular Endothelial Growth FactorEndothelial Progenitor CellIntegrin SubunitEndothelial DifferentiationVascular Endothelial Growth Inhibitor
Conclusions
There has been great interest in manipulating EPCs for neovascularization purposes, namely in the context of tissue regeneration and vascular repair. As is certainly clear from the abundant body of literature cited in this review, integrins play a crucial role in modulating several aspects of EPC biology and function (Figure
2
). Therefore, although there has been some success in using EPCs as therapeutic agents (as shown by recent clinical trials), we suggest that targeted and tissue-specific manipulation of EPC-integrin interactions may be crucial to further improve the usage of this cell population as a relevant clinical agent.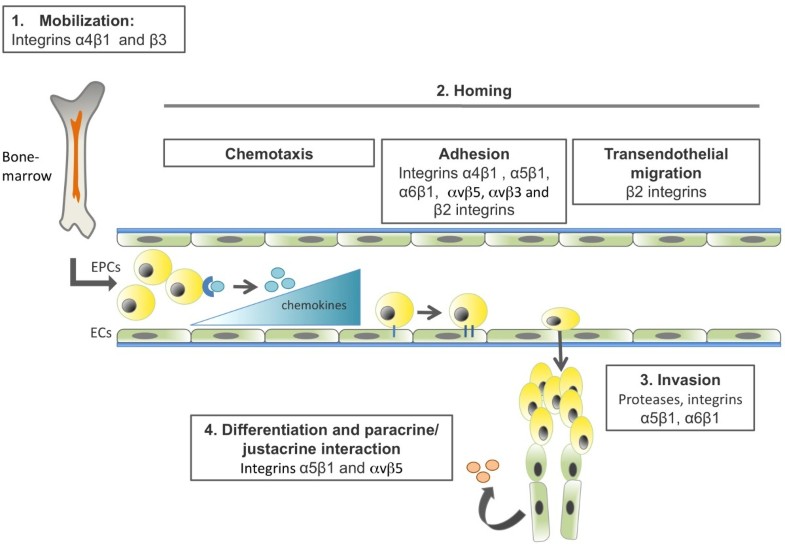 Abbreviations
Akt:

protein kinase B
BM:

bone marrow
CD:

cluster of differentiation
CXCR4:

CXC chemokine receptor type 4
EC:

endothelial cell
ECM:

extracellular matrix
EPC:

endothelial progenitor cell
FN:

fibronectin
FbnE:

fibrin proteolytic fragment E
ICAM-1/2:

inter-cellular adhesion molecule 1/2
IL:

interleukin
MCP-1:

monocyte chemotactic protein 1
MMP:

matrix metalloproteinase
PB:

peripheral blood
PHSRN:

proline-histidine-serine-arginine-aspartine motif
RGD:

arginine-glycine-aspartate motif
SDF-1:

stromal derived factor 1
VCAM-1:

vascular cell adhesion 1
VEGF:

vascular endothelial growth factor
VEGFR:

vascular endothelial growth factor receptor
vWF:

von Willebrand factor.
Authors' Affiliations
(1)
Angiogenesis Laboratory, CIPM, Instituto Português de Oncologia Francisco Gentil, EPE, Lisboa, Portugal
(2)
Instituto Gulbenkian Ciencia, Oeiras, Portugal
(3)
CEDOC, Faculdade de Ciências Médicas, Lisbon, Portugal
Copyright
© Caiado and Dias; licensee BioMed Central Ltd. 2012
This article is published under license to BioMed Central Ltd. This is an Open Access article distributed under the terms of the Creative Commons Attribution License (http://creativecommons.org/licenses/by/2.0), which permits unrestricted use, distribution, and reproduction in any medium, provided the original work is properly cited.