Cell-matrix interactions in dermal repair and scarring
Fibrogenesis & Tissue Repair
2010
3:4
Received: 7 September 2009
Accepted: 11 March 2010
Published: 11 March 2010
Abstract
Regulation of cellular functions during dermal repair following injury is complex and critically dependent on the interaction of cells with the surrounding extracellular matrix (ECM). The ECM comprises various families of macromolecules that form the structural scaffold of the tissue, but also carry distinct biological activities. After injury to the skin, the defect is filled by a provisional matrix that is invaded by inflammatory cells, sprouting blood vessels and fibroblasts. In a later phase, the wound contracts, the tissue is replaced by mature connective tissue produced by activated fibroblasts, and a scar is formed. All cells involved communicate directly with the ECM by integrins and other matrix receptors. These transmit signals and induce adaptive responses to the environment by the embedded cells. The ECM or proteolytic fragments of individual ECM constituents exert defined biological activities influencing cell survival, differentiation of myofibroblasts, ECM synthesis and turnover, wound angiogenesis and scar remodeling. Extensive crosstalk exists between ECM and growth factors, and between growth factors and integrins. ECM-cell contact also enables direct transmission of mechanical tension, which then modulates many activities of all cellular players. Understanding this complex interplay is important to provide a basis for designing effective wound therapy and for strategic interference with mechanisms that have gone out of control in fibrotic conditions.
Keywords
Vascular Endothelial Growth FactorEpidermal Growth Factor ReceptorDiscoidin Domain ReceptorMechanical TensionMatricellular Protein
Review
The functioning of cells is critically dependent on their interaction with the surrounding extracellular matrix (ECM) [1]. These cells include not only fibroblasts, osteoblasts and chondrocytes but also endothelial, inflammatory, epithelial and smooth muscle cells. The direct interaction of these cells with the ECM is mediated by specific cellular receptors, which bind the ECM components, but they can also involve other cell surface glycoproteins that indirectly mediate the contact with structural components of the ECM. Cell-ECM interactions further enable the transmission of mechanical forces, which are generated in all tissues. The cellular activities controlled by this interaction are required for normal development, but they are also crucially involved in several physiological and pathological processes, in particular wound healing, scarring and fibrosis. In this review, the individual players orchestrating the cellular response after tissue injury to the skin are discussed.
The extracellular matrix
Research over the past 20 years has increased our understanding of the composition of the ECM structures, and identified and characterized distinct families of matrix proteins (Appendix 1). These protein families include several subfamilies of collagenous proteins, adhesive glycoproteins, proteoglycans and matricellular proteins. A common denominator is their composition from a limited number of structural domains. It is important to note that these individual domains carry biological activities, modulate the activity of growth factors and cytokines, and harbor recognition sites for the interaction with specific cell membrane receptors [2, 3]. ECM proteins form the structural scaffold of all tissues. They interact closely with each other, thereby constructing large networks with structural and non-structural components. In addition, they have many more specialized functions that regulate cellular behavior either by direct cell-ECM interaction or by the modulation of growth factor activities [4]. Synthesis, deposition and remodeling of ECM proteins are essential for the restoration of damaged tissue during the early and late phases of wound healing.
The extracellular matrix and growth factors
Many ECM constituents actively modify the activity of growth factors and cytokines and some act as a reservoir from which growth factors can be rapidly released if required (Table
1
). The ECM can also protect growth factors from degradation [
40
,
41
].
Table 1
Growth factors binding to the extracellular matrix
basic fibroblast growth factor

(FGF-2)

heparan sulfate proteoglycan

transforming growth factor β

(TGF-β)

decorin, thrombospondin-1

vascular endothelial growth factor

(VEGF)

heparan sulfate proteoglycan

platelet derived growth factor

(PDGF)

heparan sulfate proteoglycan
Probably the best example is the binding of FGF-2 to the heparan sulfate proteoglycan, perlecan. This binding promotes FGF receptor activation and ultimately downstream signaling, which supports mitogenesis and angiogenesis [42]. Other examples are the inactivation of TGF-β by binding to decorin [43], and the activation of TGF-β by binding to thrombospondin-1 [44]. VEGF also binds to heparin or proteoglycan binding domains within various ECM molecules, and release of VEGF by plasmin or heparanase triggers endothelial cell proliferation [45]. Further enhanced endothelial cell proliferation is achieved by VEGF binding to the heparin II domain in fibronectin if the same fibronectin molecule is bound to the endothelial cell via integrin α5β1. This example highlights a novel mechanism implicating the ECM in bringing a signaling integrin receptor and a growth factor receptor in close apposition to facilitate angiogenesis [46].
These modifications in the availability and activity of growth factors and cytokines by defined constituents of the ECM contribute to the versatile response of cells to a changing environment. This interaction is most obvious in situations in which large amounts of active cytokines are required, such as in wound healing and tissue remodeling. However, ECM modulation is equally important in situations when cellular activities must be turned down to reduce tissue damage and scarring, as in late stages of tissue repair or after inflammatory processes.
Within the past few years, a new class of ligands, the matrikines and matricryptins, has been characterized as subdomains of various ECM proteins, which can signal to cells through receptors such as growth factor receptors [47]. The EGF-like repeats in tenascin-C and laminin are examples of matrikines. At these sites they bind to EGF receptors, thereby enhancing cell motility [47, 48]. In the case of laminin 332, this activity appears to occur only after cleavage by matrix metalloproteinases (MMPs) [49]. During wound healing, tenascin-C and laminin 332 are expressed by keratinocytes at the leading edge, correlating temporally with keratinocyte migration and MMP-2 expression. Based on this, binding of the released laminin fragment to the epidermal growth factor receptor (EGFR) is believed to provide pro-migratory tracks within the edges of the healing wound for migrating and proliferating keratinocytes, whereas binding of tenascin-C may enhance migration and de-adhesion of cells [4, 50]. Decorin, which acts as a suppressor of cellular proliferation, is another EGFR binding matrikine. Binding results in decreased EGFR levels and suppression of EGFR autophosphorylation [51]. Hence, during wound repair, matrikine signaling from decorin could function as a quiescence signal eliciting decreased migration, proliferation and ECM synthesis by fibroblasts after the wound has reached a mature state [50].
In summary, the individual domains of the ECM can interfere with growth factor signaling either by direct interaction with growth factor receptors or indirectly by controlling the availability and activity of growth factors and cytokines. This versatility of ECM components in regulating cellular activities is further expanded by close cooperation between growth factor signaling and integrin-mediated cell-matrix interactions and mechanical tension (discussed in detail below).
Integrins and cell-matrix interactions
Although many receptors for ECM proteins have been identified, the integrin family probably constitutes the most abundant receptors mediating the interaction of cells with their surrounding ECM. Integrins have a relatively restricted, cell type-specific and context-dependent expression with defined substrate specificity. Ligands bind to the extracellular domains of integrins, and integrin cytoplasmic tails connect via linker proteins to the cytoskeleton. Integrins mediate cell adhesion, migration and survival, and also specific differentiation programs relevant to development, tissue maintenance and repair. By virtue of linking the outside environment with the cellular inside, they transduce signals and mechanical tension bidirectionally from the outside in and the inside out [52, 53].
Integrin function is closely connected with integrin conformation [
54
]. Usually, integrins are expressed at the cell surface in an inactive form. Signals arising from the cytoskeleton (inside-out signaling) modulate integrin conformation. Talin and kindlin were recently described as key linker proteins responsible for integrin activation [
55
,
56
]. Activation results in increased affinity for ECM molecules and clustering into focal adhesions [
57
,
58
] with rapid tyrosine phosphorylation of specific substrates and an increase in the concentration of lipid second messengers. This is then followed by cytoskeletal rearrangements, modulation of Rho GTPase activity, and reorganization of actin binding proteins, affecting virtually all cellular functions [
59
] (Figure
1
).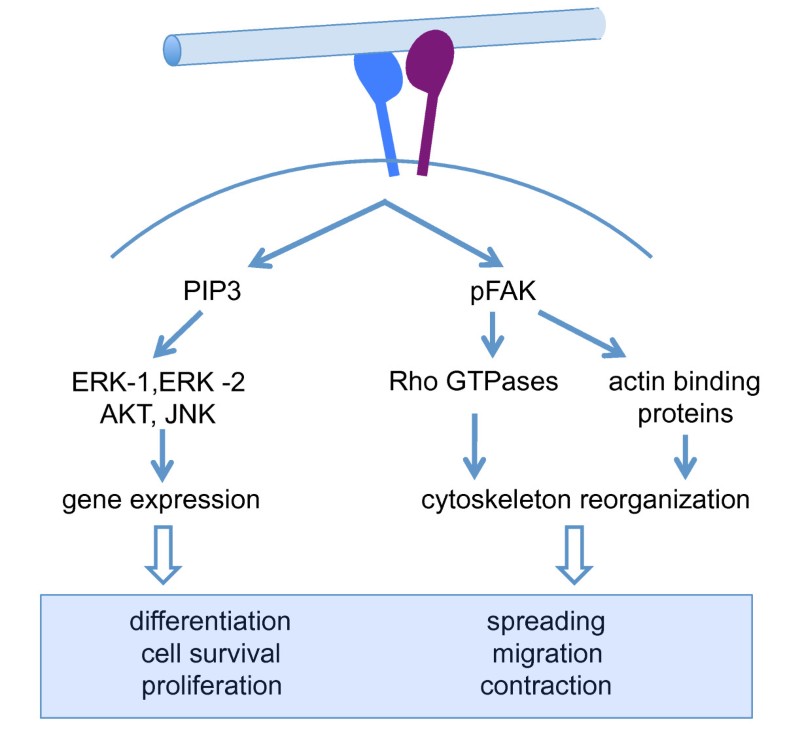 Integrin expression and activity can be further modulated by other transmembrane proteins such as tetraspanins or cell surface heparan sulfate proteoglycans. Most of these are expressed in a cell type-specific manner in different phases of skin repair and scarring [60].
Activation of integrins, transmission of mechanical tension originating from tissue remodeling, and the regulated activity of growth factors play crucial roles in controlling cellular activities during dermal repair, scarring and fibrosis. Activation of TGF-β by αv integrins is a good example of such interplay. Binding of latent TGF-β to integrin αvβ6, which is abundantly expressed by keratinocytes in wound epithelium and in chronic wounds [61], induces a conformational change in the latent complex, resulting in unmasking of the mature TGF-β moiety, presentation to TGF-β receptors on adjacent cells, and induction of TGF-β signaling in a strictly locally confined manner [62, 63]. By contrast, integrin αγβ8 binding to the same site in the latent TGF-β complex is independent of cell-cell contact and instead presents the latent complex to membrane-bound MMPs that reside in close vicinity to the integrin in the same cell. Proteolytic activation of the latent complex releases freely diffusible mature TGF-β that is active at distant sites [64].
Angiogenesis can be controlled by the crosstalk between αvβ3 and FGF that results in modulation of FGF signaling [65, 66], and by the stable interaction between integrin α5β1 and Tie-2 tyrosine kinase receptor that regulates endothelial cell response to angiopoietin-1 [67].
The mechanisms by which integrins modify cellular responses to growth factors can involve direct regulation of transcriptional programs, complex activation mechanisms or various signaling cascades. The data available also clearly demonstrate a close link between the ECM, the cytoskeleton and growth factor/cytokine release, and the cellular response. Obviously, most experiments have been based on monolayer culture systems, and only limited information is available on how cells interact with the ECM in a complex three-dimensional system such as the dermis. In those situations, the cellular architecture is modified and mechanical tension is generated, which modulates integrin functions and the cellular response to growth factors.
Regulation of fibroblast activation
Although there is increasing evidence that in certain specialized tissues, epithelial cells participate in fibrosis and scarring, in most tissues fibroblasts are the main effector cells for the production and deposition of new and sometimes excessive ECM. Fibroblasts were among the first cells grown in culture dishes, but specific markers are still lacking and their differentiation is only incompletely understood. They are generally defined by their morphology and by a characteristic pattern of gene expression. In tissue repair, they synthesize most ECM molecules and produce proteases required for the remodeling in later phases. Fibroblasts also secrete numerous growth factors and cytokines that act on other cell types thereby modulating tissue repair and scarring [68, 69].
After tissue damage and the initial inflammatory reaction, fibroblasts are modulated from quiescent cells to migratory, proliferating and biosynthetically active cells. It is well established that they can be transformed into myofibroblasts, the contractile activated cell type, which is mainly responsible for scar contraction and excessive ECM deposition [68]. The finely tuned balance between the activated and quiescent fibroblast subpopulations seems to determine scar quality.
Transmission of signals
The precise mechanisms by which different cell types transmit mechanical signals are not fully understood. They might involve stretch-activated ion channels, direct interactions between structural and signaling components, or activation of small GTPases [90].
As outlined above, many cooperative interactions exist between integrins and growth factor signaling. In particular, fibroblast to myofibroblast conversion and α-SMA expression crucially depend on a combination of mechanical tension and TGF-β [81]. Thus in scarring, generation of tension can induce myofibroblast formation, causing a self-perpetuating loop. A similar autocrine loop is discussed for the induction of collagen synthesis in fibroblasts by mechanical tension. In this case, TGF-β is induced by tension, which in turn activates collagen synthesis via the classic pathways [91]. In addition, fibronectin is induced by the application of cyclic strain to fibroblasts. In parallel, many proteases are downregulated, whereas protease inhibitors are upregulated. Extensive work has concentrated on tenascin-C, which is found in tissues with high tensile stress [35]. Detailed analysis using several in vitro systems has demonstrated that tenascin-C expression is strongly upregulated at the transcriptional level by mechanical stress, involving specific cis-acting elements in the tenascin-C promoter [92, 93].
These data clearly demonstrate that mechanical tension, which is generated during wound contraction, scar formation and in fibrotic tissue, can modulate the gene expression of fibroblasts and myofibroblasts embedded into this tissue at different molecular levels. Tension directly modifies gene transcription, induces signaling from integrins affecting small GTPases or induces/inhibits growth factor signaling, which then indirectly affects ECM protein synthesis by fibroblasts/myofibroblasts. By a combination of these mechanisms, mechanical tension induces an activated, contractile fibroblast/myofibroblast phenotype characterized by high levels of synthesis of ECM proteins, low protease activity and high production of fibrogenic cytokines.
Conclusions and perspectives
Interaction of cells with the surrounding ECM is an important modulator of all cellular activities (Figure
3
). Tight control is required, particularly to ensure homeostatic conditions during development, tissue repair and in fibrotic situations, in which cellular activities are either turned on or downregulated. Crosstalk with the surrounding ECM is essential for the function of all cells, and in the context of scarring and fibrosis it is probably most crucial for fibroblasts and myofibroblasts.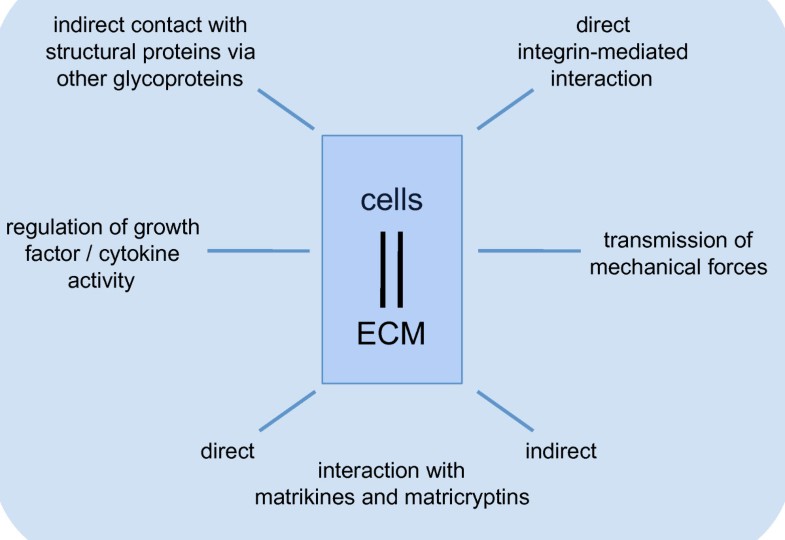 The interaction of these cells with different ECM constituents is mediated by several integrins that signal bidirectionally and transmit mechanical forces that are generated during pathological situations. Cell-ECM interactions mediated by integrins are closely linked to growth factor signaling and to complex modulation of the cellular cytoskeleton. This complex interplay controls the specific gene expression program at any given time. Detailed insight into the roles of different ECM proteins, the function of integrins, their modulation by forces, and their interplay with growth factors will help us to understand the orchestration of tissue architecture and the processes underlying excessive scarring and fibrosis.
Appendices
Appendix 1: Composition of the extracellular matrix in skin
Structural proteins: collagens, elastin, fibrillins, fibulins

Adhesive glycoproteins: fibronectin, vitronectin, matrilins, laminins

Proteoglycans: perlecan, syndecans, versican, decorin, biglycan, lumican

Matricellular proteins: thrombospondins, tenascins, SPARC/BM-40/osteonectin
Appendix 2: The collagen subfamilies
Fibril-forming collagens (I, II, III)

Fibril-associated collagens with interrupted helices (IX, XII, XIV, XX, XXI, XVI)

Hexagonal network-forming collagens (VIII)

Basement membrane-associated collagens (IV, VII, XVII, XVIII)

Beaded-filament forming collagens (VI)

Transmembrane collagens (XIII, XVII, XXIII, XXV)

Multiplexins (XV, XVIII)
Declarations
Acknowledgements
We thank all members of the Department of Dermatology at the University of Cologne and of the SFB 829 for continued stimulating and critical discussion. Our work is funded by the DFG through SFB 829 at the University of Cologne and the grant KR558/14.
Authors' Affiliations
(1)
Department of Dermatology, University of Cologne, Cologne, Germany
Copyright
© Eckes et al; licensee BioMed Central Ltd. 2010
This article is published under license to BioMed Central Ltd. This is an Open Access article distributed under the terms of the Creative Commons Attribution License (http://creativecommons.org/licenses/by/2.0), which permits unrestricted use, distribution, and reproduction in any medium, provided the original work is properly cited.