Experimental liver fibrosis research: update on animal models, legal issues and translational aspects
Fibrogenesis & Tissue Repair
2013
6:19
Received: 9 August 2013
Accepted: 11 September 2013
Published: 1 October 2013
Abstract
Liver fibrosis is defined as excessive extracellular matrix deposition and is based on complex interactions between matrix-producing hepatic stellate cells and an abundance of liver-resident and infiltrating cells. Investigation of these processes requires in vitro and in vivo experimental work in animals. However, the use of animals in translational research will be increasingly challenged, at least in countries of the European Union, because of the adoption of new animal welfare rules in 2013. These rules will create an urgent need for optimized standard operating procedures regarding animal experimentation and improved international communication in the liver fibrosis community. This review gives an update on current animal models, techniques and underlying pathomechanisms with the aim of fostering a critical discussion of the limitations and potential of up-to-date animal experimentation. We discuss potential complications in experimental liver fibrosis and provide examples of how the findings of studies in which these models are used can be translated to human disease and therapy. In this review, we want to motivate the international community to design more standardized animal models which might help to address the legally requested replacement, refinement and reduction of animals in fibrosis research.
Keywords
Animal modelsAnimal welfareCholestasisCirrhosisEU-Directive 2010/63FibrosisHepatic stellate cellsHepatocellular carcinomaLiver immunologyTranslational medicine
Review
Current concepts in liver fibrosis research
Fibrosis and cirrhosis are both strictly defined pathological entities that were broadly defined by pathologists and hepatologists several decades ago[
1
,
2
].
Cirrhosis
is a diffuse process characterised by fibrosis and the conversion of normal liver architecture into structurally abnormal nodules that affect the whole organ[
1
].
Fibrosis
is defined as the presence of excess collagen due to new fibre formation that causes only minor clinical symptoms or disturbance of liver cell function[
1
]. However, disease-associated abnormalities, including portal hypertension, might be caused by fibrosis alone, depending on its location within the liver[
1
]. Although hepatic fibrosis in humans can be caused by various stimuli (congenital, metabolic, inflammatory, parasitic, vascular, toxins or drugs), the molecular mechanisms underlying fibrosis are basically the same[
3
]. Following liver injury of any kind, a defined program of molecular changes occurs that is highly orchestrated at the cellular and molecular levels[
4
]. This process is characterized mainly by cellular activation of hepatic stellate cells (HSCs) which acquire a myofibroblast (MFB) phenotype and are able to express and deposit large quantities of extracellular matrix (ECM) components within the liver[
5
,
6
]. If the insult is temporarily, these changes are transient and liver fibrosis may resolve. If the injury is sustained, however, chronic inflammation and accumulation of the ECM persist, leading to progressive substitution of normal liver parenchyma by scar tissue. In this scenario, the pool of matrix-producing cells is further enlarged by other precursors of MFBs that are recruited from portal fibroblasts and circulating bone marrow–derived, fibroblast-like cells, termed
fibrocytes
. These cells are attracted by soluble mediators within the injured organ, and all contribute to the massive ECM within the affected organ (Figure
1
). As a consequence, the composition of the ECM in the injured tissue is altered in regard to quantity and quality from the physiological matrix[
4
]. In the pathogenesis of chronic liver disease, ECM homeostasis is further disturbed by an unbalanced activity of matrix metalloproteinases (MMPs) and their tissue inhibitors (TIMPs). MMPs represent a large family of zinc- and calcium-dependent enzymes that are responsible for the degradation of ECM proteins. Activated HSCs and MFBs have been identified as prominent cellular sources of MMPs and TIMPs[
7
]. The combination of various MMPs and TIMPs depends on the disease phases and results at later stages of liver injury in an expression pattern in which MFBs express a combination of MMPs that have the ability to degrade normal liver matrix while inhibiting degradation of the fibrillar collagens that accumulate in liver fibrosis[
8
].

Moreover, investigators have shown that epithelial cells (that is, hepatocytes, cholangiocytes or other hepatic progenitors) can transition into mesenchymal cells in a process termed epithelial-to-mesenchymal transition (EMT)[9]. Although the hypotheses regarding the underlying mechanisms of this process are presently controversial[10–12], the mechanisms might reflect clear differences in cellular behaviour in vitro and in vivo[13]. Although this exciting discussion of EMT is ongoing, a recent study proposed that mesothelial cells also have the potential to transition into mesenchymal fibrogenic cells via a mechanism called mesothelial-to-mesenchymal transition (MMT)[14]. Although this concept is extremely challenging and adds a good explanation of the occurrence of cellular heterogeneity, deeper insights into the precise mechanisms leading to MMT are mandatory to estimate their impact on hepatic fibrogenesis. Diseased organs that undergo fibrogenesis are marked by the simultaneous existence of inflammation, apoptosis, necrosis, pyroptosis and wound-healing. Fibrogenesis results in clinical symptoms, changes in physical features of the liver and release of biomarkers that are directly or indirectly linked to the inflammatory or fibrotic activity within the liver (Figure 1).
Experimental studies that were conducted in isolated primary hepatic cells and experimental animal models led to the identification of general pathogenetic mediators––signalling pathways that are involved in the fibrogenic response. Aberrant activity of transforming growth factor β1 (TGF-β1) or members of the platelet-derived growth factor family are the most prominent drivers of cellular activation and transdifferentiation of HSCs into MFBs[4]. In addition, several chemokines that are released by diverse infiltrating cell populations modulate the inflammatory reaction and contribute to the progression of HSC activation and the fibrotic insult[15], demonstrating the complexity of the disease process. Some of the temporal sequences of molecular events associated with HSC activation can be appropriately reproduced in primary HSC cultures or even in immortalized cell lines[16]. Cell lines are prone to genotypic and phenotypic drift at high passage numbers, however, and are definitely not suitable for mimicking the complex cellular dynamics of HSCs in primary culture. On the basis of this fact, it is obvious that all experimental findings have to be critically evaluated in suitable models that reflect the pathogenetic mechanisms of human hepatic disorders before they can be translated into routine clinical treatments. Therefore, meaningful findings with biological relevance can only be determined in primary cells or, even better, in the in vivo context with acceptance of an ethical framework.
In fibrosis research, experimental work in rodents is presently the gold standard to confirm a proposed disease-associated mechanism and specialized protocols that should closely mimic one or the other clinical situation (Figure
2
). Moreover, readout systems for liver insults are similar, and sometimes even identical, in humans and animals and include blood tests, biopsy and noninvasive imaging techniques. However, the findings obtained by using these methods may vary between different laboratories and are influenced by the institutional or country-specific stipulations under which respective experiments are performed. Therefore, a Gold Standard Publication Checklist (GSPC) for animal studies was recently proposed that should reduce the number of animals used, lead to more reliable outcomes of animal studies, improve the overall quality of scientific papers based on animal experimentation and follow the idea of evidence-based medicine in science[
17
]. In addition, it is self-evident that more precise international standards and guidelines that would reduce the overall experimental variation and increase the methodological quality of animal research would further contribute to refinement and reduction of animal experimentation and better translate the findings observed in respective models to the clinic. These intentions were started in 1959, when Russell and Burch proposed an ethical framework for conducting scientific experiments with animals that is based primarily on the replacement, refinement and reduction (3R) principle[
18
]. This ethical framework has been the subject of intensive debate in which viewpoints shifted significantly during the 20th century[
19
–
21
]. As a consequence of all these debates, all member states of the European Union (EU), for example, have to implement EU-Directive 2010/63 regarding the protection of animals used for scientific purposes in 2013.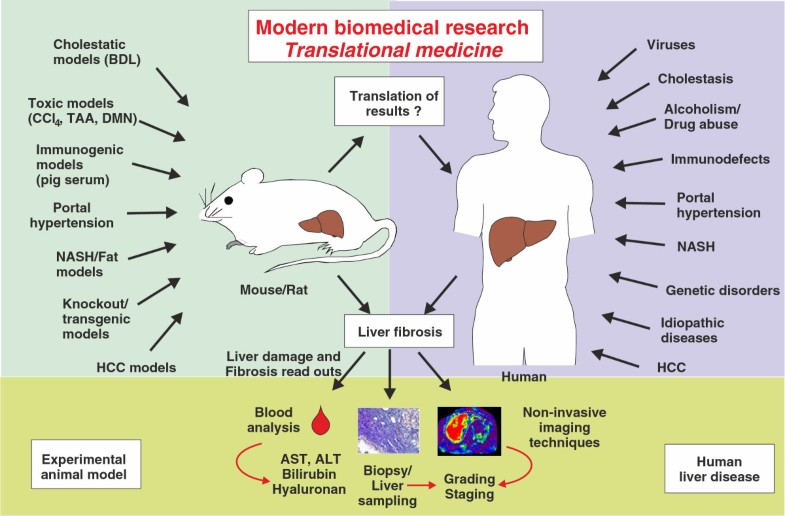 In this review, we summarize current animal models that are in use and describe the mechanisms that underlie the formation of hepatic fibrogenesis. We discuss basic necessities that will affect fibrosis research in accordance with the new European Animal Welfare Rules that will be implemented at the end of 2013.
Current animal models in liver fibrosis research
Conclusions
New international animal welfare rules will have a deep impact on fibrosis research, at least in the EU. It is thus obvious that these new regulations will affect future efforts to develop alternative animal replacement strategies. In parallel, the scientific community should improve standardisation of fibrosis models to increase the comparability of data between different laboratories with the aim of reducing animal experimentation. However, animal models are still the gold standard in fibrosis research. New, sophisticated transgenic approaches will allow investigation of specialized topics regarding fibrosis initiation, progression and resolution. Current data from these animal models prove that these findings are highly relevant and can be translated to the clinic. We hope that this review will initiate a scientific discussion of how to combine these increasing scientific innovations with enforced legal requirements.
Authors' information
For the Transregional Collaborative Research Centre "Organ Fibrosis: From Mechanisms of Injury to Modulation of Disease" (SFB/TRR57).
Abbreviations
3R:

Replacement, refinement and reduction
ANIT:

α-Naphthylisothiocyanate
AMA:

Antimitochondrial antibody
ARRIVE:

Animals in Research: Reporting In Vivo Experiments
CCl4:

Carbon tetrachloride
DDC:

3,5-Diethoxycarbonyl-1,4-dihydrocollidine
DEN:

Diethylnitrosamine
DMN:

Dimethylnitrosamine
ECM:

Extracellular matrix
EMT:

Epithelial-to-mesenchymal transition
GSPC:

Gold Standard Publication Checklist
HCC:

Hepatocellular carcinoma
HSC:

Hepatic stellate cell
MCD:

Methionine choline–deficient diet
MFB:

Myofibroblast
MMP:

Matrix metalloproteinase
MMT:

Mesothelial-to-mesenchymal transition
NAFLD:

Nonalcoholic fatty liver disease
NASH:

Nonalcoholic steatohepatitis
NK:

Natural killer
PBC:

Primary biliary cirrhosis
ROS:

Reactive oxygen species
SOP:

Standard operating procedure
TAA:

Thioacetamide
TGF-β1:

Transforming growth factor-β1
TIMP:

Tissue inhibitor of metalloproteinase
VLDL:

Very low-density lipoprotein.
Declarations
Acknowledgements
All authors of this review belong to the Collaborative Research Centre "Organ Fibrosis: From Mechanisms of Injury to Modulation of Disease" (http://www.sfbtrr57.rwth-aachen.de/), which is supported by the German Research Foundation (SFB/TRR57). This consortium was established in 2009 with the aim of identifying the principles of organ fibrosis and to develop novel innovative strategies to inhibit fibrosis progression or induce its regression.
Authors' Affiliations
(1)
Department of Internal Medicine III, RWTH University Hospital Aachen, Aachen, Germany
(2)
Department of Internal Medicine I, University Hospital Bonn, Bonn, Germany
(3)
Institute of Laboratory Animal Science, RWTH University Hospital Aachen, Aachen, Germany
(4)
Institute of Clinical Chemistry and Pathobiochemistry, RWTH University Hospital Aachen, Aachen, Germany
Copyright
© Liedtke et al.; licensee BioMed Central Ltd. 2013
This article is published under license to BioMed Central Ltd. This is an Open Access article distributed under the terms of the Creative Commons Attribution License (http://creativecommons.org/licenses/by/2.0), which permits unrestricted use, distribution, and reproduction in any medium, provided the original work is properly cited.