Connective tissue growth factor in tumor pathogenesis
Fibrogenesis & Tissue Repair
2012
5(Suppl 1):S8
Abstract
Key roles for connective tissue growth factor (CTGF/CCN2) are demonstrated in the wound repair process where it promotes myofibroblast differentiation and angiogenesis. Similar mechanisms are active in tumor-reactive stroma where CTGF is expressed. Other potential roles include prevention of hypoxia-induced apoptosis and promoting epithelial-mesenchymal transistion (EMT). CTGF expression in tumors has been associated to both tumor suppression and progression. For example, CTGF expression in acute lymphoblastic leukemia, breast, pancreas and gastric cancer correlates to worse prognosis whereas the opposite is true for colorectal, lung and ovarian cancer. This discrepancy is not yet understood.
High expression of CTGF is a hallmark of ileal carcinoids, which are well-differentiated endocrine carcinomas with serotonin production originating from the small intestine and proximal colon. These tumors maintain a high grade of differentiation and low proliferation. Despite this, they are malignant and most patients have metastatic disease at diagnosis. These tumors demonstrate several phenotypes potentially related to CTGF function namely: cell migration, absent tumor cell apoptosis, as well as, reactive and well vascularised myofibroblast rich stroma and fibrosis development locally and in distal organs. The presence of CTGF in other endocrine tumors indicates a role in the progression of well-differentiated tumors.
Keywords
Connective Tissue Growth FactorEndocrine TumorMyofibroblast DifferentiationTumor Suppressive EffectCarcinoid Heart Disease
Background
It is well established that connective tissue growth factor (CTGF/CCN2) is a key component in wound repair. A consensus for the role of CTGF in tumorigenesis, however, has been surprisingly difficult to reach despite studies in many tumor types and cell-lines. Directly opposing effects have been demonstrated in different tumor types and even within the same tumor diagnosis (summarized in Table 1). This review provides a brief summary of our current knowledge and treats possible explanations for discrepancies between studies. Extra focus will be given to ileal carcinoids, which express high levels of CTGF, as their unique phenotype and tumor behavior may provide a model for understanding CTGF function.
CTGF in development
Tissue-specific developmental programs are often reactivated in solid tumors and understanding CTGF's role in development may be relevant to its role in tumorigenesis. CTGF knockout mice die at birth due to skeletal defects in the ribcage that impair respiration [1]. This phenotype is thought to involve impaired chondrocyte proliferation and disturbed angiogenesis. Interestingly, null embryos also have abnormal pancreatic islet morphology. Specifically, they display higher numbers of glucagon positive cells and fewer insulin positive cells. The CTGF heterozygotes survive past birth and exhibit generally alpha- and beta-cell hypertrophy which indicates that CTGF may be involved in the establishment of normal islet endocrine cell ratio and architecture but their gross appearance is otherwise normal [2, 3]. A nine-fold overexpression of CTGF in transgene mice causes abnormalities, including developmental delay and craniofacial defects, and embryonic death but an overt fibrotic phenotype was not seen [3].
CTGF protein structure and posttranslational modifications
CTGF is a 349-amino acid polypeptide consisting of four domains (see Figure
1A
). Full length CTGF has an estimated molecular weight of 33 kD while cleavage in the hinge region produces N- and C-terminal fragments with an estimated molecular weight of 20-23 kD and these fragments may have specific biological functions [
4
,
5
]. Different cellular sources may offer different proteases for CTGF processing, thus forming a subset of fragments, which in turn determines CTGF action. It is speculated that CTGF may even promote its own proteolysis in some tissues, resulting in differential retention of a specific fragment [
6
]. High levels of N-terminal CTGF are found in patients with fibrotic scleroderma [
7
] and in diabetic patients with nephropathy [
8
].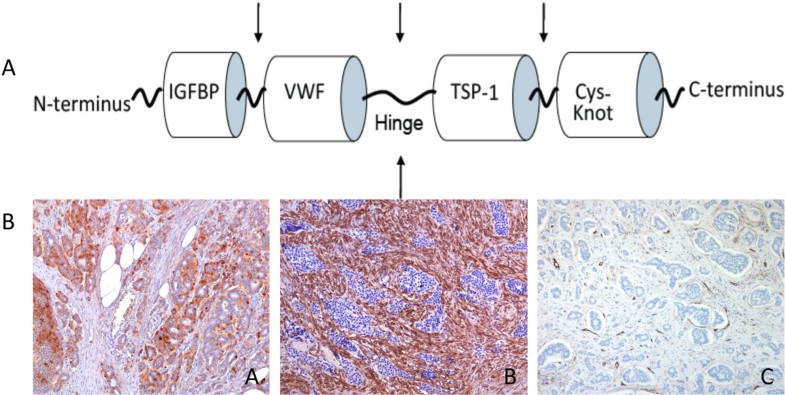 In vitro studies demonstrate that N-terminal CTGF mediates TGF-β induced myofibroblast differentiation by upregulating expression of alpha-smooth muscle actin (α-SMA) and collagen. In the same study, in the presence of C-terminal CTGF, proliferating fibroblast were observed, which neither express α-SMA nor produce collagen [4]. This study also indicates that the presence of other growth factors, such as EGF, IGF-I and II and TGF-β, may influence the degree to which these different fibrotic processes are active [9].
In vivo, full length CTGF is often glycosylated and this increases the molecular weight from 33 kD to 42 kD or more. This glycosylation may be important for function. For example, in a renal fibroblast cell line, overexpression of CTGF results in growth arrest, whereas exogenously added recombinant CTGF increased proliferation [10].
Methods
We aimed to examine the role of CTGF in tumorigenesis. Medline articles, other reviews and citation lists in relevant articles were searched for studies on CTGF's expression in human tumor specimens, primary human tumor cell cultures, knock-out mice and normal tissue (see supplement for search terms). Articles were published between the years 1997-2010. Studies that only showed results from cell lines were excluded. CTGF expression in tumors tissue was compared to normal tissue. Studies were sorted according to the cancer type and endocrine phenotype and according to reported CTGF correlation to tumor progression.
Conclusions
CTGF in the context of cancer is a clearly intriguing molecule and a potential candidate for therapeutic targeting. A full characterization of its regulation, in particular, understanding the determinates of its opposite actions in different cell-lines and cancer types is essential for predicting and preventing paradoxal tumor reactions.
Declarations
Acknowledgements
This article has been published as part of Fibrogenesis & Tissue Repair Volume 5 Supplement 1, 2012: Proceedings of Fibroproliferative disorders: from biochemical analysis to targeted therapies. The full contents of the supplement are available online at http://www.fibrogenesis.com/supplements/5/S1.
We thank Apostolos Tsolakis for helpful discussions and critical comments on the manuscript.
Authors' Affiliations
(1)
Section of Osteoporosis and Clinical Pharmacogenetics, Department of Medical Sciences, Uppsala University, Uppsala, Sweden
(2)
Department of Neuroscience, Psychiatry, Uppsala University, Sweden
Copyright
© Jacobson and Cunningham; licensee BioMed Central Ltd. 2012
This article is published under license to BioMed Central Ltd. This is an Open Access article distributed under the terms of the Creative Commons Attribution License (http://creativecommons.org/licenses/by/2.0), which permits unrestricted use, distribution, and reproduction in any medium, provided the original work is properly cited.