Interventions in Wnt signaling as a novel therapeutic approach to improve myocardial infarct healing
Kevin CM Hermans

1,

Evangelos P Daskalopoulos

1 and

W Matthijs Blankesteijn

1

Email author
Fibrogenesis & Tissue Repair
2012
5:16
Received: 4 July 2012
Accepted: 20 August 2012
Published: 11 September 2012
Abstract
Following myocardial infarction, wound healing takes place in the infarct area where the non-viable cardiac tissue is replaced by a scar. Inadequate wound healing or insufficient maintenance of the extracellular matrix in the scar can lead to excessive dilatation of the ventricles, one of the hallmarks of congestive heart failure. Therefore, it is important to better understand the wound-healing process in the heart and to develop new therapeutic agents that target the infarct area in order to maintain an adequate cardiac function. One of these potential novel therapeutic targets is Wnt signaling. Wnt signaling plays an important role in embryonic myocardial development but in the adult heart the pathway is thought to be silent. However, there is increasing evidence that components of the Wnt pathway are re-expressed during cardiac repair, implying a regulatory role. Recently, several studies have been published where the effect of interventions in Wnt signaling on infarct healing has been studied. In this review, we will summarize the results of these studies and discuss the effects of these interventions on the different cell types that are involved in the wound healing process.
Keywords
Myocardial infarctionWntFrizzledMyofibroblastNeovascularizationStem cellsWound healingCardiac remodeling
Conclusion
The wound-healing phase is a critical process for the clinical outcome of patients who have suffered from MI. Abnormal remodeling will result in a poorly healed scar that can cause dilatation of the left ventricle and ultimately progresses into CHF, which can be lethal. Since an increasing number of patients are affected by this problem, it is of major importance that therapeutic interventions do not just delay the progression, but rather prevent the development of CHF. The Wnt/Frizzled pathway is involved in many aspects of cardiac repair following MI and may be a promising therapeutic site for interventions. However, the precise targets and mechanism of intervention are still a matter of debate. Thus far, promising tools have been used in experimental settings, targeting Wnt/Frizzled signaling at several important sites involved in infarct healing such as (myo)fibroblasts, progenitor cells, neovascularization, inflammation, collagen maturation and several others that can contribute to an improved cardiac phenotype by minimizing the scar and reducing ventricular dilatation (Figure
2
). Wnt/Frizzled signaling is mostly silent under physiological conditions but its components can be upregulated in a pathological state. Because this upregulation is only taking place in the affected organ, pharmacological tools display a relative selectivity at this site, thereby not affecting other systems or organs. Therefore, development of strategies that modulate Wnt/Frizzled signaling can serve as novel therapeutic tools to improve infarct healing and quality of life in patients that have had a MI.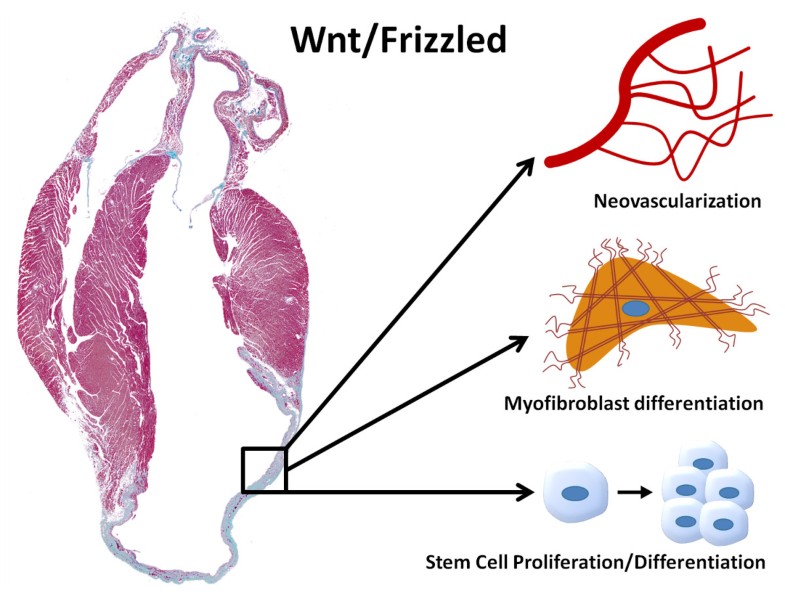 The discussed studies, in which interventions in Wnt signaling following MI are described (Table
1
), have different modes of treatment that may explain the discrepancy in the outcomes. Though, there is a trend that improved outcomes are more often achieved by inhibition of Wnt signaling. Therefore, in our opinion, blockade of Wnt/Frizzled signaling would be the best strategy to intervene following MI. In addition, many aspects of the pharmacology and the activation of the different signal transduction pathways by different combinations of Wnts and Fzds are far from completely understood. Therefore, more research is needed in testing different Wnt/Fzd combinations and the subsequent activation of the signaling pathway. Besides, further investigations are necessary to compare interventions in different types of MI (permanent ligation versus ischemia and reperfusion) and different animal models.
Table 1
Overview of studies intervening in the Wnt pathway following MI
| Study | Intervention | Effect on Wnt pathway | Outcome |
| --- | --- | --- | --- |
| Barandon et al. [23] | FrzA overexpression | Inhibition | Reduced MI size and improved cardiac function |
| Barandon et al. [56] | sFRP-1 overexpression | Inhibition | Decreased cardiac rupture and scar size |
| He et al. [54] | sFRP-2 administration | Inhibition | Improved cardiac function |
| Kobayashi et al. [62] | sFRP-2 deletion | ? | Decreased fibrosis and improved cardiac function |
| Matsushima et al. [63] | sFRP-4 i.m. administration | Inhibition | Improved cardiac function |
| Saraswati et al. [64] | Pyrvinium administration | Inhibition | Decreased LVIDD |
| Laeremans et al. [65] | UM206 administration | Inhibition | Decreased infarct size and improved cardiac function |
| Hahn et al. [52] | β-catenin | Stimulation | Decreased infarct size |
| | overexpression | | |
| Zelarayan et al. [68] | Cardiomyocyte specific | | |
| | - β-catenin depletion | - Inhibition | - Improved cardiac function |
| | - β-catenin stabilization | - Stimulation | - Opposite effects |
Abbreviations
α-SMA:

α-smooth muscle actin
APC:

adenomatous polyposis coli
BM:

bone marrow
BMP:

bone morphogenetic protein
CHF:

congestive heart failure
CK1:

casein kinase 1
CSC:

cardiac stem cell
CVD:

cardiovascular disease
DKK:

Dickkopf
Dvl:

Dishevelled
ECM:

extracellular matrix
EF:

ejection fraction
EMT:

epithelial to mesenchymal transition
Endo-MT:

endothelial to mesenchymal transition
Fzd-2:

Frizzled-2
FS:

fractional shortening
GSK:

glycogen synthase kinase
HPC:

hematopoietic progenitor cell
JNK:

c-jun N-terminal kinase
LRP:

low-density lipoprotein receptor-related protein
LV:

left ventricle
LVIDD:

left ventricular internal diameter in diastole
MCS:

mesenchymal stem cell
MI:

myocardial infarction
MMP:

matrix metalloproteinase
PMNL:

polymorphonuclear leukocyte
sFRP:

soluble frizzled-related protein
TCF/LEF:

T-cell factor/lymphoid enhancer factor
Tg:

transgenic
TGF:

transforming growth factor
VEGF:

vascular endothelial growth factor
WIF:

Wnt inhibitory factor.
Declarations
Acknowledgements
KCMH is funded by the Netherlands Heart Foundation (2010B196).
Authors' Affiliations
(1)
Department of Pharmacology, Cardiovascular Research Institute Maastricht, Maastricht University, Maastricht, The Netherlands
References
Cardiovascular diseases (CVDs): WHO Fact Sheet N°317. http://www.who.int/mediacentre/factsheets/fs317/en/
Cleutjens JP, Blankesteijn WM, Daemen MJ, Smits JF: The infarcted myocardium: simply dead tissue, or a lively target for therapeutic interventions. Cardiovasc Res. 1999, 44: 232-241. 10.1016/S0008-6363(99)00212-6.View ArticlePubMedGoogle Scholar
Rossen RD, Michael LH, Kagiyama A, Savage HE, Hanson G, Reisberg MA, Moake JN, Kim SH, Self D, Weakley S: Mechanism of complement activation after coronary artery occlusion: evidence that myocardial ischemia in dogs causes release of constituents of myocardial subcellular origin that complex with human C1q in vivo. Circ Res. 1988, 62: 572-584. 10.1161/01.RES.62.3.572.View ArticlePubMedGoogle Scholar
Jordan JE, Zhao ZQ, Vinten-Johansen J: The role of neutrophils in myocardial ischemia-reperfusion injury. Cardiovasc Res. 1999, 43: 860-878. 10.1016/S0008-6363(99)00187-X.View ArticlePubMedGoogle Scholar
Nahrendorf M, Pittet MJ, Swirski FK: Monocytes: protagonists of infarct inflammation and repair after myocardial infarction. Circulation. 2010, 121: 2437-2445. 10.1161/CIRCULATIONAHA.109.916346.PubMed CentralView ArticlePubMedGoogle Scholar
Dobaczewski M, Chen W, Frangogiannis NG: Transforming growth factor (TGF)-beta signaling in cardiac remodeling. J Mol Cell Cardiol. 2011, 51: 600-606. 10.1016/j.yjmcc.2010.10.033.PubMed CentralView ArticlePubMedGoogle Scholar
Rosenkranz S: TGF-beta1 and angiotensin networking in cardiac remodeling. Cardiovasc Res. 2004, 63: 423-432. 10.1016/j.cardiores.2004.04.030.View ArticlePubMedGoogle Scholar
Bishop JE, Laurent GJ: Collagen turnover and its regulation in the normal and hypertrophying heart. Eur Heart J. 1995, Suppl C: 38-44.View ArticleGoogle Scholar
van der Laan AM, Piek JJ, van Royen N: Targeting angiogenesis to restore the microcirculation after reperfused MI. Nat Rev Cardiol. 2009, 6: 515-523. 10.1038/nrcardio.2009.103.View ArticlePubMedGoogle Scholar
Jugdutt BI: Ventricular remodeling after infarction and the extracellular collagen matrix: when is enough enough?. Circulation. 2003, 108: 1395-1403. 10.1161/01.CIR.0000085658.98621.49.View ArticlePubMedGoogle Scholar
Bujak M, Ren G, Kweon HJ, Dobaczewski M, Reddy A, Taffet G, Wang XF, Frangogiannis NG: Essential role of Smad3 in infarct healing and in the pathogenesis of cardiac remodeling. Circulation. 2007, 116: 2127-2138. 10.1161/CIRCULATIONAHA.107.704197.View ArticlePubMedGoogle Scholar
van den Borne SW, Diez J, Blankesteijn WM, Verjans J, Hofstra L, Narula J: Myocardial remodeling after infarction: the role of myofibroblasts. Nat Rev Cardiol. 2010, 7: 30-37. 10.1038/nrcardio.2009.199.View ArticlePubMedGoogle Scholar
Logan CY, Nusse R: The Wnt signaling pathway in development and disease. Annu Rev Cell Dev Biol. 2004, 20: 781-810. 10.1146/annurev.cellbio.20.010403.113126.View ArticlePubMedGoogle Scholar
MacDonald BT, Tamai K, He X: Wnt/beta-catenin signaling: components, mechanisms, and diseases. Dev Cell. 2009, 17: 9-26. 10.1016/j.devcel.2009.06.016.PubMed CentralView ArticlePubMedGoogle Scholar
Eisenberg LM, Eisenberg CA: Evaluating the role of Wnt signal transduction in promoting the development of the heart. Sci World J. 2007, 7: 161-176.View ArticleGoogle Scholar
Brade T, Manner J, Kuhl M: The role of Wnt signalling in cardiac development and tissue remodelling in the mature heart. Cardiovasc Res. 2006, 72: 198-209. 10.1016/j.cardiores.2006.06.025.View ArticlePubMedGoogle Scholar
Tzahor E: Wnt/beta-catenin signaling and cardiogenesis: timing does matter. Dev Cell. 2007, 13: 10-13. 10.1016/j.devcel.2007.06.006.View ArticlePubMedGoogle Scholar
Kuwahara K, Nakao K: New molecular mechanisms for cardiovascular disease: transcriptional pathways and novel therapeutic targets in heart failure. J Pharmacol Sci. 2011, 116: 337-342. 10.1254/jphs.10R28FM.View ArticlePubMedGoogle Scholar
Oerlemans MI, Goumans MJ, van Middelaar B, Clevers H, Doevendans PA, Sluijter JP: Active Wnt signaling in response to cardiac injury. Basic Res Cardiol. 2010, 105: 631-641. 10.1007/s00395-010-0100-9.PubMed CentralView ArticlePubMedGoogle Scholar
Duan J, Gherghe C, Liu D, Hamlett E, Srikantha L, Rodgers L, Regan JN, Rojas M, Willis M, Leask A, Majesky M, Deb A: Wnt1/betacatenin injury response activates the epicardium and cardiac fibroblasts to promote cardiac repair. Embo J. 2012, 31: 429-442.PubMed CentralView ArticlePubMedGoogle Scholar
Aisagbonhi O, Rai M, Ryzhov S, Atria N, Feoktistov I, Hatzopoulos AK: Experimental myocardial infarction triggers canonical Wnt signaling and endothelial-to-mesenchymal transition. Dis Model Mech. 2011, 4: 469-483. 10.1242/dmm.006510.PubMed CentralView ArticlePubMedGoogle Scholar
Chen L, Wu Q, Guo F, Xia B, Zuo J: Expression of Dishevelled-1 in wound healing after acute myocardial infarction: possible involvement in myofibroblast proliferation and migration. J Cell Mol Med. 2004, 8: 257-264. 10.1111/j.1582-4934.2004.tb00281.x.View ArticlePubMedGoogle Scholar
Barandon L, Couffinhal T, Ezan J, Dufourcq P, Costet P, Alzieu P, Leroux L, Moreau C, Dare D, Duplaa C: Reduction of infarct size and prevention of cardiac rupture in transgenic mice overexpressing FrzA. Circulation. 2003, 108: 2282-2289. 10.1161/01.CIR.0000093186.22847.4C.View ArticlePubMedGoogle Scholar
Mikels AJ, Nusse R: Wnts as ligands: processing, secretion and reception. Oncogene. 2006, 25: 7461-7468. 10.1038/sj.onc.1210053.View ArticlePubMedGoogle Scholar
Kikuchi A, Yamamoto H, Kishida S: Multiplicity of the interactions of Wnt proteins and their receptors. Cell Signal. 2007, 19: 659-671. 10.1016/j.cellsig.2006.11.001.View ArticlePubMedGoogle Scholar
Povelones M, Nusse R: The role of the cysteine-rich domain of Frizzled in Wingless-Armadillo signaling. Embo J. 2005, 24: 3493-3503. 10.1038/sj.emboj.7600817.PubMed CentralView ArticlePubMedGoogle Scholar
Mi K, Johnson GV: Role of the intracellular domains of LRP5 and LRP6 in activating the Wnt canonical pathway. J Cell Biochem. 2005, 95: 328-338. 10.1002/jcb.20400.View ArticlePubMedGoogle Scholar
Kawano Y, Kypta R: Secreted antagonists of the Wnt signalling pathway. J Cell Sci. 2003, 116: 2627-2634. 10.1242/jcs.00623.View ArticlePubMedGoogle Scholar
Krishnan V, Bryant HU, Macdougald OA: Regulation of bone mass by Wnt signaling. J Clin Invest. 2006, 116: 1202-1209. 10.1172/JCI28551.PubMed CentralView ArticlePubMedGoogle Scholar
Kikuchi A: Regulation of beta-catenin signaling in the Wnt pathway. Biochem Biophys Res Commun. 2000, 268: 243-248. 10.1006/bbrc.1999.1860.View ArticlePubMedGoogle Scholar
Dang CV: c-myc target genes involved in cell growth, apoptosis, and metabolism. Mol Cell Biol. 1999, 19: 1-11.PubMed CentralView ArticlePubMedGoogle Scholar
Hilberg F, Wagner EF: Embryonic stem (ES) cells lacking functional c-jun: consequences for growth and differentiation, AP-1 activity and tumorigenicity. Oncogene. 1992, 7: 2371-2380.PubMedGoogle Scholar
Adiseshaiah P, Vaz M, Machireddy N, Kalvakolanu DV, Reddy SP: A Fra-1-dependent, matrix metalloproteinase driven EGFR activation promotes human lung epithelial cell motility and invasion. J Cell Physiol. 2008, 216: 405-412. 10.1002/jcp.21410.PubMed CentralView ArticlePubMedGoogle Scholar
Takahashi-Yanaga F, Sasaguri T: GSK-3beta regulates cyclin D1 expression: a new target for chemotherapy. Cell Signal. 2008, 20: 581-589. 10.1016/j.cellsig.2007.10.018.View ArticlePubMedGoogle Scholar
Rao TP, Kuhl M: An updated overview on Wnt signaling pathways: a prelude for more. Circ Res. 2010, 106: 1798-1806. 10.1161/CIRCRESAHA.110.219840.View ArticlePubMedGoogle Scholar
van Amerongen R, Mikels A, Nusse R: Alternative Wnt signaling is initiated by distinct receptors. Sci Signal. 2008, 1: re9-10.1126/scisignal.135re9.View ArticlePubMedGoogle Scholar
Manabe I, Shindo T, Nagai R: Gene expression in fibroblasts and fibrosis: involvement in cardiac hypertrophy. Circ Res. 2002, 91: 1103-1113. 10.1161/01.RES.0000046452.67724.B8.View ArticlePubMedGoogle Scholar
Souders CA, Bowers SL, Baudino TA: Cardiac fibroblast: the renaissance cell. Circ Res. 2009, 105: 1164-1176. 10.1161/CIRCRESAHA.109.209809.PubMed CentralView ArticlePubMedGoogle Scholar
Tomasek JJ, Gabbiani G, Hinz B, Chaponnier C, Brown RA: Myofibroblasts and mechano-regulation of connective tissue remodelling. Nat Rev Mol Cell Biol. 2002, 3: 349-363. 10.1038/nrm809.View ArticlePubMedGoogle Scholar
Gabbiani G: Evolution and clinical implications of the myofibroblast concept. Cardiovasc Res. 1998, 38: 545-548. 10.1016/S0008-6363(98)00065-0.View ArticlePubMedGoogle Scholar
Petrov VV, Fagard RH, Lijnen PJ: Stimulation of collagen production by transforming growth factor-beta1 during differentiation of cardiac fibroblasts to myofibroblasts. Hypertension. 2002, 39: 258-263. 10.1161/hy0202.103268.View ArticlePubMedGoogle Scholar
Sun Y, Weber KT: Angiotensin converting enzyme and myofibroblasts during tissue repair in the rat heart. J Mol Cell Cardiol. 1996, 28: 851-858. 10.1006/jmcc.1996.0080.View ArticlePubMedGoogle Scholar
Zhou B, Pu WT: Epicardial epithelial-to-mesenchymal transition in injured heart. J Cell Mol Med. 2011, 15: 2781-2783. 10.1111/j.1582-4934.2011.01450.x.PubMed CentralView ArticlePubMedGoogle Scholar
Zeisberg EM, Tarnavski O, Zeisberg M, Dorfman AL, McMullen JR, Gustafsson E, Chandraker A, Yuan X, Pu WT, Roberts AB, Neilson EG, Sayegh MH, Izumo S, Kalluri R: Endothelial-to-mesenchymal transition contributes to cardiac fibrosis. Nat Med. 2007, 13: 952-961. 10.1038/nm1613.View ArticlePubMedGoogle Scholar
van Amerongen MJ, Bou-Gharios G, Popa E, van Ark J, Petersen AH, van Dam GM, van Luyn MJ, Harmsen MC: Bone marrow-derived myofibroblasts contribute functionally to scar formation after myocardial infarction. J Pathol. 2008, 214: 377-386. 10.1002/path.2281.View ArticlePubMedGoogle Scholar
Mollmann H, Nef HM, Kostin S, von Kalle C, Pilz I, Weber M, Schaper J, Hamm CW, Elsasser A: Bone marrow-derived cells contribute to infarct remodelling. Cardiovasc Res. 2006, 71: 661-671. 10.1016/j.cardiores.2006.06.013.View ArticlePubMedGoogle Scholar
Haudek SB, Xia Y, Huebener P, Lee JM, Carlson S, Crawford JR, Pilling D, Gomer RH, Trial J, Frangogiannis NG, Entman ML: Bone marrow-derived fibroblast precursors mediate ischemic cardiomyopathy in mice. Proc Natl Acad Sci USA. 2006, 103: 18284-18289. 10.1073/pnas.0608799103.PubMed CentralView ArticlePubMedGoogle Scholar
Fujita J, Mori M, Kawada H, Ieda Y, Tsuma M, Matsuzaki Y, Kawaguchi H, Yagi T, Yuasa S, Endo J, Hotta T, Ogawa S, Okano H, Yozu R, Ando K, Fukuda K: Administration of granulocyte colony-stimulating factor after myocardial infarction enhances the recruitment of hematopoietic stem cell-derived myofibroblasts and contributes to cardiac repair. Stem Cells. 2007, 25: 2750-2759. 10.1634/stemcells.2007-0275.View ArticlePubMedGoogle Scholar
Endo J, Sano M, Fujita J, Hayashida K, Yuasa S, Aoyama N, Takehara Y, Kato O, Makino S, Ogawa S, Fukuda K: Bone marrow derived cells are involved in the pathogenesis of cardiac hypertrophy in response to pressure overload. Circulation. 2007, 116: 1176-1184. 10.1161/CIRCULATIONAHA.106.650903.View ArticlePubMedGoogle Scholar
Blankesteijn WM, Essers-Janssen YP, Verluyten MJ, Daemen MJ, Smits JF: A homologue of Drosophila tissue polarity gene frizzled is expressed in migrating myofibroblasts in the infarcted rat heart. Nat Med. 1997, 3: 541-544. 10.1038/nm0597-541.View ArticlePubMedGoogle Scholar
Carthy JM, Garmaroudi FS, Luo Z, McManus BM: Wnt3a induces myofibroblast differentiation by upregulating TGF-beta signaling through SMAD2 in a beta-catenin-dependent manner. PLoS One. 2011, 6: e19809-10.1371/journal.pone.0019809.PubMed CentralView ArticlePubMedGoogle Scholar
Hahn JY, Cho HJ, Bae JW, Yuk HS, Kim KI, Park KW, Koo BK, Chae IH, Shin CS, Oh BH, Choi YS, Park YB, Kim HS: Beta-catenin overexpression reduces myocardial infarct size through differential effects on cardiomyocytes and cardiac fibroblasts. J Biol Chem. 2006, 281: 30979-30989. 10.1074/jbc.M603916200.View ArticlePubMedGoogle Scholar
Laeremans H, Rensen SS, Ottenheijm HC, Smits JF, Blankesteijn WM: Wnt/frizzled signalling modulates the migration and differentiation of immortalized cardiac fibroblasts. Cardiovasc Res. 2010, 87: 514-523. 10.1093/cvr/cvq067.View ArticlePubMedGoogle Scholar
He W, Zhang L, Ni A, Zhang Z, Mirotsou M, Mao L, Pratt RE, Dzau VJ: Exogenously administered secreted frizzled related protein 2 (Sfrp2) reduces fibrosis and improves cardiac function in a rat model of myocardial infarction. Proc Natl Acad Sci USA. 2010, 107: 21110-21115. 10.1073/pnas.1004708107.PubMed CentralView ArticlePubMedGoogle Scholar
Barandon L, Couffinhal T, Dufourcq P, Ezan J, Costet P, Daret D, Deville C, Duplaa C: Frizzled A, a novel angiogenic factor: promises for cardiac repair. Eur J Cardiothorac Surg. 2004, 25: 76-83. 10.1016/S1010-7940(03)00506-2.View ArticlePubMedGoogle Scholar
Barandon L, Casassus F, Leroux L, Moreau C, Allieres C, Lamaziere JM, Dufourcq P, Couffinhal T, Duplaa C: Secreted frizzled-related protein-1 improves postinfarction scar formation through a modulation of inflammatory response. Arterioscler Thromb Vasc Biol. 2011, 31: e80-e87. 10.1161/ATVBAHA.111.232280.View ArticlePubMedGoogle Scholar
Hayashidani S, Tsutsui H, Ikeuchi M, Shiomi T, Matsusaka H, Kubota T, Imanaka-Yoshida K, Itoh T, Takeshita A: Targeted deletion of MMP-2 attenuates early LV rupture and late remodeling after experimental myocardial infarction. Am J Physiol Heart Circ Physiol. 2003, 285: H1229-H1235.View ArticlePubMedGoogle Scholar
van den Borne SW, Cleutjens JP, Hanemaaijer R, Creemers EE, Smits JF, Daemen MJ, Blankesteijn WM: Increased matrix metalloproteinase-8 and −9 activity in patients with infarct rupture after myocardial infarction. Cardiovasc Pathol. 2009, 18: 37-43. 10.1016/j.carpath.2007.12.012.View ArticlePubMedGoogle Scholar
George SJ: Wnt pathway: a new role in regulation of inflammation. Arterioscler Thromb Vasc Biol. 2008, 28: 400-402. 10.1161/ATVBAHA.107.160952.View ArticlePubMedGoogle Scholar
Kim J, Kim DW, Ha Y, Ihm MH, Kim H, Song K, Lee I: Wnt5a induces endothelial inflammation via beta-catenin-independent signaling. J Immunol. 2010, 185: 1274-1282. 10.4049/jimmunol.1000181.View ArticlePubMedGoogle Scholar
Sen M, Ghosh G: Transcriptional outcome of Wnt-Frizzled signal transduction in inflammation: evolving concepts. J Immunol. 2008, 181: 4441-4445.View ArticlePubMedGoogle Scholar
Kobayashi K, Luo M, Zhang Y, Wilkes DC, Ge G, Grieskamp T, Yamada C, Liu TC, Huang G, Basson CT, Kispert A, Greenspan DS, Sato TN: Secreted Frizzled-related protein 2 is a procollagen C proteinase enhancer with a role in fibrosis associated with myocardial infarction. Nat Cell Biol. 2009, 11: 46-55. 10.1038/ncb1811.PubMed CentralView ArticlePubMedGoogle Scholar
Matsushima K, Suyama T, Takenaka C, Nishishita N, Ikeda K, Ikada Y, Sawa Y, Jakt LM, Mori H, Kawamata S: Secreted frizzled related protein 4 reduces fibrosis scar size and ameliorates cardiac function after ischemic injury. Tissue Eng Part A. 2010, 16: 3329-3341. 10.1089/ten.tea.2009.0739.PubMed CentralView ArticlePubMedGoogle Scholar
Saraswati S, Alfaro MP, Thorne CA, Atkinson J, Lee E, Young PP: Pyrvinium, a potent small molecule Wnt inhibitor, promotes wound repair and post-MI cardiac remodeling. PLoS One. 2010, 5: e15521-10.1371/journal.pone.0015521.PubMed CentralView ArticlePubMedGoogle Scholar
Laeremans H, Hackeng TM, van Zandvoort MA, Thijssen VL, Janssen BJ, Ottenheijm HC, Smits JF, Blankesteijn WM: Blocking of frizzled signaling with a homologous peptide fragment of wnt3a/wnt5a reduces infarct expansion and prevents the development of heart failure after myocardial infarction. Circulation. 2011, 124: 1626-1635. 10.1161/CIRCULATIONAHA.110.976969.View ArticlePubMedGoogle Scholar
Jugdutt BI: Limiting fibrosis after myocardial infarction. New England J Med. 2009, 360: 1567-1569. 10.1056/NEJMcibr0810801.View ArticleGoogle Scholar
Angers S, Moon RT: Proximal events in Wnt signal transduction. Nat Rev Mol Cell Biol. 2009, 10: 468-477.View ArticlePubMedGoogle Scholar
Zelarayan LC, Noack C, Sekkali B, Kmecova J, Gehrke C, Renger A, Zafiriou MP, van der Nagel R, Dietz R, de Windt LJ, Balligand JL, Bergmann MW: Beta-Catenin downregulation attenuates ischemic cardiac remodeling through enhanced resident precursor cell differentiation. Proc Natl Acad Sci USA. 2008, 105: 19762-19767. 10.1073/pnas.0808393105.PubMed CentralView ArticlePubMedGoogle Scholar
Monkley SJ, Delaney SJ, Pennisi DJ, Christiansen JH, Wainwright BJ: Targeted disruption of the Wnt2 gene results in placentation defects. Development. 1996, 122: 3343-3353.PubMedGoogle Scholar
Ishikawa T, Tamai Y, Zorn AM, Yoshida H, Seldin MF, Nishikawa S, Taketo MM: Mouse Wnt receptor gene Fzd5 is essential for yolk sac and placental angiogenesis. Development. 2001, 128: 25-33.PubMedGoogle Scholar
Shu W, Jiang YQ, Lu MM, Morrisey EE: Wnt7b regulates mesenchymal proliferation and vascular development in the lung. Development. 2002, 129: 4831-4842.PubMedGoogle Scholar
Ye X, Wang Y, Cahill H, Yu M, Badea TC, Smallwood PM, Peachey NS, Nathans J: Norrin, frizzled-4, and Lrp5 signaling in endothelial cells controls a genetic program for retinal vascularization. Cell. 2009, 139: 285-298. 10.1016/j.cell.2009.07.047.PubMed CentralView ArticlePubMedGoogle Scholar
Blankesteijn WM, van Gijn ME, Essers-Janssen YP, Daemen MJ, Smits JF: Beta-catenin, an inducer of uncontrolled cell proliferation and migration in malignancies, is localized in the cytoplasm of vascular endothelium during neovascularization after myocardial infarction. Am J Pathol. 2000, 157: 877-883. 10.1016/S0002-9440(10)64601-9.PubMed CentralView ArticlePubMedGoogle Scholar
Min JK, Park H, Choi HJ, Kim Y, Pyun BJ, Agrawal V, Song BW, Jeon J, Maeng YS, Rho SS, Shim S, Chai JH, Koo BK, Hong HJ, Yun CO, Choi C, Kim YM, Hwang KC, Kwon YG: The WNT antagonist Dickkopf2 promotes angiogenesis in rodent and human endothelial cells. J Clin Invest. 2011, 121: 1882-1893. 10.1172/JCI42556.PubMed CentralView ArticlePubMedGoogle Scholar
Leri A, Kajstura J, Anversa P: Mechanisms of myocardial regeneration. Trends Cardiovasc Med. 2011, 21: 52-58. 10.1016/j.tcm.2012.02.006.PubMed CentralView ArticlePubMedGoogle Scholar
Kajstura J, Urbanek K, Rota M, Bearzi C, Hosoda T, Bolli R, Anversa P, Leri A: Cardiac stem cells and myocardial disease. J Mol Cell Cardiol. 2008, 45: 505-513. 10.1016/j.yjmcc.2008.05.025.View ArticlePubMedGoogle Scholar
Bearzi C, Rota M, Hosoda T, Tillmanns J, Nascimbene A, De Angelis A, Yasuzawa-Amano S, Trofimova I, Siggins RW, Lecapitaine N, Cascapera S, Beltrami AP, D'Alessandro DA, Zias E, Quaini F, Urbanek K, Michler RE, Bolli R, Kajstura J, Leri A, Anversa P: Human cardiac stem cells. Proc Natl Acad Sci USA. 2007, 104: 14068-14073. 10.1073/pnas.0706760104.PubMed CentralView ArticlePubMedGoogle Scholar
Assmus B, Iwasaki M, Schachinger V, Roexe T, Koyanagi M, Iekushi K, Xu Q, Tonn T, Seifried E, Liebner S, Kranert WT, Grunwald F, Dimmeler S, Zeiher AM: Acute myocardial infarction activates progenitor cells and increases Wnt signalling in the bone marrow. Eur Heart J. 2012, 33: 1911-1919. 10.1093/eurheartj/ehr388.View ArticlePubMedGoogle Scholar
Templin C, Kotlarz D, Faulhaber J, Schnabel S, Grote K, Salguero G, Luchtefeld M, Hiller KH, Jakob P, Naim HY, Schieffer B, Hilfiker-Kleiner D, Landmesser U, Limbourg FP, Drexler H: Ex vivo expanded hematopoietic progenitor cells improve cardiac function after myocardial infarction: role of beta-catenin transduction and cell dose. J Mol Cell Cardiol. 2008, 45: 394-403. 10.1016/j.yjmcc.2008.06.010.View ArticlePubMedGoogle Scholar
Pereira RF, Halford KW, O'Hara MD, Leeper DB, Sokolov BP, Pollard MD, Bagasra O, Prockop DJ: Cultured adherent cells from marrow can serve as long-lasting precursor cells for bone, cartilage, and lung in irradiated mice. Proc Natl Acad Sci USA. 1995, 92: 4857-4861. 10.1073/pnas.92.11.4857.PubMed CentralView ArticlePubMedGoogle Scholar
Mirotsou M, Zhang Z, Deb A, Zhang L, Gnecchi M, Noiseux N, Mu H, Pachori A, Dzau V: Secreted frizzled related protein 2 (Sfrp2) is the key Akt-mesenchymal stem cell-released paracrine factor mediating myocardial survival and repair. Proc Natl Acad Sci USA. 2007, 104: 1643-1648. 10.1073/pnas.0610024104.PubMed CentralView ArticlePubMedGoogle Scholar
Alfaro MP, Pagni M, Vincent A, Atkinson J, Hill MF, Cates J, Davidson JM, Rottman J, Lee E, Young PP: The Wnt modulator sFRP2 enhances mesenchymal stem cell engraftment, granulation tissue formation and myocardial repair. Proc Natl Acad Sci USA. 2008, 105: 18366-18371. 10.1073/pnas.0803437105.PubMed CentralView ArticlePubMedGoogle Scholar
Sato N, Meijer L, Skaltsounis L, Greengard P, Brivanlou AH: Maintenance of pluripotency in human and mouse embryonic stem cells through activation of Wnt signaling by a pharmacological GSK-3-specific inhibitor. Nat Med. 2004, 10: 55-63. 10.1038/nm979.View ArticlePubMedGoogle Scholar
Gregory CA, Singh H, Perry AS, Prockop DJ: The Wnt signaling inhibitor dickkopf-1 is required for reentry into the cell cycle of human adult stem cells from bone marrow. J Biol Chem. 2003, 278: 28067-28078. 10.1074/jbc.M300373200.View ArticlePubMedGoogle Scholar
Alfaro MP, Vincent A, Saraswati S, Thorne CA, Hong CC, Lee E, Young PP: sFRP2 suppression of bone morphogenic protein (BMP) and Wnt signaling mediates mesenchymal stem cell (MSC) self-renewal promoting engraftment and myocardial repair. J Biol Chem. 2010, 285: 35645-35653. 10.1074/jbc.M110.135335.PubMed CentralView ArticlePubMedGoogle Scholar
Oikonomopoulos A, Sereti KI, Conyers F, Bauer M, Liao A, Guan J, Crapps D, Han JK, Dong H, Bayomy AF, Fine GC, Westerman K, Biechele TL, Moon RT, Force T, Liao R: Wnt signaling exerts an antiproliferative effect on adult cardiac progenitor cells through IGFBP3. Circ Res. 2011, 109: 1363-1374. 10.1161/CIRCRESAHA.111.250282.PubMed CentralView ArticlePubMedGoogle Scholar
Copyright
© Hermans et al.; licensee BioMed Central Ltd. 2012
This article is published under license to BioMed Central Ltd. This is an Open Access article distributed under the terms of the Creative Commons Attribution License (http://creativecommons.org/licenses/by/2.0), which permits unrestricted use, distribution, and reproduction in any medium, provided the original work is properly cited.