Epithelial to mesenchymal transition as a biomarker in renal fibrosis: are we ready for the bedside?
Fibrogenesis & Tissue Repair
2011
4:11
Received: 25 November 2010
Accepted: 6 April 2011
Published: 6 April 2011
Abstract
Over the past two decades, the concept of the epithelial to mesenchymal transition (EMT) has been imported from embryology and oncology to fibrosis, particularly in the kidney. This interest in EMT in the context of renal fibrosis stems from observations of epithelial cells undergoing phenotypic changes reminiscent of fibroblasts. Whether EMT is actually a source of interstitial fibroblasts has been the subject of heated debate, and this controversy has caused physicians to neglect the value of EMT as a biomarker in renal fibrosis. In this review, we describe the evolution of the techniques used to detect EMT during fibrosing renal diseases, and what information they provide in the diagnosis of various renal diseases. Highlighting the great heterogeneity of these techniques and the need to standardize them, we warn against some misleading uses of EMT markers. We suggest using the association of vimentin and β-catenin for the diagnosis of EMT in renal pathology because it is both sensitive and prognostic, thus satisfying the properties required for a screening test. Finally, we discuss the potential interests to diagnose EMT for the comprehension of renal fibrosis and for clinical practice.
Keywords
Renal FibrosisUnilateral Ureteral ObstructionTubular EpitheliumParicalcitolRapidly Progressive Glomerulonephritis
Introduction: the concept of EMT
'What is simple is false, and what is complex is unusable'
Paul Valéry (1941)
Since its first description by Elisabeth Hay, epithelial to mesenchymal transition (EMT) has raised increasing interest. One reason for this is that the concept has extended from embryology to pathology. It was first defined in embryological studies as a process that is instrumental to organogenesis, in which cells lose their epithelial phenotype, acquire mesenchymal features, and migrate to generate new organs in the embryo [1]. This phenomenon, now called Type 1 EMT [2], is replicated in Type 3 EMT, conferring on cancerous cells the ability to disseminate by metastasis and to resist chemotherapy [3]. Type 2 EMT refers to the rather startling concept that epithelial cells subjected to injury may undergo similar transformations and thus provide new fibroblasts in the interstitium.
EMT was first associated with fibrogenesis 15 years ago, with the observation of renal tubular epithelial cells aberrantly expressing fibroblast-specific protein (FSP)1 in a model of mouse anti-tubular membrane disease[4]. This led Strutz et al. to hypothesize that some fibroblasts might be derived from transformed epithelial cells. This hypothesis was confirmed when Iwano showed that tubular epithelial cells bearing the reporter gene lacZ massively contributed to the pool of interstitial fibroblasts (up to 36% of all fibroblasts) in a model of mouse renal fibrosis induced by unilateral ureteral obstruction [5]. The study of renal EMT raised even more interest and hopes in the nephrological community 1 year later, when Zeisberg et al. showed that bone morphogenetic protein (BMP)7 could reverse EMT in mice exposed to nephrotoxic serum and even reverse renal fibrosis itself [6].
However, several studies have subsequently contested the reality of EMT in renal fibrosis. Fate-tracing experiments on tubular epithelial cells in various animal models (Habu venom plus angiotensin 2 in rats, unilateral ureteral obstruction or ischemia-reperfusion in mice) failed to identify a single fibroblast originating from the tubular epithelium [7, 8]. At present, the existence of Type 2 EMT is debated so heatedly that its supporters and detractors seem irreconcilable [9].
In parallel, evidence has been sought for EMT in human renal diseases, mainly using immunohistochemistry. Obviously, studies in patients do not allow for definitive conclusions on all criteria defining EMT (especially the ability to migrate outside the basal membrane), which is why some authors, including us, have coined weaker terms such as 'partial EMT', 'EMT-like changes', 'epithelial phenotypic changes' or 'EMT-marker expression', thus avoiding the most controversial aspect of EMT. However, the evidence for EMT-marker expression during renal fibrosis has accumulated over time, and we believe that a consensus can now be reached on the presence of at least some features of EMT during tissue fibrosis, allowing us to translate part of the fundamental concept of EMT into clinical use as a biomarker.
EMT markers have a prognostic value in renal allografts
By definition, sequential biopsies are needed to study the correlation of EMT-marker expression with fibrogenesis, that is, with the progression of fibrosis over time. These data are available in renal transplantation because kidney recipients are given iterative surveillance biopsies [
55
]. Two studies have evaluated the prognostic value of EMT-marker expression in renal allografts, but their conclusions were contradictory. The first study showed no correlation between the expression of EMT markers at 1 month after transplant and the presence of tubular-interstitial injury at 3 months [
56
]. Our interpretation is that EMT-marker expression at 1 month is related to acute and transient factors linked to ischemia-reperfusion injury or to the surgical transplantation procedure, with little relevance to the long-term outcome of the graft. Moreover, in this study, EMT was defined as staining for either FSP1 or α-SMA in a tubular cell simultaneously stained for E-cadherin. This diagnostic criterion is questionable, because 1) E-cadherin expression is classically downregulated during EMT and absent in cells after complete EMT; and 2) as previously noted, the sensitivity of α-SMA and FSP1 as EMT markers is poor, because their late and/or rare expression during human EMT. This choice of markers thus probably selected for a minor population of cells. In another study, we found that the expression of two other EMT markers mentioned above, vimentin and β-catenin, 3 months after transplantation, do have prognostic value, and were associated with a more rapid progression towards graft interstitial fibrosis and decrease in renal function at 12 months. In addition, EMT-marker expression and interstitial or tubular inflammation were the only factors associated with fibrosis at 12 months in a multivariate analysis [
57
]. These results were confirmed by a recent study in which vimentin expression within the tubular epithelium was associated with more chronic interstitial fibrosis and tubular atrophy and with poorer graft function, with a median follow-up of 5 years [
58
]. We believe that the choice of β-catenin and vimentin is judicious, because they are expressed early in the course of tubular injury [
43
,
44
] and the immunohistochemical techniques are robust (Figure
1
).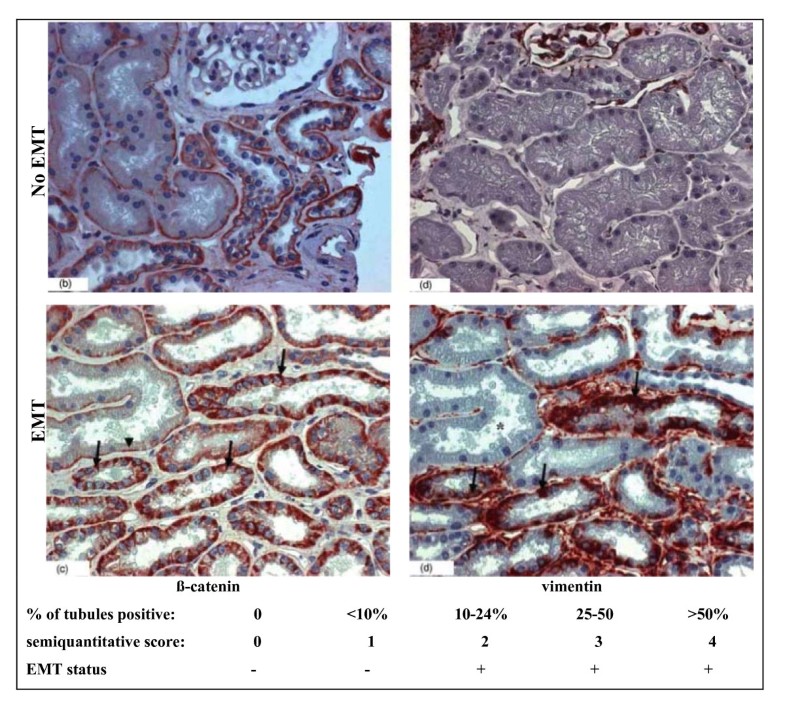 Perspectives
Although EMT is a pathological process common to many fibrosing nephropathies, the question remains as to whether there are one or several EMTs. Currently, it is not known if some EMT markers have a higher specificity for a specific renal disease, as studies comparing the expression of EMT markers between various human pathologies are few. Mechanistically, however, EMT can be triggered by various master molecules that are each sufficient to induce EMT [59, 60]. For example, glycogen synthase kinase 3β is a kinase that serves as a common effector of multiple EMT pathways, facilitating the efficiency of Snail and β-catenin as pro-EMT transcription factors [61]. Hypoxia can cause EMT by inducing snail, but snail is not specific to hypoxia, and other EMT master genes can be induced separately by hypoxia [62–64]. Although identification of a unique 'master switch' [60] would be an interesting target for the treatment of renal fibrosis, multiple and disease-specific molecules could be preferable as biomarkers.
Anti-EMT strategies are emerging as potential anti-fibrotic treatments. As the two processes are closely linked, it is difficult to determine whether a treatment is anti-EMT or anti-fibrotic. Thus, TGF-β is known both as an EMT inducer and as a pro-fibrotic molecule, and in their spectacular study using BMP7 to antagonize EMT, Zeisberg et al. showed that both tubular EMT and fibrosis could be reversed, but they pointed out that this association does not allow the conclusion that fibrosis was reversed through an anti-EMT effect [6]. Nonetheless, this was probably the most promising experimental therapy in the field for decades, and showed that EMT markers were useful to monitor the epithelial damage in vivo. Other potential anti-fibrosis treatments have been tested for their anti-EMT effect (for example, hepatocyte growth factor [65], paricalcitol [49] and juglone [66–68].
Conclusions
There is sufficient evidence to assert that at least some EMT markers are expressed during renal fibrosis. Such biomarkers are very useful compared with conventional histology, because they detect fibrogenesis as opposed to fibrosis. They are very sensitive, and are expressed at an early stage of the disease. This sensitivity is particularly obvious for vimentin expression, which is currently being translated into clinical practice in a study (clinical trial NCT#01079143) using vimentin and β-catenin tubular staining for the screening of early tubular injury in kidney-graft biopsies. Such early markers are also useful for renal research, as they allow characterization and study of various models of renal injury at a stage closer to the initiating mechanism of the disease. Second, they are markers with reasonable prognostic value. Were an anti-fibrotic molecule to be introduced into the pharmacopeia, EMT markers would help in identification of high-risk patients, and also provide a short-term endpoint criterion to evaluate the efficacy of therapeutic strategies. Finally, the concept of EMT has positively stimulated research on adult-tissue fibrogenesis, and helped to characterize the pro-fibrotic molecular environment.
Authors' Affiliations
(1)
Institut national de la santé et de la recherche médicale (INSERM), Paris, France
(2)
Université Pierre et Marie Curie, Sorbonne Universités, Paris, France
(3)
Urgences néphrologiques et transplantation rénale de l'hôpital Tenon, assistance publique des hôpitaux de Paris, Paris, France
Copyright
© Galichon and Hertig; licensee BioMed Central Ltd. 2011
This article is published under license to BioMed Central Ltd. This is an Open Access article distributed under the terms of the Creative Commons Attribution License (http://creativecommons.org/licenses/by/2.0), which permits unrestricted use, distribution, and reproduction in any medium, provided the original work is properly cited.