Toll-like receptor 4 signaling in liver injury and hepatic fibrogenesis
Fibrogenesis & Tissue Repair
2010
3:21
Received: 7 September 2010
Accepted: 21 October 2010
Published: 21 October 2010
Abstract
Toll-like receptors (TLRs) are a family of transmembrane pattern recognition receptors (PRR) that play a key role in innate and adaptive immunity by recognizing structural components unique to bacteria, fungi and viruses. TLR4 is the most studied of the TLRs, and its primary exogenous ligand is lipopolysaccharide, a component of Gram-negative bacterial walls. In the absence of exogenous microbes, endogenous ligands including damage-associated molecular pattern molecules from damaged matrix and injured cells can also activate TLR4 signaling. In humans, single nucleotide polymorphisms of the TLR4 gene have an effect on its signal transduction and on associated risks of specific diseases, including cirrhosis. In liver, TLR4 is expressed by all parenchymal and non-parenchymal cell types, and contributes to tissue damage caused by a variety of etiologies. Intact TLR4 signaling was identified in hepatic stellate cells (HSCs), the major fibrogenic cell type in injured liver, and mediates key responses including an inflammatory phenotype, fibrogenesis and anti-apoptotic properties. Further clarification of the function and endogenous ligands of TLR4 signaling in HSCs and other liver cells could uncover novel mechanisms of fibrogenesis and facilitate the development of therapeutic strategies.
Keywords
Liver InjuryMigration Inhibitory FactorHepatic Stellate CellTLR4 SignalingBile Duct Ligation
Introduction
Toll-like receptors (TLRs) are evolutionarily conserved trans-membrane proteins originally identified in mammals on the basis of their homology with Toll, a Drosophila receptor that contributes to development in the embryo, and in the production of antimicrobial peptides against microorganism invasion in the adult fly [1, 2].
TLRs are a family of pattern-recognition receptors that recognize pathogen-derived molecules termed pathogen-associated molecular patterns (PAMPs), which are structural components unique to bacteria, fungi and viruses. These ligands bind to TLRs, leading to signaling and activation of innate and adaptive inflammatory responses.
Ten TLRs have been identified in humans [
3
], which have individual or shared substrates for activation, and recognize microbes either on the cell surface or on lysosome/endosome membranes (Table
1
). Toll-like receptor (TLR)4 was the first to be discovered, and is the most important Toll homolog; it responds primarily to its main ligand, lipopolysaccharide (LPS).
Table 1
Toll-like receptor (TLR) family and ligands
| TLR | Ligands | Cellular location |
| --- | --- | --- |
| TLR1 | Triacylated bacterial lipopeptides | Cell membrane |
| TLR2 | Triacylated bacterial lipopeptides | Cell membrane |
| TLR3 | Double-stranded RNA produced by most viruses during replication | Endosomal compartment |
| TLR4 | Lipopolysaccharide, low-molecular weight hyaluronic acid, heparin sulfate, saturated fatty acid, fibrinogen, fibronectin, heat shock proteins 60 and 70, high mobility group box-1, degraded matrix | Cell membrane |
| TLR5 | Bacterial flagellin | Cell membrane |
| TLR6 | TLR1 and 6 combine with TLR2 to distinguish the subtle differences between triacyl and diacyl lipopeptides | Cell membrane |
| TLR7 | ssRNA viruses, influenza virus | Endosomal compartment |
| TLR8 | ssRNA | Endosomal compartment |
| TLR9 | Unmethylated CpG DNA found in bacteria, DNA virus | Endosomal compartment |
| TLR10 | unknown | Cell membrane |
Recent studies indicate that TLR4 signaling can also be activated by some endogenous ligands from cellular compartments, which are released and/or increased during tissue injury and matrix degradation. These ligands are collectively referred to as damage-associated molecular patterns (DAMPs).
There is rapidly increasing knowledge both about TLR4 signaling in cells and about the association of single nucleotide polymorphisms (SNPs) of the TLR4 gene with the risks and mechanisms of human diseases. In liver, both parenchymal and non-parenchymal cell types express TLR4, which is actively involved in the response to injury from a variety of etiologies, including viral hepatitis, alcoholic and non-alcoholic liver diseases, autoimmune liver diseases and drug-induced liver diseases. TLR4 signaling is present in activated hepatic stellate cells (HSCs), the major fibrogenic cell type in injured liver, and mediates the inflammatory phenotype and survival of the cell. Recent studies have uncovered an important role for TLR4 signaling in liver fibrogenesis and the association of TLR4 polymorphisms with fibrosis risk.
In this review, we introduce TLR signal transduction and the functional role of TLR4 signaling in liver injury and fibrogenesis, pointing towards the potential to develop specific therapeutics.
Components of the TLR4 signaling pathway
TLRs mediate a tightly integrated signal transduction cascade linking a series of protein-protein interactions with their ligands, receptors, co-receptors and adaptor proteins to convey downstream signals that control transcription [
4
] (Figure
1
). Genes regulated by TLRs include cytokines and proteins controlling innate and adaptive immunity, cell survival and apoptosis, and fibrogenesis.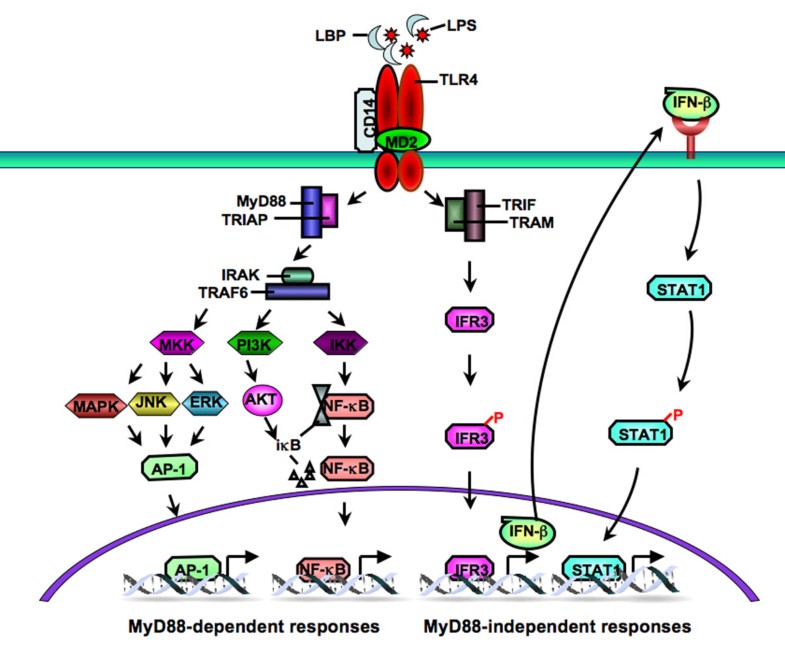 TLR4 and co-receptors
Human TLRs are type I transmembrane glycoproteins that are structurally characterized by the presence of a leucine-rich repeat (LRR) domain in their extracellular structure, and a conserved Toll/interleukin (IL)-1 receptor (TIR) homology domain in their intracellular domains.
The extracellular domain is unique to each individual TLR, as it confers specificity for ligand recognition. For example, for the initiation of LPS to activate intracellular TLR4 signaling, the ligand first interacts with circulating LPS-binding protein (LBP) along with three LRR domain-containing proteins, TLR4 and the two co-receptors CD14 and myeloid differentiation protein (MD)2, together comprising the LPS receptor complex [5]. CD14 is a 55 kDa glycophosphatidylinositol-linked protein expressed on the surface of LPS-responsive cells such as macrophages and monocytes. Alone, CD14 cannot transduce a signal intracellularly because it lacks a transmembrane domain. Instead, it transfers LPS to a hydrophobic pocket within the MD2 glycoprotein, resulting in TLR4-dependent activation of cells. MD2 is a glycoprotein of approximately 17 to 25 kDa, and is present with TLR4 at the surface of various cell types, principally those of the myeloid and endothelial lineages. Despite the absence of a transmembrane domain, MD2 can attach to the cell surface via its interaction with TLR4 through specific epitopes. Human MD2 is an accessory molecule expressed on the cell surface that is not only required for cell-surface expression of TLR4, but also appears to be essential for the activation of the TLR4 signaling cascade. Activation of TLR4 by LPS absolutely requires the presence of the co-receptor MD2 for signaling, whereas some TLR4-mediated signals may still be generated in the absence of CD14.
Both CD14 and MD2 are soluble acute phase proteins [6]. They may act as a sink for LPS, and participate in opsonization and internalization of Gram-negative bacteria by human phagocytes.
Adaptors
Upon LPS recognition, TLR4 undergoes oligomerization and recruits its downstream adaptors through interactions with the TIR domains. Four adaptor proteins (myeloid differentiation factor (MyD)88, MyD88-adaptor-like/TIR domain-containing adaptor protein (MAL/TIRAP) [7], TIR domain-containing adaptor inducing interferon-β (TRIF) and TRIF-related adaptor molecule (TRAM) [8, 9]) transduce signals from all of the TIR domains and engage downstream signaling proteins. The function of a fifth adaptor, SARM (sterile alpha and HEAT/Armadillo motif protein), has yet to be defined. Different TLRs use different combinations of adaptor proteins to determine downstream signaling; TLR4 is the only known TLR that uses all these adaptor proteins.
TLR4 signaling has been divided into MyD88-dependent and MyD88-independent, TRIF-dependent pathways. The MyD88-dependent pathway signals through IL-1 receptor-associated kinase (IRAK)-1, IRAK-4, tumor necrosis factor (TNF) receptor-associated factor (TRAF)6, and transforming growth factor-β-activated kinase (TAK)1, which activates downstream iκB kinase (IKK) and mitogen-activated protein kinase (MAPK) pathways [10]. These events in turn lead to activation of the transcription factors nuclear factor (NF)-κB and activator protein (AP)-1, respectively, and control the expression of pro-inflammatory cytokines and other immune related genes. In addition, phosphatidylinositol 3-kinase (PI3K) and AKT are also important factors downstream of MyD88 that mediate NF-κB activation [11, 12]. The MyD88-independent pathway is mediated by TRIF, which activates interferon regulatory factor (IRF)3 and induces the expression of interferon (IFN)-β and IFN-responsive genes [13]. The MyD88-independent pathway also mediates the late-phase activation of NF-κB and MAPK. The activation of two signaling pathways downstream of TLR4 is cell-specific and dependent on the dose of the ligands [14]. Interestingly, LPS is unable to activate the MyD88-independent pathway in terminally mature neutrophils [15].
Transcription factors
At least three major transcriptional complexes are involved in TLR4 signaling: NF-κB, AP-1 and IFN regulatory factors (IRFs). These nuclear factors have important activities in HSCs (see below) and other resident liver cell populations. However, a comprehensive understanding of which transcriptional complexes are downstream of TLR4 in each cell type is lacking, and warrants further investigation.
NF-κB
NF-κB is a pleiotropic protein complex that is activated from a sequestered, cytoplasmic form normally retained in the cytoplasm by binding to iκB (the NF-κB inhibitor protein) via pro-inflammatory extracellular signals and cellular stress. However, after iκB degradation, initiated by a complex signaling cascade initiated at the cell surface (for example, TLR4 signaling), the active form of NF-κB translocates into the nucleus, where it activates transcription.
NF-κB regulates hundreds of cellular genes including cytokines, chemokines, adhesion molecules that participate in the regulation of innate and adaptive immunity, and proteins that regulate cell-cycle progression (for example, cyclin D1) and cell survival (for example, Bcl-2, Bcl-xL and Bfl-1). Both pro- and anti-apoptotic gene products are regulated by NF-κB, depending on the cell type and the stimulus [16].
NF-κB activity can be perturbed in a variety of non-parenchymal and parenchymal liver cells during hepatic inflammation, fibrosis and the development of hepatocellular carcinoma, and regulates the interplay between immune, fibrogenic and oncogenic mediators [17]. Hepatic NF-κB is implicated in homeostatic processes such as: clearance of microbial pathogens, protection of hepatocytes from TNF-α-induced cell death, and compensatory proliferation of hepatocytes in response to loss of hepatic mass after liver injury [18]. NF-κB signaling has vast complexity, and the NF-κB activities are context-dependently regulated by subunit interactions, post-translational modification and recruitment of co-regulators.
Activated HSCs have persistently activated NF-κB, with a reduction in iκB expression. As a result, many NF-κB responsive genes are constitutively expressed in activated, but not in quiescent HSCs. Inhibiting NF-κB activation does not alter the activated cellular morphology of HSCs, or the expression of either α-smooth muscle actin (α-SMA) or collagen; however, NF-κB plays an important role in the anti-apoptotic property of activated HSCs and hepatic myofibroblasts [19]. It also mediates the regulation of the TGF-β1 pseudoreceptor BAMBI (bone morphogenic protein and active membrane bound inhibitor) in HSCs by TLR4-MyD88 activation, thus sensitizing the cell to TGF-β1 signaling [20].
AP-1
The transcription factor AP-1 is composed of either homodimers or heterodimers of members of the Jun (c-Jun, v-Jun, Jun-B and Jun-D) and Fos (c-Fos, Fos-B, Fra-1 and Fra-2) families, and regulates cell proliferation, differentiation and survival. The regulation of AP-1 activity is complex, which can be achieved by modulating jun and fos gene transcription and mRNA turnover; Jun and Fos protein turnover; post-translational modifications of Jun and Fos proteins that modulate their transactivation potential; or interactions of AP-1 with other transcription factors that can either synergize or interfere with its activity. Various stimuli, such as physiological agents (growth factors, mitogens, polypeptide hormones, cell-matrix interactions and inflammatory cytokines), bacterial and viral infections, pharmacological compounds (phorbol esters), cellular stress (ultraviolet or ionizing radiation, hyperosmotic and heavy-metal stress), can induce AP-1 activity. These stimuli activate MAPK cascades by phosphorylating distinct substrates, mostly for p38, Jun amino-terminal kinase (JNK) and extracellular signal-regulated kinase (ERK), which enhance AP-1 activity.
In activated HSCs, AP-1 represents another family of transcription factors that has increased and persistent activity. AP-1 is a downstream effector of MAPK signaling that contributes to TGF-β1 and platelet-derived growth factor-induced HSC fibrogenesis and proliferation, respectively. In addition, AP-1 regulates tissue inhibitor of metalloproteinase (TIMP), matrix metalloproteinase (MMP) and other genes involved in matrix remodeling [21–23]. Jun D is the most important AP-1 factor in activated HSCs, as it is required for both TIMP-1 and IL-6 gene expression [22].
AP-1 can combine with several transcription factors to form complexes that synergistically mediate the transcription of fibrogenic genes. Examples of these crucial combinations include the cooperation of Smad3/4 complex with AP-1 in mediating TGF-β1-induced α2(I) collagen transcription [24], assembly of the Jun D and RunX factors at the TIMP-1 promoter to stimulate gene transcription [25], and NF-κB- and AP-1-mediated, IL-1β-stimulated TGF-β1 transcription [26].
IRFs and STAT1
A family of IRFs regulate the transcription of IFN genes and IFN-stimulated genes. The MyD88-independent TRIF-dependent TLR4 pathway activates IRF3, and induces the expression of IFN-β and IFN-responsive genes [13, 27], whereas IRF1 is activated via MyD88-dependent pathways. IRF1 rapidly translocates to the nucleus, and cooperates with IRF3 in response to LPS for the initial induction of target genes, including IL-27p28 [28].
Activation of signal transducers and activators of transcription 1(STAT1) by TLR4 signaling can occur directly via a protein kinase (PK)C-δ related mechanism [29] or indirectly by the induction of IFN-β via MyD88-independent IRF3 activation [13]. In the indirect mechanism, STAT1 is tyrosine-phosphorylated and dimerized after antocrine/paracrine interactions within IFN-β and IFNα/β receptors on the surface of cells, which result in the crossactivation of the receptor-associated Janus protein tyrosine kinases (JAKs). The activated STAT1 in turn regulates the expression of several STAT1-dependent genes [30], including genes involved in growth control and that mediate the responses of IFN types (for example, IFN-γ) to viral infections and other pathological agents.
Downstream factors
The downstream factors regulated by TLR4 signaling include:
1. Effectors of the innate immune response: pro-inflammatory cytokines (TNF-α, IL-1, IL-6), chemotactic cytokines (monocyte chemotactic protein (MCP)-1, macrophage migration inhibitory factor (MIF)), pro-inflammatory proteins (inducible nitric oxide synthase (iNOS)), reactive oxygen species (ROS); adhesion molecules (intercellular adhesion molecule (ICAM)-1, vascular cell adhesion molecule (VCAM)-1) and other effectors of the innate immune response (for example, IFN-γ). Products of the inflammatory cascade such as IL-1, TNF-α and cyclooxygenase (COX)-2 can further amplify the inflammatory response.
2. Proteins that regulate cell-cycle progression (for example, cyclin D1) and the apoptotic threshold (for example, Bcl-2, Bcl-xL and Bfl-1).
3. The TGF-β1 pseudoreceptor BAMBI [20], which is downregulated by a TLR4-MyD88-NF-κB dependent pathway, thereby sensitizing HSCs to TGF-β1 signaling. Rregulation of BAMBI by TLR4 signaling provides a link between pro-inflammatory and profibrogenic signals [31].
Negative regulation of TLR4 signaling
TLR4 signaling can be controlled at multiple levels by many regulators [4]. These (mostly inhibitory) pathways are necessary to protect the host from inflammation-induced damage. The key regulators include:
1. Radioprotective (RP)105, ST2L (also known as IL-1R1) and single immunoglobulin IL-1R-related molecule (SIGIRR), which are expressed on the cell surface, interact with TLR4, MD2, MyD88 and TIRAP, and inhibit the initiation of TLR4 signaling.
2. TRIAD3A (Triad domain-containing protein 3, variant A) and suppressor of cytokine signaling (SOCS)1, which are two E3 ubiquitin protein ligases involved in LPS/TLR4 signaling. TRIAD3A can interact with certain TIR domain-containing proteins such as TIRAP and TRIF, and promote their degradation. SOCS-1 was identified as a cytokine regulator that inhibits JAK-STAT signaling. SOCS-1 can induce the ubiquitination of TIRAP, leading to its subsequent degradation [32].
3. Other intracellular negative regulatory proteins act further downstream in the signaling pathway, and include IRAK-M (IRAK family member but lacks kinase activity), IRAK-2c and MyD88s (splicing variants of IRAK and MyD88), TRAF1 and TRAF4 (TRAF family members that interact with TRIF activity), A20 (a de-ubiquitinating enzyme that can remove ubiquitin moieties from TRAF6) [33], and syntenin [34].
4. Activating transcription factor (ATF)3, a member of the cAMP response element binding (CREB)/ATF family of transcription factors that negatively regulates TLR4-stimulated inflammatory responses by altering chromatin structure and interacting with regulatory regions of targeted genes (for example, NF-κB and AP-1 promoter binding sites) [35, 36].
5. Let-7i, a cellular micro (mi)RNA, regulates TLR4 expression via post-transcriptional suppression [37]. The miRNAs are a newly identified class of endogenous small regulatory RNAs in the cytoplasm that associate with messenger RNAs based on complementarity between the miRNAs and the target mRNAs [38, 39]. This binding causes either mRNA degradation or translational suppression, resulting in gene suppression at a post-transcriptional level. Human biliary epithelial cells (cholangiocytes) express let-7 family members, which are decreased in response to Cryptosporidium parvum infection and LPS, and are associated with upregulation of TLR4 and improved epithelial defense responses [37].
Ligands
Exogenous ligands
The exogenous ligands of TLRs that are related to pathogen and host defense are referred to as PAMPs. LPS is the well-characterized PAMP for TLR4, and is the principal glycolipid component of the outer membrane of Gram-negative bacteria. TLR4 plays an important role in mediating LPS-induced inflammatory signaling and infectious diseases. TLR4 also recognizes proteins from respiratory syncytial virus, vesicular stomatitis virus and mouse mammary tumor virus [40–42].
Endogenous ligands
Besides its natural exogenous substrate LPS, there are endogenous substrates for TLR4 that also bind and activate TLR4 [43], including low molecular weight hyaluronic acid [44, 45], free fatty acids (FFAs) [46], fibrinogen [47], fibronectin [48], heat shock proteins (HSPs) 60 and 70 [49, 50] and high mobility group box (HMGB)1 [51]. In vivo, damage signals and intact extracellular matrix (ECM) degradation activate TLR4 [52].
Most of these endogenous ligands are released and/or increased during tissue injury and matrix degradation, and are now referred to as DAMPs. Release of DAMPs into the extracellular space is achieved by a number of mechanisms, including: leakage from necrotic cells; increased synthesis and post-translational modification in response to inflammation; and degradation of inactive precursors into TLR-mimetic degradation products in inflammatory environments. DAMPs mediate non-sterile inflammation by activating TLR4 signaling [53].
Most of the endogenous TLR4 ligands have been studied in macrophages, monocytes and neutrophils, and in cells from C3H/HeJ mice, which lack a functional TLR4 receptor because of a missense point mutation that results in the substitution of histidine for proline within the cytoplasmic portion of TLR4. The direct effect of these DAMPs on activated HSCs, which have intact TLR4 signaling [10, 20, 54], is yet to be delineated, and has potential importance for further clarifying the mechanisms of fibrogenesis.
TLR4 signaling in liver cells
Compared with other organs, healthy liver contains low mRNA levels of TLRs and signaling molecules such as MD2 and MyD88, which may account for the high tolerance of the liver to TLR ligands from the intestinal microbiota, to which the organ is constantly exposed. Damaged liver has increased expression of TLR4 and its co-receptors, which sensitize the inflammatory cascade mediated by TLR4 signaling in the injured organ [66]. In liver, TLR4 is expressed by both the hepatocytes and non-parenchymal cells (NPCs), including liver sinusoidal endothelial cells (LSECs) and Kupffer cells (KCs). NPCs display a cell type-specific activation profile in response to the stimulation by TLR ligands [67].
TLR4 signaling in liver injury
TLR4 signaling is a 'good' response in promoting pathogen eradication and initiating liver regeneration. It is essential in the generation of both innate and adaptive immune responses against pathogens (for example, salmonella) [88]. TLR4-deficient C3H/HeJ mice have an increased microbial burden and mortality after infection [88].
However, TLR4 also plays a deleterious role in hepatic inflammation and injury arising from many causes (Figure
2
). TLR activation induces pro-inflammatory cytokine cascades, which contribute to the pathophysiology and clinical outcome of severe liver injuries. Genetic deletion or mutation of TLR4 reduces macrophage infiltration and liver injuries in animals with experimentally induced liver damage.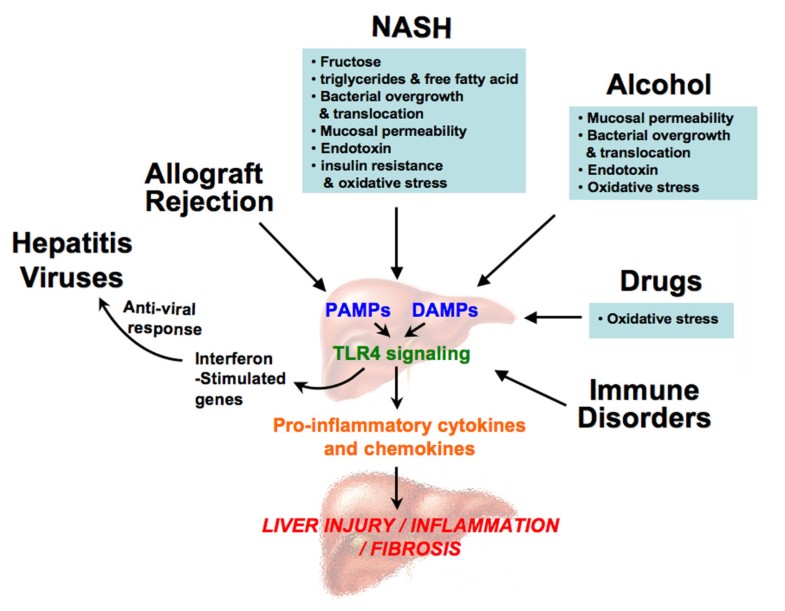 TLR4 signaling and liver fibrogenesis
Important link between TLR4 signaling and enhanced fibrogenesis
Fibrosis is characterized by an excessive deposition of ECM protein, impairing normal liver function, and ultimately leading to cirrhosis and organ failure. Inflammation and tissue injury are important factors that initiate and promote liver fibrosis [114–116]. Chronic inflammation and fibrogenesis are a dynamic aggregate of lymphocytes, macrophages and stromal cells linked by autocrine and paracrine interactions [117]. Inflammatory cells belonging to the innate (for example, NK cells and macrophages) and adaptive immune response (T and B cells) participate in liver injury and fibrogenesis. TLR signaling in the course of liver injury by hepatitis viruses and other etiologies contributes significantly to the activation and interaction of inflammatory cells, myofibroblasts and the matrix microenvironment.
TLR4 signaling is activated in acute infection to clear the pathogen, but contributes to liver scarring in chronic disease. TLR4 and its ligands mediate their effects in liver fibrosis through different mechanisms. First, TLR4 downregulates the TGF-β1 pseudoreceptor BAMBI to sensitize HSCs to TGF-β1-induced signals [
20
]. Second, TLR4 activation also upregulates cytokine and chemokine secretion from cells with inflammatory phenotypes such as KCs and HSCs [
10
,
72
,
88
,
118
] (Figure
3
). HSCs act as important effectors of the liver's inflammatory response by regulating leukocyte trafficking and KC recruitment and activation via secretion of cytokines and chemokines [
119
,
120
].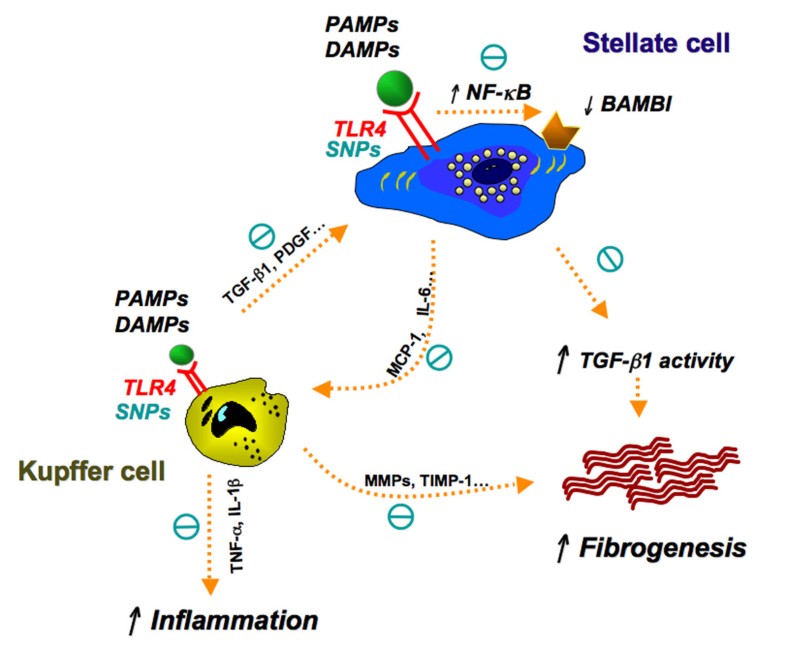 TLR4 was identified as one of seven genes associated with increased risk of developing cirrhosis in patients with chronic hepatitis C [72, 121]. LPS and endogenous TLR4 ligands are increased in the serum and livers of patients with liver cirrhosis and of animals with experimental chronic liver disease. CD14- or LBP-deficient mice are resistant to the liver injury and fibrosis induced by bile duct ligation [122]. Studies using TLR4 mutant C3H/HeJ mice have demonstrated that hepatic inflammation and fibrosis are strongly decreased in the TLR4 mutant C3H/HeJ strain after bile duct ligation or carbon tetrachloride administration [20]. The cellular mechanisms underlying the fibrosis-promoting effects of TLR4 in the liver are not yet elucidated.
TLR4 polymorphisms and the functional consequences on liver fibrosis
SNPs of TLRs influence the vigor of immune responses in bacterial, viral and parasitic infections. More than 100 SNPs have been identified in human TLR4 genes, of which the TLR4 T399I and D299G are two common (frequency 0 to 20% across different ethnicities), highly co-segregated (80% co-segregation rate), non-synonymous polymorphisms within the extracellular domain of the TLR4 protein. These SNPs may affect the strength of interactions with either agonist(s) and/or co-receptors, leading to decreased recognition of ligands in an agonist-independent manner [123–125]. These TLR4 SNPs are primarily associated with a blunted response to inhaled LPS in humans [126]. Many studies report the association between these TLR4 genetic polymorphisms and disease risk. They are associated with susceptibility to infectious diseases including Gram-negative bacterial infection [127, 128], severe malaria [129], bronchitis [130–132], and diseases as disparate as inflammatory bowel disease [130], early onset pre-eclampsia [133], Helicobacter pylori infection, and gastric cancer [134]. TLR4 SNPs reduce the risk of early acute allograft rejection. They are not associated with the risk or severity of either rheumatoid arthritis or systemic lupus erythematosus [135–138]; multiple sclerosis [139, 140]. spondylarthropathies [141], cerebral ischemia [142], juvenile idiopathic arthritis [143]; and outcome of angiography [144].
In contrast to the reduced risk of early acute allograft rejection [111, 145], TLR4 SNPs are associated with delayed progression of hepatic fibrosis [121, 146]. A gene-centric functional genome scan in patients with chronic hepatitis C yielded a Cirrhosis Risk Score (CRS) signature consisting of seven SNPs that may predict the risk of developing cirrhosis [121]. Of these seven SNPs, the major CC allele of TLR4 encoding p.T399 is the second most predictive SNP. This allelle confers a threefold increased risk of fibrosis progression over carriers of the T399I variant, indicating a protective role in fibrosis progression of the c.1196C→T (rs4986791) variant at this location (p.T399I), along with another highly co-segregated SNP, c.896A→G (rs4986790), located at coding position 299 (p.D299G). Absence of TLR4 or expression of the TLR4 T399I and/or D299G SNPs confers reduced LPS responsiveness in cultured human or mouse HSCs [72]. These SNPs reduce NF-κB activation and pro-inflammatory cytokine expression, and attenuate downregulation of the TGF-β pseudoreceptor BAMBI in HSCs after LPS stimulation. These SNPs also reduce cell growth and lower the apoptotic threshold in mouse hepatic stellate cells after apoptotic stress [72]. In addition to these two missense variants, other variants of the TLR4 gene have also been independently associated with the risk of fibrosis by dense genotyping and association testing, findings that warrant further mechanistic studies [146]. Thus, although specific SNPs confer LPS hypo-responsiveness and increased susceptibility to infection, they reduce the likelihood of end-organ damage due to progressive scarring. Further studies are needed to explore if these SNPs also affect fibrogenesis through responses in other cell types and if they affect the response of TLR4 to endogenous ligands (Figure 3).
Future prospects
Because TLR4 signaling has been identified as a key inflammatory and fibrogenic signal in injured liver and HSCs, interventions to inhibit the intracellular signaling associated with TLR4-IL-1R might be effective in reducing the inflammatory actions of TLR4-mediated liver injury and dampening liver fibrogenesis [147]. A peptide termed P13 limits the LPS-induced inflammatory response and enhances survival in murine models of inflammation [148]. Pharmacological inhibition of endotoxin responses has also been achieved by targeting the TLR4 co-receptor, MD2 [149]. Several small molecule inhibitors of TLR4 are currently being tested, including:
(1) Lipid A mimetics (for example, E5564 and CRX-526 [150, 151]) which bind to the TLR4-MD2 complex but lack intrinsic activity and thus prevent binding of the lipid A portion of LPS and subsequent TLR4 activation
(2) TAK-242, which exerts its inhibitory effects at the intracellular domain of TLR4 [152]. Both E5564 and TAK-242 are currently being tested in phase III clinical trials in patients with septic shock.
(3) Soluble fusion proteins of the extracellular domain of TLR4 and MD2 or TLR4/MD2/IgG-Fc fusion protein that bind LPS. They specifically inhibit LPS-induced NF-κB and JNK activation, and abolish LPS-induced secretion of chemokines (MCP-1) and cytokines (IL-6) from HSCs [153]. This soluble receptor might provide a new biologic agent in the prevention and therapy of liver fibrosis and other diseases in which TLR4-mediated signal transduction plays a pathological role, such as in alcoholic liver injury and non-alcoholic steatohepatitis.
(4) Fc/fusion protein or antagonists of TREM-1 (triggering receptor expressed on myeloid cells-1), which belongs to another pattern recognition receptor family. This molecule synergizes with TLR4, and mediates the inflammatory responses of hepatic macrophages and endothelial cells to LPS. Blockage of TREM-1 limits LPS-induced inflammatory responses and injury [154].
By contrast, synthetic TLR4 agonists may boost the protective innate immune responses against infection [155]. Examples include alpha-1 acid glycoproteins, which are a class of lipid A mimetics composed of a monosaccharide unit with an N-acylated aminoalkyl aglycon spacer arm. Increasing evidence suggests that immune modulators such as TLR4 ligands or agonists could also be successfully used as therapeutic agents in infectious liver diseases, such as HBV and HCV [93, 156].
Declarations
Acknowledgements
This study was supported by NIH Grant RO1DK56621 and funding from Celera Diagnostics. JG is a recipient of National Fund of Nature Science of P.R. China (Number 81070340).
Authors' Affiliations
(1)
Division of Digestive Diseases, Zhong Shan Hospital, Department of Internal Medicine, Shanghai Medical College, Fu Dan University, Shanghai, China
(2)
Division of Liver Diseases, Mount Sinai Hospital, Mount Sinai School of Medicine, New York, USA
Copyright
© Guo and Friedman; licensee BioMed Central Ltd. 2010
This article is published under license to BioMed Central Ltd. This is an Open Access article distributed under the terms of the Creative Commons Attribution License (http://creativecommons.org/licenses/by/2.0), which permits unrestricted use, distribution, and reproduction in any medium, provided the original work is properly cited.