Redox mechanisms in hepatic chronic wound healing and fibrogenesis
Fibrogenesis & Tissue Repair
2008
1:5
Received: 28 February 2008
Accepted: 13 October 2008
Published: 13 October 2008
Abstract
Reactive oxygen species (ROS) generated within cells or, more generally, in a tissue environment, may easily turn into a source of cell and tissue injury. Aerobic organisms have developed evolutionarily conserved mechanisms and strategies to carefully control the generation of ROS and other oxidative stress-related radical or non-radical reactive intermediates (that is, to maintain redox homeostasis), as well as to 'make use' of these molecules under physiological conditions as tools to modulate signal transduction, gene expression and cellular functional responses (that is, redox signalling). However, a derangement in redox homeostasis, resulting in sustained levels of oxidative stress and related mediators, can play a significant role in the pathogenesis of major human diseases characterized by chronic inflammation, chronic activation of wound healing and tissue fibrogenesis. This review has been designed to first offer a critical introduction to current knowledge in the field of redox research in order to introduce readers to the complexity of redox signalling and redox homeostasis. This will include ready-to-use key information and concepts on ROS, free radicals and oxidative stress-related reactive intermediates and reactions, sources of ROS in mammalian cells and tissues, antioxidant defences, redox sensors and, more generally, the major principles of redox signalling and redox-dependent transcriptional regulation of mammalian cells. This information will serve as a basis of knowledge to introduce the role of ROS and other oxidative stress-related intermediates in contributing to essential events, such as the induction of cell death, the perpetuation of chronic inflammatory responses, fibrogenesis and much more, with a major focus on hepatic chronic wound healing and liver fibrogenesis.
Keywords
Reactive Oxygen SpeciesNitric OxideEndoplasmic Reticulum StressReactive Oxygen Species GenerationKupffer Cell
Background
From oxidative stress to redox homeostasis and redox signalling
Molecular oxygen (O
2
) is essential for the survival of human beings and, more generally, of all aerobic organisms. Aerobic energy metabolism relies on oxidative phosphorylation, a crucial process by which the oxido-reduction energy of mitochondrial electron transport is eventually converted to the high-energy phosphate bond of ATP. Aerobic organisms use O
2
as the final electron acceptor for mitochondrial cytochrome c oxidase, which, in turn, represents the terminal functional element of the mitochondrial multicomponent NADH dehydrogenase enzymatic complex, which is able to catalyze the four-electron reduction of O
2
, leading then also to H
2
O formation (Figure
1
). During mitochondrial oxidative phosphorylation and other electron transfer reactions, however, partially reduced and highly reactive O
2
metabolites, including superoxide anion (O
2
•-
), hydrogen peroxide (H
2
O
2
) and hydroxyl radical (
•
OH), can be formed within cells. These reactive O
2
metabolites are usually collectively referred to as 'reactive oxygen species' (ROS) and their generation in a biological environment exposes most living organisms to the so-called 'oxygen paradox': oxygen is necessary for life but it is also potentially hazardous since ROS may easily become a source of cell and tissue injury, as was recognized by early pioneers of free radical research [
1
–
9
]. However, as a natural consequence of this paradox, aerobic organisms have developed evolutionarily conserved mechanisms and strategies to carefully control the generation of ROS and other oxidative stress-related radical or non-radical reactive intermediates (that is, to maintain redox homeostasis), as well as to 'make use' of these molecules under physiological conditions as tools to modulate signal transduction, gene expression and cellular functional responses (the concept of redox signalling) [
10
–
23
].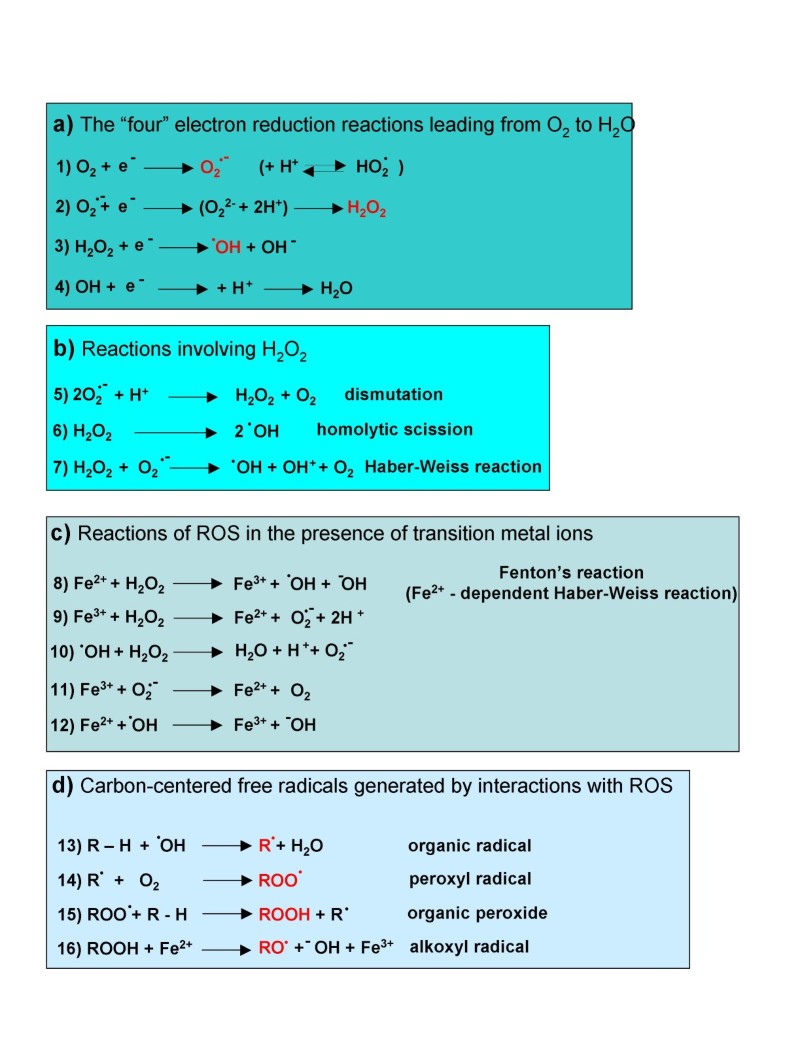 At present, redox research is at the forefront of biomedical research in view of the expanding knowledge on the roles that increased and/or sustained levels of oxidative stress and related mediators have been described to play in major human diseases, including atherosclerosis, diabetes and cardiovascular diseases [14, 24–29], cancer [30, 31], neurodegenerative disorders [32–34], chronic liver [35–38] and lung diseases [39–41], to name just a few. Most of the conditions in which the role of oxidative stress and related mediators has been characterized belong to what one may define as chronic inflammatory/fibrogenic diseases, often involving chronic activation of wound healing.
About this review
This review has been designed as an attempt to offer a comprehensive, but not hyper-specialized, critical introduction to current knowledge in the field in order to introduce readers to the fascinating complexity of redox signalling and redox homeostasis regulation, with a major focus on chronic wound healing and liver fibrogenesis. This review will then offer a sequence of ready-to-use key information and concepts on major types of ROS, free radicals and oxidative stress-related reactive intermediates operating in living organisms, their sources in mammalian cells and tissues, and antioxidant defences. Along these lines, this review will not intentionally deal with all the details but, whenever possible, the interested reader will find indications for highly recommended and more detailed and specialized reviews and articles on specific topics.
ROS, free radical and non-radical reactive intermediates in biological materials
Antioxidant defences
Antioxidant defences rely on the sum of those mechanisms that nature has developed to protect biological tissues from ROS and other oxidants and from lipid peroxidation (Figures
6
,
7
,
8
. With respect to the 'hepatic' focus of this review, the reader should note that all clinical and experimental conditions of CLDs (that is, those leading to fibrosis/cirrhosis) have in common a sharp and significant decrease in antioxidant defences (reviewed in [
35
,
36
]). More details on antioxidant defences can be found in [
42
,
64
–
66
].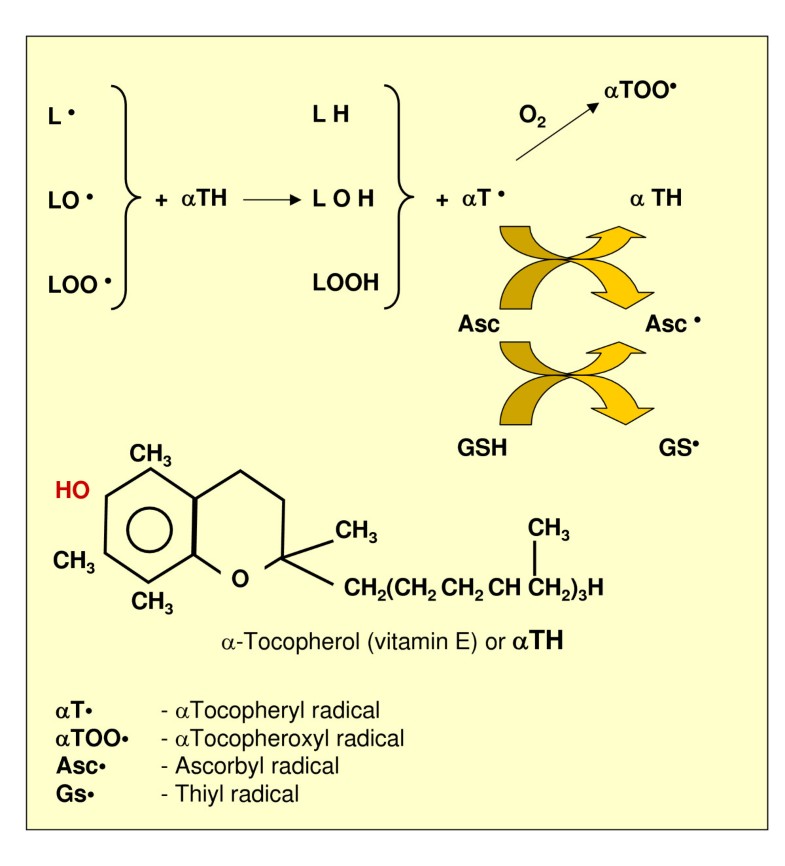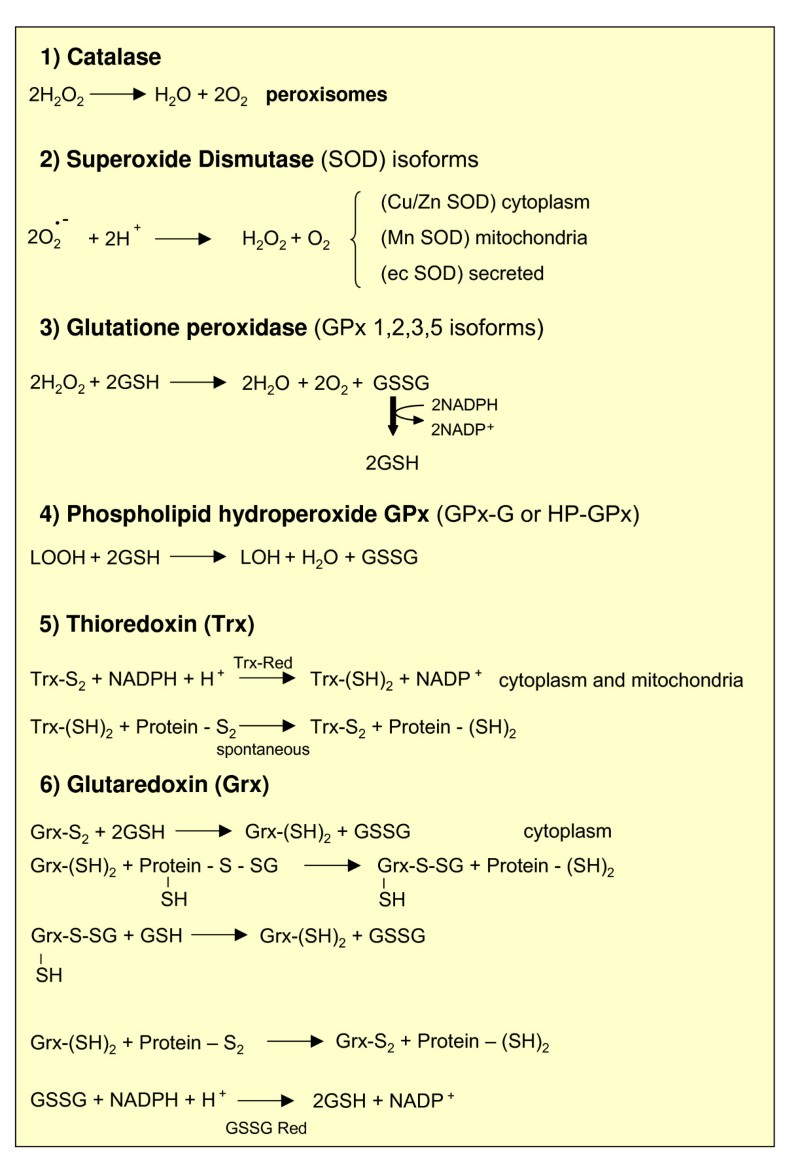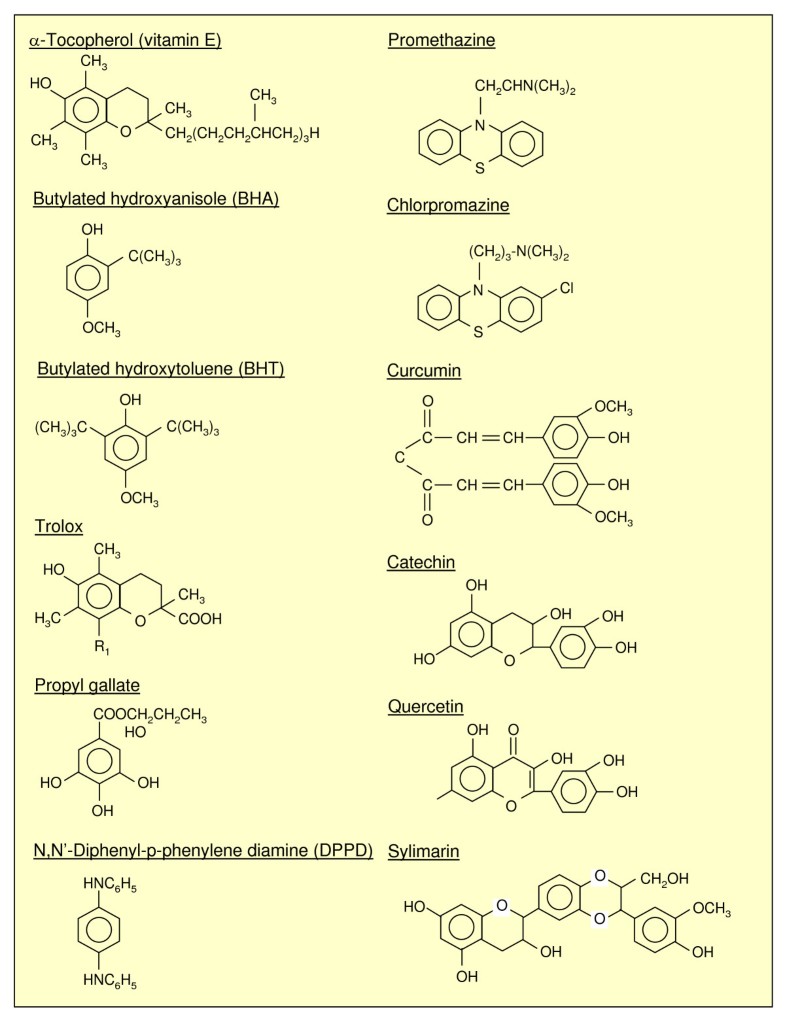 Protection from ROS and oxidants
The following categories of naturally occurring components may be defined.
Antioxidant enzymes
This group of antioxidant enzymes includes 'major' enzymes such as catalase, glutathione peroxidase (GPX) isoforms and SOD isoforms. Catalase and GPX isoforms are responsible for the removal of H2O2 as well as other organic hydroperoxides, whereas SOD isoforms operate by transforming O2•- into H2O2 (Figure 7).
Protection by small molecules
Small molecules involved in protection from ROS and oxidants include ascorbic acid, reduced glutathione (GSH) and uric acid. Ascorbic acid (vitamin C) is a cofactor for several enzymes that has the ability to act as an electron donor and then as a reducing agent; ascorbate can also scavenge (that is, interact directly with) •OH but one has to briefly mention that, depending on the overall concentration, ascorbate may become deleterious by reducing Fe3+ to Fe2+ and, in the presence of H2O2, lead to the generation of significant amounts of •OH. GSH is a hydro soluble tripeptide acting as a substrate for H2O2-removing enzymes such as GPX and dehydroascorbate-reductase as well as a scavenger of •OH (leading to the thiyl radical GS•, which is not harmless) or as a thiol in regenerating the oxidized -SH groups of proteins; Figure 6 also shows the essential reaction of GSSG reductase, which recovers GSH. Uric acid, present in blood plasma, has been reported to scavenge singlet oxygen, •OH and peroxyl radicals.
Protection by sequestration of metal ions
Transition metal ions like iron and copper can exacerbate ROS generation. Ferritin, transferrin, ceruloplasmin, metallothionein and lactoferrin can thus be seen not only as relevant for their respective role in metal homeostasis but also as molecules that, by 'sequestering' redox active metal ions, may prevent ROS production via the Fenton reaction.
Thioredoxin and glutaredoxin systems
Thioredoxins (Trxs, including Trx-1 and Trx-2) [65, 66] are 12 kDa proteins with a catalytic site containing two cysteine residues that can be oxidized reversibly to form disulfide bridges. Trxs undergo NADPH-dependent reduction by Trx-reductase and, in turn, they can reduce oxidized cysteine groups on proteins. Through this intramolecular disulfide-thiol exchange, Trxs can act as hydrogen donors, contributing to the control of redox state. Trxs (mainly Trx-1) may supply reducing equivalents to a number of Trx peroxidases (peroxiredoxins) and also play a role in redox signalling by modulating kinases or transcription factors by forming heterodimers with them.
Glutaredoxins (Glrxs, the cytosolic Glrx-1 isoform and Glrx-2, the latter existing as both mitochondrial and nuclear isoforms) [66] also belong to the Trx superfamily of thiol/disulfide exchange proteins and act as reductants of protein-SG mixed disulfides. Similar to what was described for the Trx system, Glrxs have a role in redox regulation and the Glrx system is composed of Glrx isoforms, GSH reductase, GSH and NADPH.
Protection from lipid peroxidation: natural and synthetic antioxidants
According to Halliwell and Gutteridge [64] "an antioxidant is any substance that, when present at low concentrations compared to those of an oxidizable substrate, is able to significantly delay or inhibit oxidation of that substrate." Of course, this generic definition also includes primary antioxidants (free radical scavengers able to interact directly with and/or to block the initiating free-radical, such as mannitol) and synthetic molecules able to bind metal ions (for example, desferrioxamine). However, several authors, when using the word 'antioxidant', have in mind the so-called 'chain breaking' or 'secondary antioxidants', with α-tocopherol (vitamin E) being the naturally occurring prototype. These natural or synthetic molecules have a chemical structure (Figure 8) able to intercept radical intermediates produced during on-going lipid peroxidation, such as peroxyl or alkoxyl radicals, thus preventing (that is, 'breaking') the perpetuation of hydrogen abstraction in the chain reaction. Figure 6 offers an overview of the reactions involving α-tocopherol, including its re-cycling based on the involvement of GSH and ascorbate.
A number of additional and useful concepts regarding antioxidants (whether enzymic or not) should be considered: antioxidants binding metal ions are not usually consumed during the course of reaction; antioxidants able to decompose peroxides may be consumed or not, depending on their nature (for example, as enzymes GPXs are not consumed); chain breaking – as well as primary – antioxidants are usually consumed during on-going oxidative stress; many antioxidants have multiple mechanisms of action; some antioxidants (tocopherols, ubiquinol, carotenoids and flavonoids) will exert their effects in a lipid phase (that is, at the level of biological membranes) whereas others will do so in an aqueous phase (ascorbate, urate, GSH and other thiols).
Redox homeostasis, redox signalling, redox sensors and redox-dependent transcriptional regulation in mammalian cells: the good, the bad and the ugly
Redox signalling is a definition that can be used to indicate any physiological or pathophysiological condition in which a process can be regulated or modulated by a signal that is delivered through redox chemistry [14–18]. When significant levels of ROS are generated in a biological system (that is, altering redox homeostasis), 'redox signalling' then represents the response or part of the response designed to 'reset' the original state of equilibrium. As in any complex system reacting to the presence of defined reactants, single cells and multicellular organisms have developed highly specific redox sensors and mechanisms that form the basis of oxidant scavenging and ROS signalling systems.
Principles of redox homeostasis
To introduce the concept of redox homeostasis one can refer to the scenario depicted in Figure
9
and to the intuitive concept of oxidant/antioxidant balance, which is still the simplest way to begin understanding the complexity of redox mechanisms.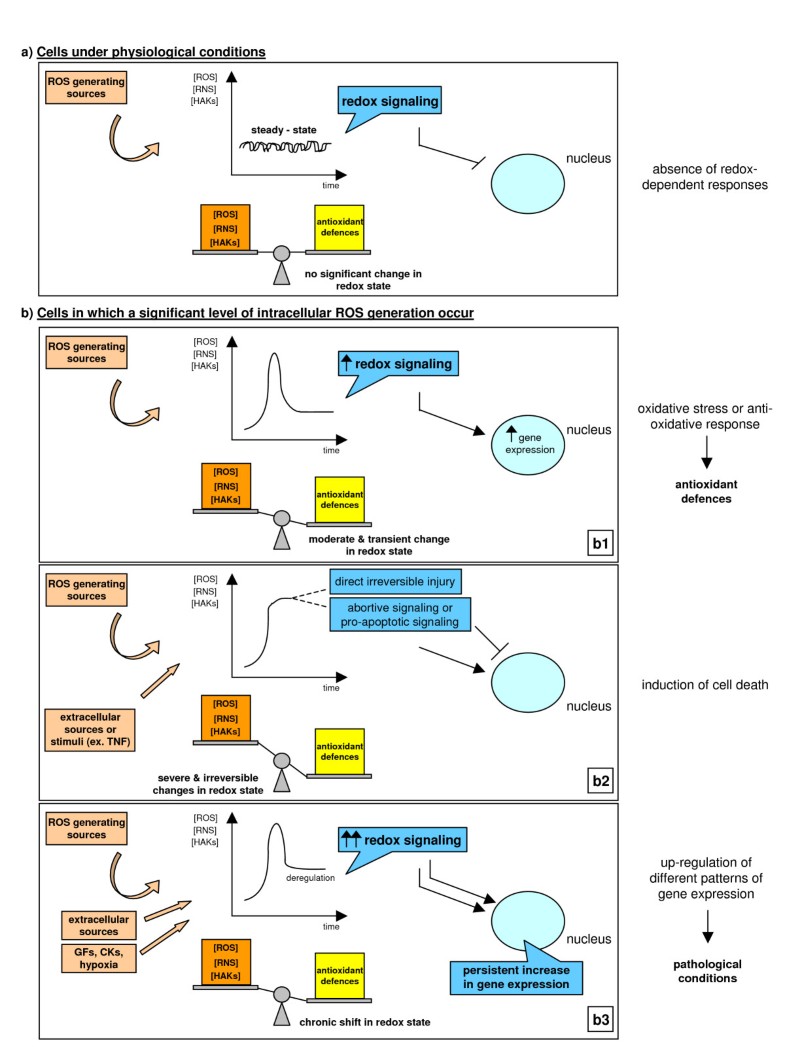 Physiological conditions or unstimulated cells
Under physiological conditions, relatively low amounts (steady-state levels) of ROS, free radicals and other reactive intermediates are produced as a result of a dynamic balance between the rate of their generation and removal. Redox homeostasis is primarily controlled by catalase, Trxs, SODs and GPXs, as well as by naturally occurring antioxidants like GSH, vitamin E, β-carotene, ascorbate, urate, and many others. However, enzymes and natural antioxidants that are highly specific are present at relatively low concentrations; the antioxidant arm of the so-called oxidant/antioxidant balance is significantly implemented by less specific or efficient, but much more abundant, actors that are represented by amino acids, peptides and proteins [14–18, 42, 65, 66]. Indeed, almost all amino acids may serve as molecular targets for pro-oxidants (cysteine, tyrosine, tryptophan and histidine being the most sensitive to oxidants) and the intracellular concentrations of free amino acids reach levels as high as 10-1 M. Oxidized proteins may offer an additional contribution: oxidative attack on proteins can lead to inactivation, fragmentation, aggregation of fragments and/or increased susceptibility to proteolysis. Proteolytic degradation of oxidized proteins is mainly due to 20S proteasome and it has been proposed that oxidatively fragmented and/or misfolded proteins have an increased ROS scavenging activity than normal, non-oxidized proteins [67–69]. In practical terms, cells in which very low levels of ROS are generated (a baseline-like or steady state condition, as in Figure 9a) do not suffer a significant imbalance in pro-oxidants versus antioxidant defences and do not respond by means of a redox signalling.
Cells exposed to an 'acute' and/or 'isolated' versus chronic generation of ROS
Whenever redox homeostasis is significantly disturbed – by an increase in ROS generation, by a decrease in one or more antioxidants or by a change in the thiol/disulfide redox state – redox signalling can be elicited [14–18]. Three different scenarios, depending on the absolute intracellular levels of ROS and other reactive species or the temporal length of the alteration, may be envisaged (Figure 9b).
In the first scenario, the increase in ROS is relatively low and transient (Figure 9b1). In these conditions, the shift in redox balance will be limited and redox signalling will operate through redox-sensitive signalling pathways and transcription factors [14–18] in order to up-regulate genes encoding products that will reset redox homeostasis (enzymes, Trxs and Glrxs, the cystine transport system to sustain the production of GSH, and so on).
In the other two scenarios, oxidative stress is more severe (Figure 9b2 and 9b3). During acute tissue injury or in tissues undergoing chronic injury, levels of intracellular ROS and other reactive intermediates may be very high and/or persistently increased within cells. The 'oxidative stress response' may not be sufficient to contain disturbances and reset the original redox homeostasis. Depending on several factors (that is, the specific agent or condition involved, the overall severity of the injurious process, and so on) this may cause at least two scenarios. Levels of ROS or reactive intermediates may be high enough within the cells to significantly damage macromolecules or alter cellular structures and functions, eventually leading to irreversible injury and cell death (Figure 9b2). If levels of oxidative stress are significantly higher but are not able to induce irreversible cell damage, as may occur in conditions of chronic injury, cells and/or tissues may still reach an equilibrium or, as elegantly defined by Dröge [15], a 'quasi-stable state' (Figure 9b3). This definition implies a shift of the intracellular redox state to higher levels of ROS and a chronically deregulated state in which redox signalling can up-regulate patterns of gene expression and cell responses that are believed to significantly contribute and/or sustain the development of chronic diseases and even cancer progression [15, 70]. Of course, the scenario given in Figure 9b1–b3 is a didactic one and in a tissue undergoing chronic injury, inflammation and wound healing the three conditions are likely to coexist, with an overall scenario in which the development of the disease results from the sum of both ROS-dependent damaging effects and changes in gene expression.
Redox sensors and the basis of redox-dependent transcriptional regulation
At this point one should move beyond the simple concept of oxidant/antioxidant balance by introducing the more refined notion of redox sensors as well as the principles of redox-dependent regulation of transcription. The key messages in this area (for more details see [18, 71]) can be summarized as follows.
The definition of 'redox sensors'
A redox sensor is a specialized redox-sensitive protein that is able to 'sense' or 'measure' intracellular levels of ROS by a redox-based mechanism affecting one or more residues/domains within its three-dimensional structure, and to transform the redox change into a specific setting for antioxidant activity-related transcription and, particularly for mammalian cells, much more.
Redox sensors in prokaryotic cells and yeast
Redox sensors were first described in bacteria, including the OxyR and SoxR redox sensitive transcription factors, the chaperon molecule Hsp33, the oxygen sensor FNR and others. All these 'redox receptors' have a structure designed to sense specific ROS, oxidants or other reactive intermediates. These ancestral redox sensors can essentially contribute to fast mechanisms designed to deal with ROS and to make adjustments allowing the survival of the bacteria (that is, to reset redox homeostasis). During evolutionary development these simple bacterial sensors have been replaced with more specifically designed proteins, such as yeast thiol peroxidases (enzymes belonging to the family of peroxyredoxins or GPXs), which contribute to H
2
O
2
signalling (see Figure
10
for more details).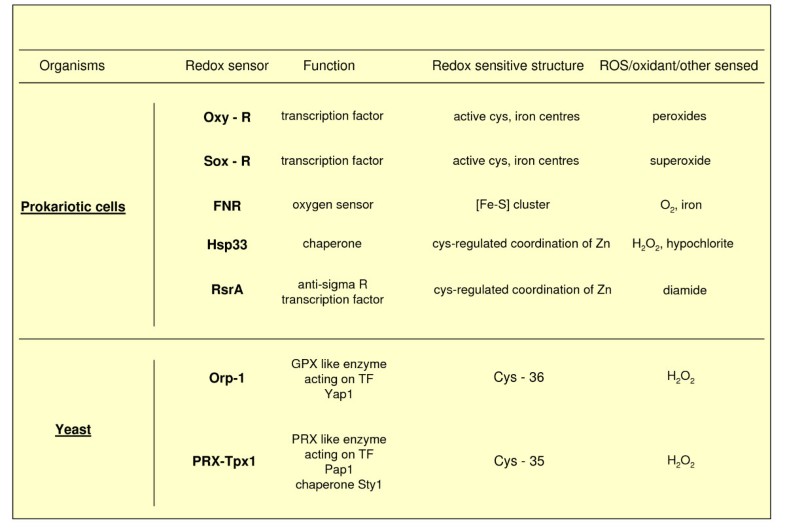 Redox sensors in higher eukaryotes
In higher eukaryotes redox regulation of transcription, as well as of signalling elements like protein phosphatases, relies on properties and strategies similar to those described for bacteria or yeast (cysteine-based oxidation/reduction cycles), which have been evolutionarily conserved. Here we still see thiol peroxidases affecting H
2
O
2
-dependent signalling, with some crucial differences since PRXs and GPXs have been reported to be involved in the modulation of signal pathways. Figure
11
illustrates established examples of three different mechanisms by which an increase in intracellular ROS may trigger transcription of redox sensitive genes: redox reactions directly involving either signalling components or transcription factors; nuclear translocation of transcriptional regulators that are maintained in an inactive form in another cellular compartment; and modulation of transcription by alterations in the so-called 'redox buffers'. More details can be found in the legend to Figure
11
and in [
18
,
71
–
73
].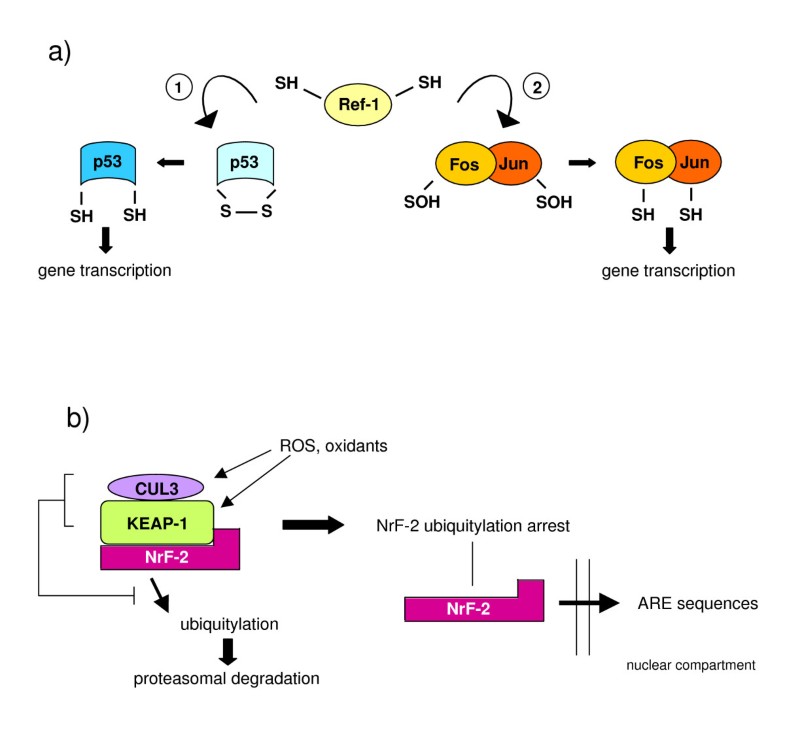 The meaning of redox sensors and redox signalling in higher eukaryotes
In mammalian cells, ROS-specific responses such as those regulated by p53, activator protein (AP)-1, nuclear factor (NF)-κB, c-Myc, FOXO and other factors can be seen as part of long-term differentiation programmes that integrate ROS protection and multiple metabolic/adaptative responses. Higher eukaryotes have developed strategies that, by diverting the original defensive design of redox signalling, use intracellular ROS produced within cells to modulate several signalling pathways, such as those downstream of growth factor receptors. Redox changes and ROS signals may potentially simultaneously affect different signalling pathways, modulating main metabolic or adaptative responses of cells and playing a strategic role in several physiological or pathophysiological conditions, including many chronic diseases of clinical relevance.
Chronic injury and liver fibrogenesis: the tissue, cellular and molecular scenario involving liver parenchyma as a paradigm to introduce the role of ROS and redox signalling
Liver tissue has a unique ability to respond to different injuries leading to parenchymal damage, which may also include damage to endothelial cells and sinusoids as well as to other non-parenchymal cells. Following a single acute injury, healing in the liver can be envisaged as a highly coordinated and sequential process (the more relevant steps are summarized in Figure
12
) involving recruitment of inflammatory cells and extracellular matrix (ECM)-producing cells and compensatory hyperplasia of hepatocytes, with the final goal of '
restitutio ad integrum
'. The response to acute liver injury may vary, as in fulminant acute liver failure and/or in the presence of specific toxins or carcinogens, by involving a response also including proliferation, plus differentiation, of bi-potent hepatic progenitor cells (HPCs) located at the level of the ductules of Hering (see [
74
] and references therein).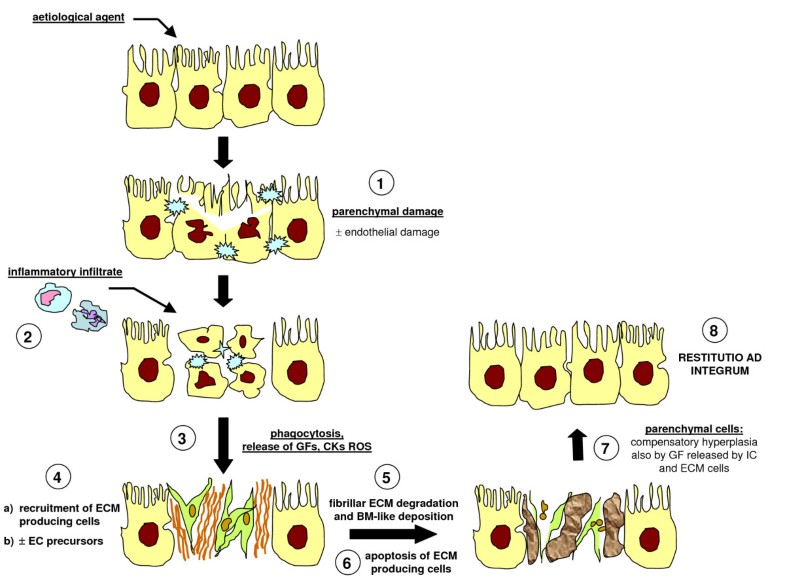 The scenario changes significantly in CLDs, which are typically characterized by persisting liver injury due to chronic infection by hepatotropic viruses (mainly HCV and HBV) as well as to autoimmune, metabolic, toxic or drug-induced causes, with ethanol consumption representing either a major single cause of toxic chronic injury or a very common additive one. As a result of these conditions (more details are given in Figure
13
), persistent inflammatory reaction and chronic activation of the wound healing response will occur, sustaining progression of fibrogenesis to the end-point of cirrhosis [
74
–
83
]. The dynamic motor of CLD progression is likely to be represented by fibrogenesis. Figure
14
briefly summarizes the impressive 'numbers' that reveal the global clinical impact of progressive fibrogenesis and indicates those features that are likely to serve as major predictors of fibrosis progression in a CLD. An extensive review of liver fibrogenesis and its progression to cirrhosis is beyond the scope of this review and the interested reader can refer to several reviews in the specific field [
75
–
84
]. Here only crucial tissue, cellular and molecular concepts and mechanisms will be mentioned.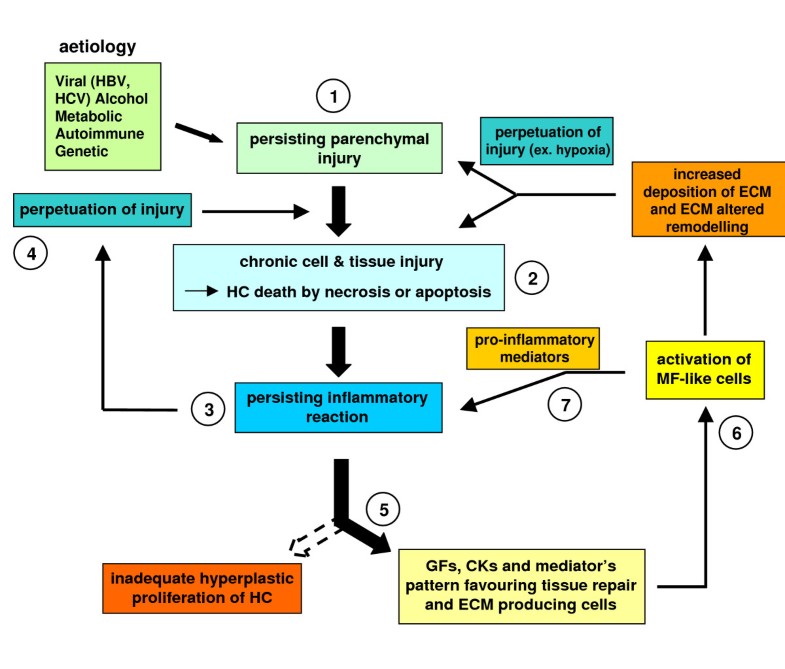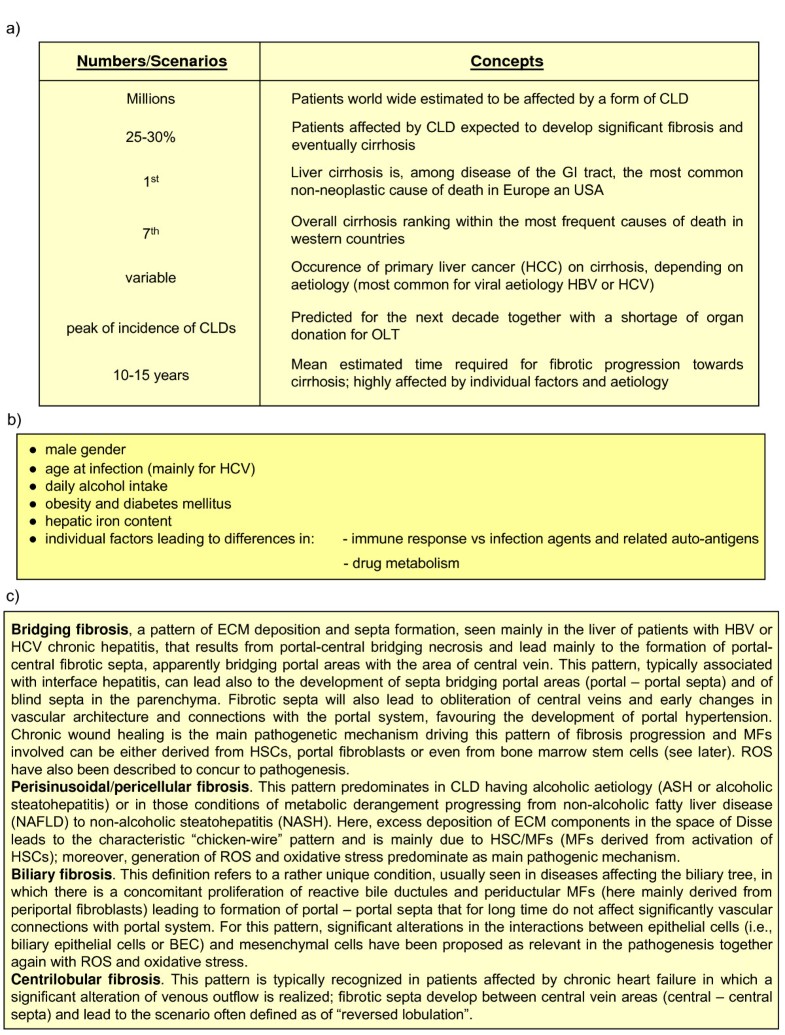 Patterns of fibrosis progression in CLDs
Fibrosclerotic progression follows distinct patterns that are intrinsically related to the aetiological cause of the CLD and the topographic site of tissue injury, as well as to the predominant pro-fibrogenic mechanism and the involvement of populations of pro-fibrogenic myofibroblast-like cells of different origin (MFs). Four main patterns of fibrosis have been identified and are described in detail in Figure 14.
Myofibroblast-like cells as pro-fibrogenic effectors in CLDs
MFs are pro-fibrogenic cells found in chronically injured liver in either experimental or clinical conditions. They are characterized by a positive stain for α-smooth muscle actin (α-SMA). The origin of liver MFs has been a matter of controversy for more than a decade but now there is substantial agreement on the following major concepts (summarized in Figure
15
). First, three different phenotypes of MFs have been identified in fibrotic/cirrhotic livers of human patients or in animal models, including hepatic stellate cells (HSCs) that become activated or HSC/MFs (in capillarised sinusoids), interface myofibroblasts (MFs located at the interface between fibrotic septa and the surrounding parenchyma) and portal/septal myofibroblasts (MFs in the expanded portal areas or within fibrotic septa) [
85
,
86
]. Second, liver MFs have multiple origins, with most originating from HSCs; indeed, most of our present knowledge comes from studies investigating this peculiar liver cell population, as recently reviewed by Friedman [
81
]. HSCs are likely to give rise to HSC/MFs and to most interface MFs; MFs can also originate from portal fibroblasts, which are also able to give rise to the phenotypically identical septal MFs. A significant number of MFs can also originate, in chronically injured human [
87
] and murine livers [
88
,
89
], from bone marrow-derived mesenchymal stem cells (MSCs), suggesting caution when considering therapeutic procedures involving autologous transplant of bone marrow-derived stem cells [
90
]. Third, whatever the origin, all the mentioned 'precursors' of ECM-producing cells in CLDs are likely to undergo a similar process of activation and trans-differentiation that leads to the peculiar MF-like phenotype [
82
,
90
]; thus, the actual 'feeling' is that HSC/MFs, and likely all activated MF-like cells, may share, from a functional point of view, the ability to exhibit a number of phenotypic responses [
80
,
81
,
91
] (summarized in Figure
15
), including proliferation [
76
,
81
,
83
,
92
,
93
], synthesis and remodelling of ECM and of mediators, migration, contractility and the potential to undergo apoptosis [
80
,
81
,
91
,
94
]. More details are given in the legend of Figure
15
.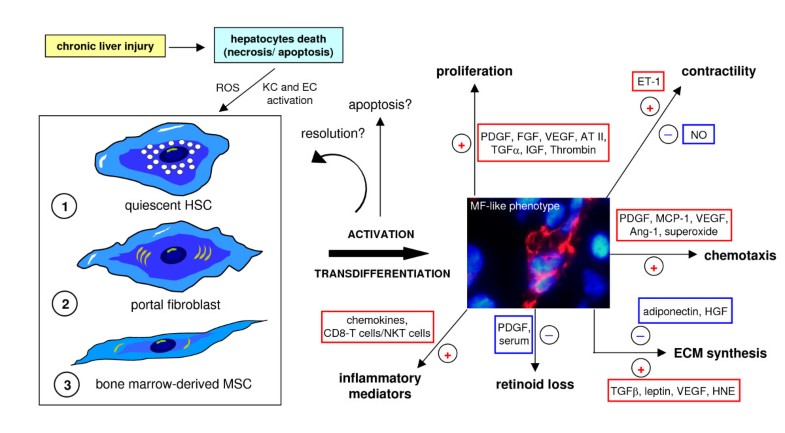 Major events, cells and mechanisms regulating liver fibrogenesis in CLDs
Several relevant events for fibrosclerotic progression of CLDs may be considered relatively independent of the specific aetiology, as detailed in Figure 13; in these conditions of persisting tissue injury, ROS and other related mediators, released by damaged cells or activated inflammatory cells, are likely to play a relevant role. Along these lines, it should be noted that, in chronic diseases, both necrotic and apoptotic, as well as apoptosis-like, forms of cell death have been reported to occur and have been detected in the same tissue section [80, 95, 96] and that hepatocyte apoptosis represents an effective pro-fibrogenic stimulus [97, 98].
To complete the oversimplified scenario offered in Figure
13
(more details in [
74
,
91
,
95
]), the following concepts should be recalled. First, in such a complex scenario several other cellular 'actors' are likely to be involved; Figure
16
summarizes all the cells involved in CLDs, indicating how they can contribute to fibrogenesis progression and, for some of them, to the generation of ROS or related reactive intermediates. Second, a major pathogenic role has to be attributed to several soluble factors (produced by different kind of cells; Figure
16
) that can regulate both the state of activation of MFs and their phenotypic responses as well as the responses of other cells involved; these factors include platelet-derived growth factor (PDGF), transforming growth factor (TGF)β, connective tissue growth factor (CTGF), endothelin-1 (ET-1), monocyte chemotactic protein (MCP)-1, and tumour necrosis factor (TNF), to name just a few. Third, several signalling pathways, transcription factors and related transcriptional gene regulation have been dissected and identified as involved in the process of activation of HSCs or in mediating phenotypic responses of MFs, and most of these (see next section) are known to be redox-sensitive. Fourth, angiogenesis, pro-angiogenic cytokines and expression of related receptors are emerging as crucial factors potentially able to contribute actively to liver fibrogenesis [
83
,
92
,
93
]. Finally, oxidative stress as well as increased generation of ROS, HNE, NO and RNS have been unequivocally detected in all clinical conditions and animal models of fibrogenic CLD; moreover, administration of antioxidant agents in animal models usually offers prevention ([
35
,
36
] and references therein).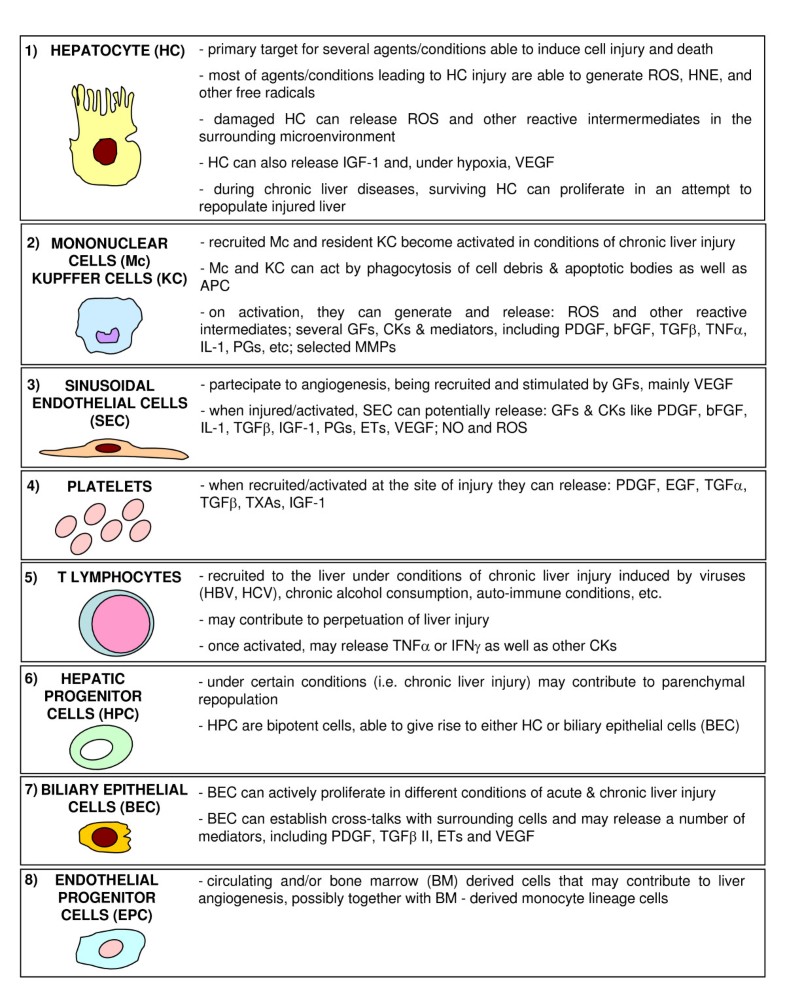 ROS and intracellular signalling cascades: redox sensitive molecular targets in signalling pathways likely to be involved in chronic wound healing
Signal transduction elicited by interaction of peptide factors (growth factors, cytokines, chemokines as well as other ligands) with their respective receptors can be enhanced or modulated by intracellular ROS generation. Indeed, peptide ligands also trigger activation of NOX but the positive feedback on signal transduction can also be elicited whatever the source of ROS, including ROS produced by mitochondria and other intracellular sources or entering the cell from the extracellular environment. The latter can include H2O2, which has a rather long half-life, a relatively low reactivity and an intrinsic ability to cross biological membranes. The literature concerning redox sensitive signalling pathways is now impressive (for more details, see [14, 15, 17, 49]) and here we present the most established concepts that may have a major role in chronic wound healing.
ROS and receptor-mediated signalling pathways
ROS have been shown to mediate a positive feedback on signal transduction elicited by, for example, PDGF, epidermal growth factor or nerve growth factor; this usually reinforces the receptor tyrosine kinases (RTKs) (Figure
17
) and involves p21Ras and Rac, leading to activation of a subunit of non-phagocytic NOX, likely a gp91
phox
analogue. TGFβ1, which operates by binding receptor serine/threonine kinase and involves Smads and Src kinases, as well as other relevant ligands in a scenario of chronic wound healing (as in CLDs), including interleukin (IL)-1, TNF, angiotensin II (Ang II), thrombin and insulin, have also been described to lead to activation of a NOX in non-phagocytic cells to generate O
2
•-
, which will then spontaneously or enzymatically dismutate into H
2
O
2
. The reader may then envisage a scenario in which non-phagocytic cells involved in chronic wound healing receive signals from the extracellular milieu, such as those derived from peptide factors binding their receptors or extracellularly generated ROS or other oxidants, and then face an increase in intracellular ROS that affects signalling pathways by one or, more likely, two or more of the following mechanisms.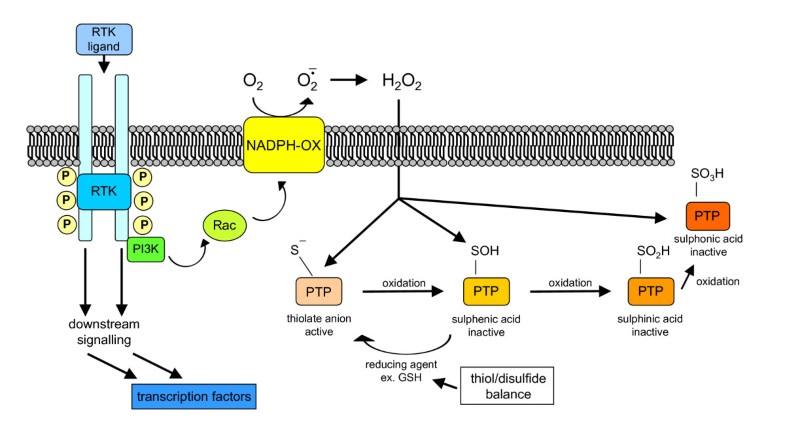 ROS can enhance signalling pathways by inhibiting protein tyrosine phosphatases
Protein tyrosine phosphatases (PTPs) can be considered as negative regulators of RTK-mediated signalling, switching off the activated receptor by means of dephosphorylation [49, 99–101]. However, ligand-induced activation of RTKs can lead (as for PDGF signalling; Figure 17) to phosphoinositide 3-kinase (PI3K)-mediated activation of Rac that, in turn, is able to switch on ROS generation by NOX [49, 99]. ROS such as H2O2 can act on a redox-sensitive cysteine residue with a low pKa in the active site of PTPs (a similar condition has been described also for p21Ras, AP-1, NF-κB and hypoxia-inducible factor (HIF)-1) by oxidizing the -SH group of the active PTP. Depending on ROS levels (Figure 17), this may result in reversible as well as irreversible inactivation of PTPs, reinforcing downstream RTK signalling for variable durations. This scheme has been described also for radiation, exposure to metals, alkylating agents and environmental oxidants, and conditions that may even activate RTKs in a ligand-independent manner – 'RTK trans-activation' [102]. Changes in intracellular thiol/disulfide redox state may also affect the system since the relative, or time-limited, depletion of reducing agents may prevent reversion of oxidized/inactive PTPs to the reduced/active state.
ROS can activate protein kinases as well as MAPK cascades
Cytoplasm protein kinases can respond to very high levels (1 mM) of H2O2 by enhancing their activity, as shown in pioneeristic studies [14, 15]. Whether these high concentrations of ROS may be reached in a biological environment is still controversial. If one refers to more realistic studies, few molecular targets and pathways have been identified to be activated by mild oxidizing conditions or by mild shifts in the intracellular thiol/disulfide redox state, including signalling components of the Src family of protein tyrosine kinases (p59fyn and p56lck), JAK2, c-Jun amino-terminal kinases (JNKs), p38MAPK and, in some cells, ERK1/2. A peculiar mechanism is the one disclosed in studies designed to analyze ASK-1 (apoptosis signalling-regulating kinase 1) activation, which, in turn, leads to activation of MKK3/6, MKK4/MKK7 and then JNKs and p38MAPK, finally leading to phosphorylation of ATF-2, c-Jun and p53. Elegant studies have shown that ASK-1 is usually associated with a Trx protein that binds to the amino-terminal domain of ASK-1, inhibiting its kinase activity. If ROS induce Trx dimerization and dissociation from ASK-1, this is followed by multimerization of ASK-1, activation of its kinase activity and then of the downstream signalling, leading to activation of JNKs and p38MAPK [103, 104].
Another interesting example of redox sensitivity is that of the serine/threonine kinase protein kinase Cα (PKC-α) [14, 15]: this and other PKC isoforms are usually activated by diacylglycerol or phorbol esters, for which PKC has a binding site in an evolutionarily conserved cysteine-rich region. These PKC isoforms can be activated by ROS like H2O2 in a way that involves tyrosine phosphorylation in the catalytic domain. Interestingly, vitamin E has been described to inhibit the activity and translocation of PKC to the membrane and to be able to down-regulate some PKC-dependent responses (that is, proliferation) in target cells like smooth muscle cells; intriguingly, data on modulatory effects by vitamin E have been extended to other components of the signalling machinery, suggesting that only some of these effects may depend on the antioxidant activity of the vitamin [105].
ROS and oxidative stress can activate defined transcription factors
Several transcription factors can be considered as redox sensitive but the two best characterized examples are NF-κB and AP-1. NF-κB is a transcription factor shown to respond to oxidative stress [106] and it is known to be involved in inflammatory reactions, in the control of cell growth and the balance between survival and apoptosis [107] and, possibly, necrotic cell death [108] (see below). NF-κB, a definition that, in mammalian cells, includes c-Rel, RelA (p65), RelB, NF-κB1/p50 and NF-κB2/p52 proteins, which all recognise DNA sequences called κB sites [107, 109, 110], is also involved in maintaining mitochondrial integrity and in regulating antioxidant activity [107, 110]. The redox-dependence of NF-κB relies on different mechanisms of activation that, depending on the specific target cell, may involve either an atypical phosphorylation of the Tyr42 residue of IκBα by the kinase Syk (thus, independently of IκB kinase (IKK)) or a more conventional H2O2-dependent activation through the classic IKK-dependent pathway [110], the latter being activated also by HOCl, singlet oxygen and peroxynitrite.
Pertinent to this review, a general model is emerging suggesting that all cytokines leading to NF-κB activation are likely to cause intracellular generation of ROS that are then responsible for IKK activation and IκBα degradation, with IL-1, TNF and LPS being the. best characterized examples (Figure
18
). The concept here is again simple: ROS, produced intracellularly as a part of the response induced by inflammatory cytokines, contribute to reinforce the signal. Figure
19
oversimplifies the concepts described above (in the 'Principles of redox homeostasis' and 'Redox sensors and the basis of redox-dependent transcriptional regulation' sections) by proposing an intuitive model that relates the levels of ROS and oxidative stress to the overall response and even fate of the target cells.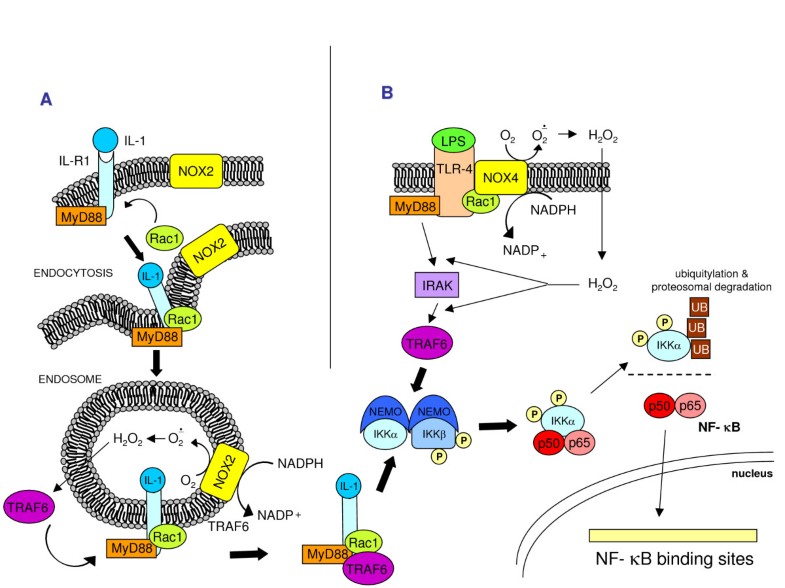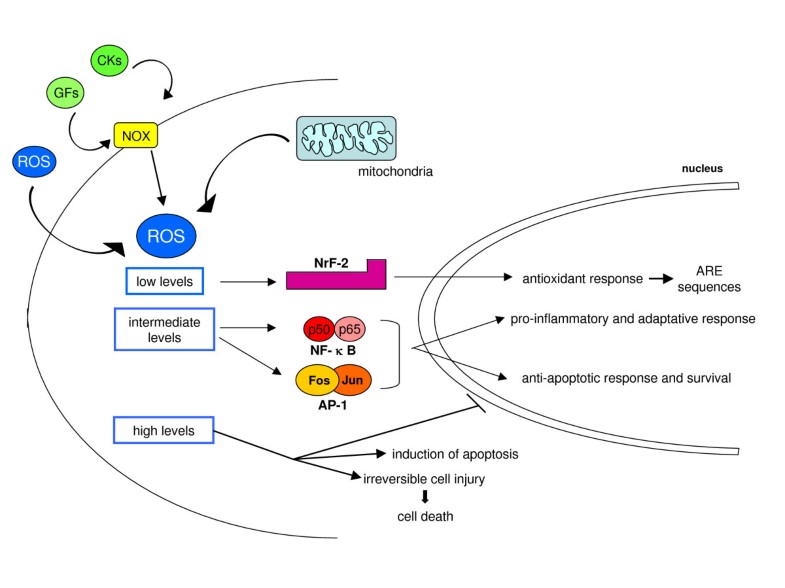 Within the same scenario one can also easily include AP-1, a dimeric (homo- or heterodimer) transcription factor typically formed from c-Jun and c-Fos and involved in several physiological and pathophysiological processes. Activation of AP-1 occurs in the presence of low levels of ROS (mainly H2O2), IL-1, UV light, and γ-irradiation. Two mechanisms may lead to redox-dependent activation of AP-1: oxidative activation of JNKs that, in turn, phosphorylate Ser63 and Ser73 of the amino-terminal transactivation domain of c-Jun, a domain that is essential for functional activation [104]; and a mild shift in the redox state by different oxidants or ROS [14, 15].
A cautionary note has to be added: one should keep in mind that the DNA-binding activity of most transcription factors is redox sensitive in the opposite way. It has been shown that the binding of transcription factors to a DNA regulatory sequence requires reducing conditions because transcription factors must expose positively charged amino acid residues in their binding sites in order to be able to bind target DNA sequences (usually highly acidic and negatively charged). This introduces an apparent paradox: the binding site of a transcription factor presents redox-sensitive amino acids (cysteine, arginine) and, as is the case for NF-κB, oxidation of these critical residues may prevent its DNA-binding activity. This note is to underline that even in physiological conditions, the final response to redox changes relies on a delicate balance between pro-oxidant conditions needed to reinforce the signal and reducing conditions needed for the same signal (that is, the transcription factor) to be efficiently delivered in order to obtain the response. Pathophysiological conditions (Figures 9 and 19) can easily interfere with such a delicate balance by shifting redox homeostasis to a 'quasi-stable' but deregulated redox state.
ROS and oxidative stress in relation to CLD aetiology
In addition to the general mechanisms able to sustain increased generation of ROS and other reactive mediators that are common to all conditions of human and experimental CLDs (that is, cell injury and death, chronic hepatitis, responses to growth factors, cyto- and chemokines, and so on), one should also consider the intrinsic contribution of the specific aetiology of a CLD. This is relevant when the primary aetiology is represented by chronic ethanol consumption, a disturbance of iron homeostasis or metabolic imbalances like those occurring in non-alcoholic fatty liver disease (NAFLD) and non-alcoholic steatohepatitis (NASH). Clinical observations have clearly established that all these three very common conditions, as independent factors, may significantly affect and accelerate fibrogenic progression of any CLD towards cirrhosis.
Redox mechanisms in the induction of cell death in CLDs: much more than a dose-dependent process
Redox mechanisms and chronic inflammatory response in CLDs
Perpetuation of inflammatory response is a major aetiology-independent driving force for fibrogenic progression in CLDs. In such a chronic scenario, ROS and other reactive intermediates or pro-oxidants (for example, HOCl) released by activated inflammatory cells, either resident (that is, Kupffer cells) or recruited from peripheral blood, may significantly contribute to injury perpetuation. However, they may also (particularly ROS and HNE) act in a paracrine way to affect the response of surrounding cells.
Mediators of oxidative stress, whatever the source (including also ER stress [247]), the aetiology or metabolic condition can trigger or modulate expression of pro-inflammatory cytokines and chemokines in inflammatory cells and HSC/MFs, mostly through activation of NF-κB [15, 107]. However, oxidative stress mediators also have a significant role in mediating the pro-apoptotic/necrotic effects of certain cytokines, with TNF being possibly the paradigm [107, 186, 187, 248, 249]. This scenario is of particular relevance in some CLDs, such as in human ALD or experimental BDL [243, 250]: both ethanol ingestion or experimental cholestasis can lead to significant translocation of gut derived endotoxins to the portal circulation, where they interact with the surface receptor CD14, resulting in activation of Kupffer cells and increased synthesis of pro-inflammatory cytokines (mainly TNF), eicosanoids, and, once again, ROS and NO. With TNF being an important cause of hepatotoxicity in CLDs, one should recall that hepatocytes are resistant to the pro-apoptotic action of TNF because of the concomitant pro-survival involvement of the NF-κB and PI3K pathway: it is once again the increase in intracellular oxidative stress that can alter the balance, rendering hepatocytes more susceptible to TNF-induced cell death.
Functional responses of inflammatory cells to oxidative stress-related intermediates
Apart from the NF-κB-related increased expression of inflammatory cytokines and chemokines [15, 106, 107], ROS and RNS may act as signalling intermediates by activating tyrosine kinases and inhibiting tyrosine phosphatases, resulting in an enhancement of tyrosine phosphorylation events known to regulate anti-microbial and host defence functions in leukocytes [251–253]. The following concepts should be underlined. First, ROS are likely to be involved in the process of phagocytosis, possibly by leading to amplification of the stimulating signal that follows engagement of Fc receptors on the surface of phagocytic cells, as reported for neutrophils, where ROS seem able to increase either the cross-linking of the FcãRIIIb [254], as well as by contributing, in neutrophils and macrophages, to amplification of the signal by modulating the activity of the tyrosine kinase Syk, a FcãR downstream signalling element [255]. Second, ROS-mediated inhibitory modulation of the activity of PTPs (for example, CD45, SHP-1, HePTP) has been shown to regulate signalling events involved in the activation of T lymphocytes [256, 257]. In addition, CD45 has long been shown to be relevant for LTB4- and C5a-induced chemotaxis and low affinity FcãR signalling in neutrophils [258, 259]: since ROS have been shown to be potent inhibitors of CD45 [260], they may interfere with physiological responses to these chemoattractants. Third, ROS may have a role in the apoptosis-related removal of leukocytes during inflammatory responses, as clearly shown for neutrophils and other cells, again by involving tyrosine phosphorylation, CD45 and SHP-1 [261–264], but also through the NOX-dependent, Lyn-mediated activation of the inositol phosphatase SHIP [265]. Similarly, peroxynitrite has also been shown to enhance apoptosis in leukocytes [266, 267].
An additional concept is that intermediates able to cross the leukocyte plasma membrane may affect, in a paracrine way, the behaviour of surrounding cells, as shown originally for endothelial cells [268, 269] and now accepted for many other cells with roles in chronic pro-inflammatory, angiogenic and fibrogenic environments. Accordingly, the lipid soluble aldehyde HNE, at levels compatible with those described in CLDs, up-regulates the expression of the pro-fibrogenic cytokine TGFβ1 in both rat Kupffer cells and human monocyte/macrophage cells [270]. These data may help to explain the scenario observed when using the in vivo experimental CCl4-dependent chronic model: administration of α-tocopherol to rats undergoing this protocol resulted not only in a reduction of oxidative stress, lipid peroxidation and HNE, but also in decreased synthesis of both collagen type I and TGF β1 [271, 272]. Moreover, HNE and other HAKs have been reported to stimulate leukocyte chemotaxis at very low concentrations (0.1 μM; reviewed in [21, 35, 55]), suggesting that α-tocopherol and other chain-breaking antioxidants may prevent experimental liver fibrosis (reviewed in [21, 35, 36, 55]) by either preventing or inhibiting selected phenotypic responses of activated MF-like cells (see the section 'Redox mechanisms in liver fibrogenesis: pro-fibrogenic cells as a functional target' below) or, at least in part, by inhibiting leukocyte recruitment due to HNE or HAKs. Indeed, both ROS and HNE have been shown to up-regulate MCP-1 expression in vivo and in vitro, and then to sustain recruitment/activation of monocytes/macrophages and Kupffer cells as well as to attract HSC/MFs [76, 273, 274].
Pro-inflammatory response of activated HSC/MFs to ROS and HNE: the strange case of MCP-1
A peculiar example of interplay between the generation of reactive intermediates from oxidative stress, inflammatory response and fibrogenesis is represented by the case of MCP-1 (CCL2), which can recruit and activate monocytes and T lymphocytes and plays a major role in the formation and maintenance of the inflammatory infiltrate in different pathological conditions [275–281]. MCP-1, which is overexpressd in human CLDs and experimental models of liver injury [273, 282, 283], can be synthesised by activated macrophages and Kupffer cells as well as by HSC/MFs and biliary epithelial cells [283, 284]. With regard to HSC/MFs, MCP-1 expression is stimulated by pro-inflammatory cytokines, such as IL-1 and TNF [282, 283], thrombin [285], engagement of integrin receptors [285] and both ROS and HNE [273, 286]. Indeed, as for TNF or other chemokines such as IL-8 and RANTES, MCP-1 depends on the activation of the redox sensitive transcription factors AP-1 and NF-κB [287]. In human HSC/MFs, ROS can stimulate MCP-1 expression through involvement of NF-κB, whereas HNE does not involve NF-κB and more likely operates through an AP-1-related mechanism [288], possibly involving activation of PKC [282], as shown for the PKCβ isoform in monocyte/macrophage cell lines [289].
Finally, data on human and rat fibrotic livers indicate a direct correlation between oxidative stress, hepatic levels of MCP-1 and the number of monocytes infiltrating the injured liver [273, 284]. Moreover, MCP-1 can significantly stimulate chemotaxis of human HSC/MFs, another putative redox-sensitive pro-fibrogenic feature [290].
Redox mechanisms in liver fibrogenesis: pro-fibrogenic cells as a functional target
In this section relevant data will be recalled (most referring to HSC/MFs) and considered within a 'myofibroblast-centric' view (Figure
27
), in which pro-fibrogenic responses of MF-like cells can be affected by both extra- and intracellularly generated ROS and HNE.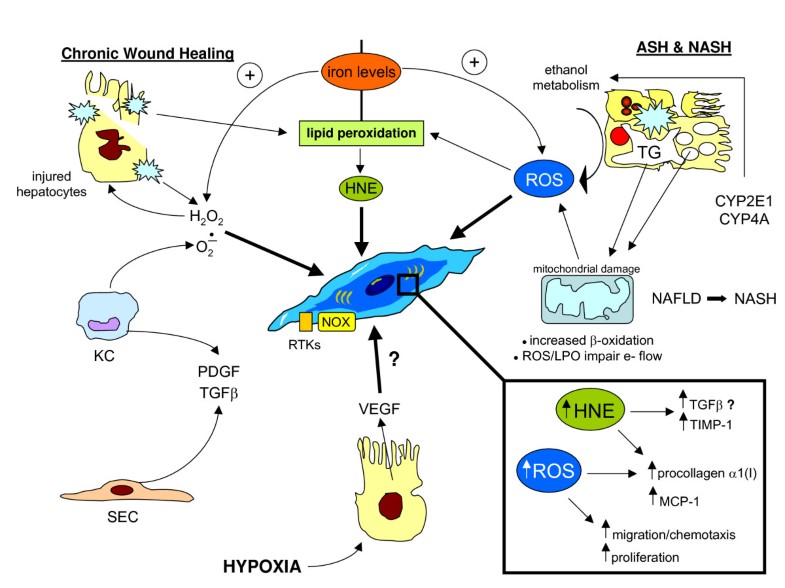 Pro-fibrogenic action of oxidative stress revealed by antifibrotic action of antioxidant molecules
The hypothesis of a causative involvement of oxidative stress in fibrogenesis relies on an impressive number of experimental studies leading to the same final scenario: antioxidant supplementation is able to significantly prevent fibrotic progression in animal models of CLDs by reducing the extent of oxidative stress and/or lipid peroxidation (reviewed in [35, 36], with comments in the section 'Antioxidants as antifibrotic therapeutics for CLDs?' below). The first antioxidants used were silymarin [291, 292], α-tocopherol [271, 272], silybin [174] and S-adenosylmethionine [293], and most laboratories were able to describe a temporal sequence of events, suggesting overall that oxidative stress and lipid peroxidation precede or are concomitant with HSC activation and collagen deposition [294–297]. Similarly, experimental studies have also reported that NO was able to prevent both lipid peroxidation and collagen deposition [298, 299].
HNE and ROS can up-regulate pro-collagen type I expression in HSC/MFs: a puzzle that in the end makes sense
ROS and HNE exert a direct pro-fibrogenic action on HSC/MFs: the paracrine effect disclosed
Up-regulation of pro-collagen type I by both ROS and HNE in activated HSC/MFs is a relevant finding that has been confirmed by several different laboratories using either cells of human or rat origin. The first published study in 1993 [300] was on human HSC/MFs exposed to very low levels of HNE (1 μM), resulting in the strongly increased expression of pro-collagen type I, which was prevented by pre-treatment of cells with either vitamin E or the synthetic antioxidant diphenyl-phenylendiamine. After that study, the susceptibility of rat or human HSC/MFs in terms of pro-collagen type I synthesis to oxidative stress mediators was analysed and confirmed using different experimental strategies. The first strategy adopted in the 1990s was to expose HSC/MFs to extracellularly available mediators [189, 301–305], including H2O2, O2•- generated by the xanthine/xanthine-oxidase system, MDA, HAKs of different chain length, and the conditioned medium of normal hepatocytes undergoing oxidative stress [304, 305]. Up-regulation of pro-collagen type I was also obtained later by co-culturing HSC/MFs (which do not express CYP2E1 [137]) with hepatocytes transfected to overexpress CYP2E1 and then exposed to conditions (for example, ethanol) that result in paracrine exposure of HSC/MFs to CYP2E1-dependent ROS generation [306, 307]. More recently, the connection between oxidative stress, lipid peroxidation and collagen synthesis has once again been confirmed by exposing rat HSC/MFs to F2-isoprostanes [308]. With regard to the pro-fibrogenic mechanism, HNE has been shown in human HSC/MFs to elicit transient activation of JNK isoforms and their nuclear translocation as well as to lead to up-regulation of c-Jun and increased AP-1 binding to DNA [288]; a very similar JNK/AP-1-dependent pattern, inducing up-regulation of collagen type I, has been shown to operate in rat HSC/MFs exposed to UV irradiation [309]. The overall take-home message from these early studies was clear: ROS, mainly H2O2, HNE and HAKs of different chain length, released in a paracrine way by damaged hepatocytes, endothelial cells or activated inflammatory cells, can easily cross the membrane of HSC/MFs and lead to increased synthesis of pro-collagen type I, a significant component of the fibrillar-like ECM in fibrotic and cirrhotic livers.
ROS generated within HSC/MFs up-regulate collagen type I: the focus is now within the target pro-fibrogenic cell
The next step forward was provided by a series of elegant studies by Nieto and coworkers [306, 310, 311], who adopted the strategy of transfecting rat HSC/MFs to express human CYP2E1: pro-collagen type I transcription and synthesis in transfected cells was proportional to the levels of CYP2E1 and exacerbated by exposure of cells to ethanol or arachidonic acid (that is, conditions leading to CYP2E1-related increased generation of ROS) and prevented by using either antioxidants or specific inhibitors of CYP2E1, such as diallylsulfide. Around the same time, another part of the puzzle was revealed by showing that TGFβ1, the most potent pro-fibrogenic cytokine, was able to up-regulate collagen type I in HSC/MFs by eliciting H2O2-dependent signalling involving the binding of p35 C/EBPβ protein to a specific region of the promoter of the collagen α1(I) gene [305], an action possibly related to modulation of intracellular levels of GSH [312] and/or the involvement of p38MAPK [313]. Other signalling pathways and elements have been proposed to mediate ROS-dependent collagen type I expression, including up-regulation of cyclooxygenase 2 [311] or the redox sensitive transcription factor Sp-1 [304, 314], but it should be noted that again the H2O2-dependent involvement of the same C/EBPβ protein was found also to mediate acetaldehyde (ACA)-stimulated up-regulation of collagen type I gene expression [315]. The ACA effect on HSC/MFs was biphasic, with an early phase being mediated by ACA and a late effect due to ACA-induced up-regulation of TGFβ1 expression [316]. The authors suggested in the end that ACA and TGFβ1 were eliciting similar, but not identical, mechanisms to up-regulate collagen type I expression. ACA has also been shown to up-regulate collagen type I expression through activation of JNK, similar to what was also found for HNE [288] and UV exposure [309], as finally mediated by the DNA binding protein BTEB [317]. More recently, intracellular generation of H2O2 has been shown to mediate leptin-stimulated enhancement of α 1(I) collagen gene expression in immortalized LX-2 human HSCs [318]: H2O2 was shown to activate Erk1/2 and p38MAPK through active involvement of Janus kinases 1 and 2 (JAK1 and JAK2).
If one considers that extracellular ROS, HNE and F2-isoprostanes are all able to up-regulate TGFβ1 synthesis in either HSC/MFs or mononuclear cells [270, 308, 317], another concept emerges: both the expression and activity of the pro-fibrogenic cytokine TGFβ1 are modulated by ROS or other mediators produced within the target cell, by surrounding cells (in a paracrine manner) or, as suggested for the case of ACA [316], even in an autocrine manner.
Intracellular generation of ROS can occur in association with cytokine-receptor interaction: NOX isoforms come into the liver fibrogenesis playground
In 2003, Bataller and coworkers [318] were the first to identify the presence of components of NOX in HSC/MFs, suggesting that the pro-fibrogenic action of Ang II, as already delineated in in vivo and in vitro studies [319, 320], is dependent on the associated activation of NOX and the related ROS-dependent activation of MAPKs, phosphorylation of c-Akt and increased AP-1 DNA binding activity [318], events blocked by the specific NOX inhibitor DPI (diphenyl-phenyleneiodonium) or the inhibitor of Ang II type 1 receptor (AT1), losartan. More details on the pro-fibrogenic action of Ang II in reference to the related role of NOX can be found in specific reviews [47, 48]. The activation of NOX and intracellular generation of ROS have been involved in the up-regulation of collagen type I expression in HSC/MFs after engulfment by apoptotic bodies from dead hepatocytes [97], a finding similar to an earlier report showing that macrophage engulfment of apoptotic bodies resulted in increased transcription of TGFβ1 [321]. The initial report by Canbay et al. [97] was followed by further studies unequivocally showing that apoptotic bodies included in HSC/MFs were signalling through NOX and ROS to up-regulate collagen α 1(I) expression [322].
ROS and HNE affect other phenotypic responses of HSC/MFs: the specific mediator can make the difference
ROS, but not HNE, mediate proliferation of HSC/MFs
Activation of HSCs as well as proliferation of HSC/MFs have been suggested to rely on the activation of NF-κB as well as on the expression of the c-
myb
proto-oncogene (reviewed in [
323
]). Indeed, when rat HSC/MFs are co-cultured with HepG2 cells overexpressing CYP2E1 as a source of ROS, they start to express α smooth muscle actin (α-SMA; a marker of MF-differentiation) and to proliferate [
324
]. These effects have been prevented by using antioxidants or inhibitors of the Na
+
/K
+
exchanger [
323
,
325
–
328
]. It has been suggested that the mitogenic action of ROS may rely on a crucial cysteine residue in Raf-1, MEK and Erk signalling elements; indeed, treatment of HSC/MFs with N-acetylcysteine is followed by activation of Erk, phosphorylation of the transcription factor Sp1 and up-regulation of p21Cip1/WAF1 expression, eventually leading to cell cycle arrest in G1 phase [
329
]. More recently, Adachi
et al
. [
330
] have proposed that the mitogenic action of PDGF-BB (see also Figure
28
), and possibly also its chemotactic activity, may rely on ROS generation through involvement of NOX, leading to activation of MAPKs, particularly p38MAPK. In these experiments, performed on a human immortalised line of HSCs and on murine HSC/MFs, DPI was able to prevent the PDGF-BB-dependent proliferative response, which was restored by adding H
2
O
2
together with PDGF-BB. Ang II has also been shown to up-regulate proliferation of HSC/MFs through involvement of NOX and ROS [
318
].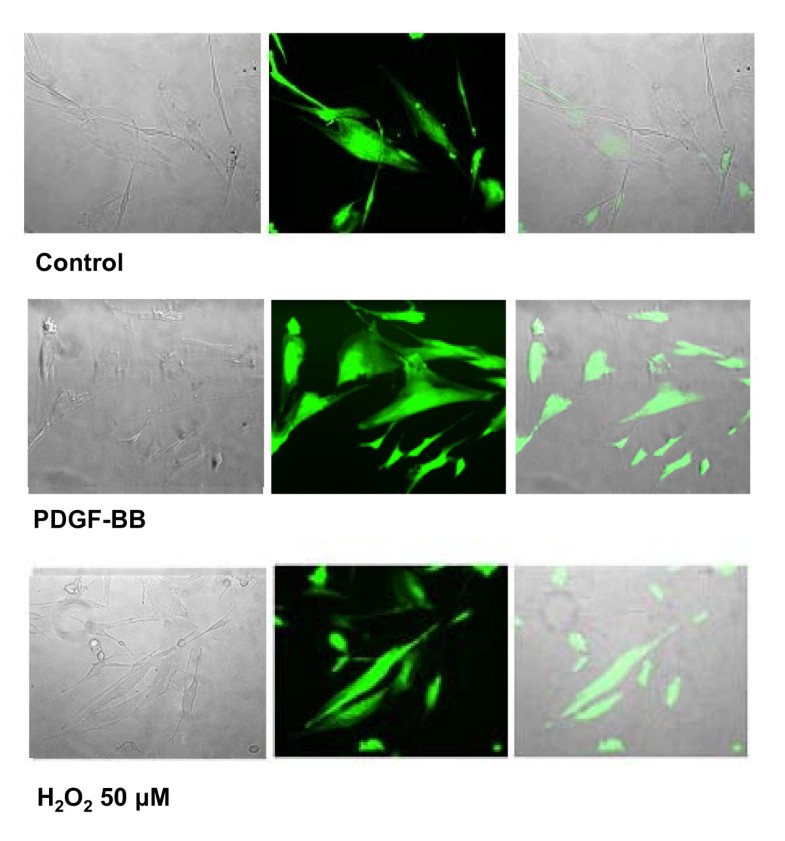 Results obtained with HNE as well as with other HAKs of different chain length substantially differ from those obtained with ROS: HNE and HAKs do not elicit proliferation of human HSC/MFs when employed at pro-fibrogenic doses (1–5 μM) [245, 288, 300, 331] but rather, when used at a pro-fibrogenic dose (1 μM), they induce a block in DNA synthesis by selectively inhibiting PDGF-β receptor intrinsic tyrosine kinase activity and downstream signalling pathways [288, 331]. This peculiar effect of HNE and HAKs is transient, with sensitivity to PDGF-BB being recovered within 48 hours and associated with increased expression of PDGF-β receptor subunits. Interestingly, a similar block in PDGF-dependent signalling and proliferation has been described in human cells when exposed to very high levels of ROS, either H2O2 or superoxide anion [246, 331].
Such a discrepancy between the effects reported for ROS and HNE is likely to depend on the different mechanisms of action: although Uchida and coworkers [23, 332] have proposed that, in some cells, HNE may result in mitochondrial damage and subsequent release of ROS (at high concentrations, however, such as 20 μM or more) or by trapping thiols, HNE is more likely to act as a non-oxidant agent by forming adducts to proteins by means of nucleophilic Michael type reactions [9, 19, 21], as shown in the case of JNK activation [288]. Moreover, HNE does not activate NF-κB [21, 23] in human HSC/MFs [288] as ROS do, and can even inhibit c-myb [21], which has been involved in ROS-mediated activation of proliferation [323]. HNE exerts its pro-fibrogenic action only on fully activated human HSC/MFs [21, 189] and, even more relevant, does not apparently act as an activating factor for rat HSCs early in primary culture [333]. This differs from what was suggested for ROS [75, 77, 80, 81] and is likely to occur because quiescent HSCs can remove H2O2 less efficiently than fully activated cells [310, 312], whereas HSC/MFs are more sensitive to HNE because they lack isoforms of GSH-S-transferase and aldehyde dehydrogenase able to remove or inactivate HNE [288, 334]. Finally, HNE seems much more selective in its activity towards HSC/MFs, since it causes the up-regulation of only a limited number of genes, including those encoding collagen type I, TGFβ1, and TIMP-1 [21, 189].
ROS, but not HNE, can significantly affect chemotaxis and ECM remodelling in HSC/MFs: ROS as a signal to migrate
Reports from different laboratories have shown that extracellular generation of O2•- stimulates the migration and even invasiveness (that is, migration in matrigel) of human HSC/MFs [246, 335]. Both laboratories described an O2•--dependent stimulatory effect on the Ras/Erk pathway but opposite results for the activation of PI3K; these effects were prevented by SOD [246, 335] but were not reproduced by exposing cells to H2O2 [246]. Migration, particularly in matrigel, was reported to be also dependent on superoxide-stimulated up-regulation of MMP-2 [335]. The idea that ROS may contribute to HSC/MF migration has been reinforced by studies in which Ang II [318] and PDGF-BB [330] stimulated migration in a NOX-dependent way. Recently, a ROS contribution to PDGF-dependent chemotaxis as well as the migratory response to O2•- has been reported to critically involve JNK activation [336] (E Novo et al., submitted). Once again, HNE behaves in a different way since it affects neither the migration of human HSC/MFs nor the expression of MMPs (MMP-1 and MMP-2) [189], and, differently from O2•-, which has been reported to up-regulate TIMP-2 [335], it stimulates only TIMP-1 expression [189].
A final message from this section
The final response of a pro-fibrogenic target cell to oxidative stress is relatively unpredictable and significantly affected by a number of parameters, including: the steady state concentration of reactive species; the intrinsic state of the target cells (that is, activated versus quiescent); the presence of specific growth factors and cytokines in the microenvironment or of other cellular sources of ROS or HNE; and the concomitant generation of NO in the microenvironment, which may inhibit PDGF-BB-stimulated proliferation through enhanced synthesis of PGE2 and cAMP [337].
Redox mechanisms in immune reactions associated with CLDs: fuel for chronic inflammation and fibrogenic progression
Several lines of evidence suggest that immune responses may have a significant role in regulating hepatic inflammation in pathological settings of CLDs. As recently reviewed for the case of ALD [249], oxidative stress can contribute to the progression of CLDs by giving rise to either oxidized or adducted epitopes able to elicit an immune response that, in turn, can contribute to perpetuation of chronic injury and progression of CLDs.
The first studies in this field were performed on ALD patients by showing the existence of circulating antibodies against different epitopes as well as infiltration of both CD4+ and CD8+ T lymphocytes in areas of inflammation and necrosis [249]. The first antibodies characterized in ALD patients were originally those directed against adducts between acetaldehyde and liver proteins [338]. However, recent studies have shown that human ALD patients exhibit significant titres of circulating antibodies directed against a number of epitopes modified by free radicals or oxidative stress reactive intermediates [249, 339]. At present, the best characterized examples of these oxidized or modified epitopes, recognized by circulating antibodies (usually IgG), are: various adducts between liver proteins and hydroxyl-ethyl radicals (HERs), with circulating antibodies recognizing particularly HER-CYP2E1 adducts [249]; various proteins (mostly not identified) modified by end-products of lipid peroxidation, such as HNE, MDA or lipid hydroperoxides, with titres of related circulating antibodies more prevalent in patients with an advanced stage of ALD [340]; and lysine residues in proteins modified by the combined reaction of MDA and acetaldehyde, leading to the formation of highly antigenic products that have been defined as malonaldehyde-acetaldehyde adducts [341, 342]. Indeed, as many as 35% of patients with an advanced stage of ALD (but not heavy drinkers with steatosis only) show the presence of a T cell proliferative response against lipid peroxidation protein adducts [340, 343], suggesting that oxidative modifications of epitopes may promote both humoral and cellular immune responses.
Circulating IgG able to recognize epitopes modified by lipid peroxidation-derived reactive molecules has also been detected in patients with NAFLD or affected by chronic hepatitis C [249, 344, 345], indicating that the scenario is of more general value. When NAFLD patients were compared to control subjects, a significantly increased titre of IgG directed against protein adducted with MDA or arachidonic acid hydroperoxide or oxidized cardiolipin was found. The presence of these antibodies in NAFLD patients was independent of age, body mass index, transaminase levels, and the extent of steatosis or the concomitant presence of diabetes. Metabolic changes leading to hepatic steatosis can indeed affect immune functions, possibly by down-regulating the number of liver regulatory T cells, predominantly those with a Th1 cytokine pattern; moreover, adipokines released by adipose tissue have been suggested as additional factors able to affect the regulation of inflammatory and immune response [346, 347].
A very similar scenario (that is, increased titres of IgG against human serum albumin adducted against MDA, HNE, arachidonic acid hydroperoxide and oxidized cardiolipin) has been described in patients affected by chronic hepatitis C. The titres of these antibodies were significantly increased in chronic HCV patients in relation to alcohol intake, but significant increases in these titres was reported even for those patients having only a modest alcohol intake [345]. This study also pointed out that those chronic HCV patients who were also heavy drinkers had statistically significantly more piecemeal necrosis and fibrosis than non-drinkers. Moreover, diffuse piecemeal necrosis was approximately four-fold more frequent in patients who consumed ethanol and had high titres for these antibodies than among patients whose antibody titres were within the control range. Thus, even moderate ethanol consumption can promote oxidative stress in chronic HCV patients, eliciting an immune response that is likely to contribute to the already well known ethanol-dependent worsening of the disease.
With regard to NAFLD patients, the scenario is not completely applicable, with titres of lipid peroxidation-related antibodies apparently unrelated to histological signs of necro-inflammation. However, a carefully performed statistical analysis has revealed that both titres and the frequency of these antibodies were significantly higher in NAFLD patients with bridging fibrosis or cirrhosis compared to patients with no fibrosis or just mild levels of pericellular/perilobular fibrosis [344]. This suggests that the presence of oxidative stress-triggered immune reactions could be an independent predictor of NAFLD progression to an advanced stage of fibrosis and then, likely, as a mechanism potentially contributing to NAFLD progression to NASH.
Mechanisms that may be involved in the development of immune responses to oxidative stress-modified antigens are rather complex and have been recently discussed in detail for the specific case of ALD [
249
], with an emphasis on the unique liver immunological properties and the crucial and dual role of Kupffer cells. These resident macrophages are indeed able to down-regulate under physiological conditions antigen presentation and T cell activation by releasing TNF, IL-10 and ROS. However, they can also do the opposite in alcoholics exposed to high levels of LPS by releasing IL-12 and IL-18, which can recruit natural killer T cells as well as both CD8+ and CD4+ lymphocytes. Moreover, one should note that hepatic stellate cells may contribute to recruitment of these cells since they have been described to act also as antigen presenting cells [
348
,
349
]. The interested reader can find more details in specialized reviews [
249
,
348
–
351
], and Figure
29
summarizes just those mechanisms and events involved in the redox-dependent development of autoantibodies and in mediating hepatocyte cell death.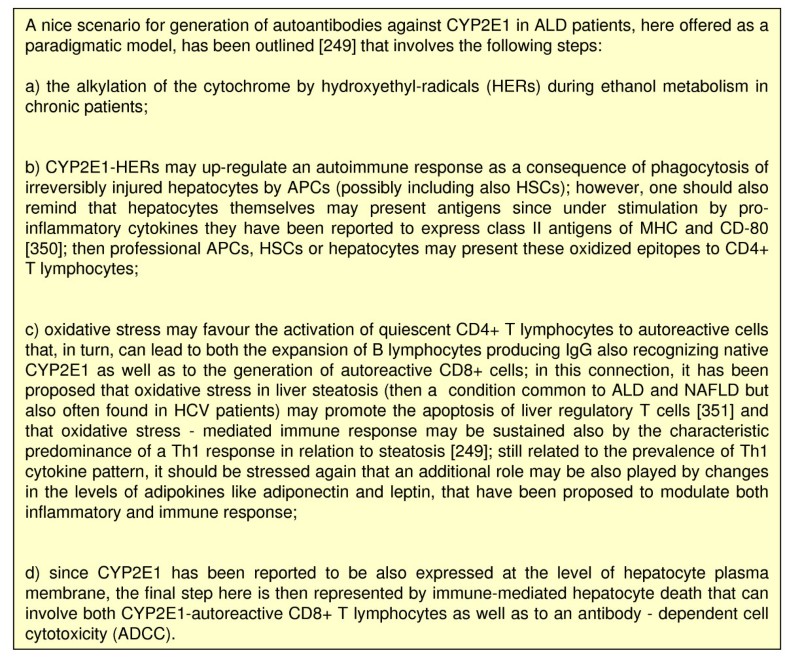 Oxidative stress-mediated immune responses as fuel for inflammation and fibrogenesis
In CLDs, with ALD patients being a reference for the amount of evidence available, oxidized or modified epitopes may induce humoral as well as cell-mediated immune responses able to significantly contribute to the maintenance of hepatic inflammation in the natural history of ALD. This is crucial in the specific ethanol-related scenario that is often dominated by increased translocation of LPS and endotoxins from the gut to the portal circulation (and the consequent effect on Kupffer cells) and with regard to the fact that ethanol-derived oxidative stress can increase the hepatotoxic action of TNF: indeed, in either chronically ethanol fed rats or alcoholics the presence of high titres of IgG against antigens modified by lipid peroxidation or oxidative stress correlate well with increased TNF production and, quite reasonably, the severity of inflammatory infiltrate [249].
One can envisage a scenario in which, in the presence of continuous antigen stimulation, cytokines released by lymphocytes can actively sustain Kupffer cell-mediated release of cytokines and chemokines as well as of ROS and NO, which, in turn, may contribute to the perpetuation of oxidative injury, the inflammatory response and fibrogenesis. Interestingly, as many as 60–80% of ALD patients with an advanced stage of the disease have significantly increased levels of anti-phospholipid autoantibodies (aPL-Ab) that recognize oxidized cardiolipin and phosphatidylserine (reviewed in [249]). aPL-Ab, by recognizing and binding to specifically oxidized epitopes in apoptotic hepatocytes (not in living cells, with phosphatidylserine being oxidized during apoptosis and before exposure on plasma membranes), may affect the ability of Kupffer cells to recognize and phagocytose apoptotic cells. Since phagocytosis of apoptotic cells usually involves increased release of TGFβ1 and IL-10 and down-regulation of TNF and IL-12 production, an impaired disposal of apoptotic hepatocytes by Kupffer cells will negatively affect the anti-inflammatory response of Kupffer cells. Moreover, Kupffer cells as well as other phagocytes may be further activated (pro-inflammatory) by increased recognition of aPL-Ab bound to the surface of apoptotic cells through the IgG Fc receptors. Finally, impaired disposal of apoptotic cells and/or bodies may, at the same time: further increase the inflammatory response because of post-apoptotic cell lysis; maintain conditions that further sustain development of aPL-Ab; and act as a pro-fibrogenic stimulus, as shown by already cited studies in which phagocytosis of apoptotic bodies by HSC/MFs resulted in the NOX- and ROS-dependent increased stimulation of pro-collagen type I synthesis [97, 322].
Antioxidants as antifibrotic therapeutics for CLDs?
This section offers some comments on the potential usefulness of antioxidants as therapeutic agents. Since the literature on this topic is impressive, we offer here just a number of take-home messages (for more detail, see [35, 36, 78, 352–354] and the references therein). The first message is unequivocal: antioxidants significantly prevent experimental liver fibrosis and its progression toward cirrhosis by inhibiting recruitment of inflammatory cells, the number of MFs, and levels of pro-inflammatory and pro-fibrogenic cytokines. This statement applies to different animal models of CLDs and to both naturally occurring and synthetic antioxidants that differ in structure and mechanism of action. The list of effective antioxidant strategies employed in animal models of fibrosis is impressive [35, 36, 77, 80, 352], including treatment with α-tocopherol, carotenoids, the selenium antioxidant ebselen, hydroxyl radical scavengers (such as dimethylsulphoxide of dimethylthiourea), N-acetyl-cysteine, several flavonoids and polyphenols (such as silymarin, quercetin, curcumin, epigallocatechin, and so on), the Japanese herbal medicine sho-saiko-to, the GSH-replenishing compound S-adenosyl methionine, the CYP2E1 inhibitor diallyl sulphide and the supernutrient polyenylphosphatidylcholine.
Unfortunately, results from clinical trials [35, 36, 78, 352–354] are definitively less impressive in terms of changes in laboratory data (some trials report a significant decrease in serum alanine aminotransferase (ALT) levels and few other 'positive' features on selected liver parameters), histological appearance and survival rate. No convincing significant decrease of liver fibrosis has been documented so far, with just the possible exception of some trials with NAFLD/NASH patients treated with vitamin E ([353, 354] and references therein). If one has to outline the possible reasons for such an evident discrepancy between experimental and clinical results, the following may apply. Experimental protocols have usually been designed to make the antioxidant molecule available from the beginning of the protocol, whereas in clinical trials antioxidants have been administered mainly to patients with established cirrhosis or with an advanced stage of CLD; this is relevant if one considers that oxidative stress (as stressed in this review) is likely to represent a constant pro-fibrogenic feature in the natural history of any CLD. Also, in order to match the effective antifibrotic doses employed in experimental studies, human patients should receive very high doses of these compounds, which are either intrinsically difficult to reach or, for some compounds, may raise serious toxicity concerns.
A number of strategies may help to overcome these problems. A first concept is that early diagnosis of the CLD should reasonably allow administration of safe antioxidants as soon as possible during the natural history of the disease to slow down its fibrotic progression. Alternatively, we should use strategies that lead to increased availability of candidate antioxidants with sufficiently rapid rate constants as to be pharmacologically active (that is, even at low doses). Theoretically, at least two different strategies should be tested in properly designed trials: first, the use of more powerful antioxidant molecules, such as flavonoids/polyphenols and/or active principles of herbal compounds, which may also affect fibrotic progression as a consequence of their putative 'signalling' properties able to counteract HSC activation [35, 36, 77, 80, 352, 355]; and second, the use of transfection strategies to deliver antioxidant enzymes such as superoxide dismutase, thioredoxin or heme oxygenase-1 directly to the injured parenchyma or, even more specifically, to HSCs (proof of principle of the efficacy of these strategies has already been reported in experimental models [356–358]).
Declarations
Acknowledgements
MP is supported by grants from MUR (Italian Ministry for University and Scientific Research, Rome), from Regione Piemonte (Torino, Italy) and from Fondazione CRT (Torino, Italy).
Authors' Affiliations
(1)
Dipartimento di Medicina e Oncologia Sperimentale and Centro Interuniversitario di Fisiopatologia Epatica, Università degli Studi di Torino, Torino, Italy
Copyright
© Novo et al; licensee BioMed Central Ltd. 2008
This article is published under license to BioMed Central Ltd. This is an Open Access article distributed under the terms of the Creative Commons Attribution License (http://creativecommons.org/licenses/by/2.0), which permits unrestricted use, distribution, and reproduction in any medium, provided the original work is properly cited.