Role of paracrine factors in stem and progenitor cell mediated cardiac repair and tissue fibrosis
Fibrogenesis & Tissue Repair
2008
1:4
Received: 20 May 2008
Accepted: 13 October 2008
Published: 13 October 2008
Abstract
A new era has begun in the treatment of ischemic disease and heart failure. With the discovery that stem cells from diverse organs and tissues, including bone marrow, adipose tissue, umbilical cord blood, and vessel wall, have the potential to improve cardiac function beyond that of conventional pharmacological therapy comes a new field of research aiming at understanding the precise mechanisms of stem cell-mediated cardiac repair. Not only will it be important to determine the most efficacious cell population for cardiac repair, but also whether overlapping, common mechanisms exist. Increasing evidence suggests that one mechanism of action by which cells provide tissue protection and repair may involve paracrine factors, including cytokines and growth factors, released from transplanted stem cells into the surrounding tissue. These paracrine factors have the potential to directly modify the healing process in the heart, including neovascularization, cardiac myocyte apoptosis, inflammation, fibrosis, contractility, bioenergetics, and endogenous repair.
Keywords
Vascular Endothelial Growth FactorHepatocyte Growth FactorStem Cell TherapyCardiac FibroblastParacrine Factor
Heart failure and stem cells
Although coronary artery disease accounts for two-thirds of heart failure cases in the United States [1], other causes leading to heart failure are due to non-ischemic events and include myocarditis, hypertension, diabetes, arrhythmias, valvular disease, hypothyroidism, and drug-induced cardiotoxicity. The molecular and cellular mechanisms mediating heart failure have been the focus of numerous research efforts, and include cardiac myocyte apoptosis and necrosis, cardiac myocyte hypertrophy, interstitial fibrosis, decreased contractility, inflammation, oxidative stress, and impaired neovascularization. Pharmacological therapies for the treatment of heart failure have traditionally targeted pump function and quality of life for end-stage heart failure patients, and although several medications are available to limit the progression of the disease, the current therapies or interventional procedures do not lead to replacement of tissue and, thus, do not stop or reverse progression of adverse left ventricular (LV) remodeling in all patients [2, 3]. The use of stem cell-based therapy is becoming increasingly recognized as having the potential to salvage damaged myocardium and to promote endogenous repair of cardiac tissue [4–6]. Although the available data in this area are highly debatable, the potential of stem cell-based therapy for the treatment of heart failure remains an alternative option.
Stem cells are defined as cells that have the capacity to self renew, multipotency/pluriopotency, and clonality, and are divided into embryonic stem cells and adult stem cells. Although embryonic stem cells may have more potential for cardiac differentiation and thus replacement of damaged myocardium, few studies have focused on paracrine factors released from these cells that may be involved in mediating cardiac repair. Therefore, this review will focus on adult stem or adult progenitor cells, since numerous studies suggest that paracrine factors released from these cells may comprise an important mechanism contributing to cardiac protection after their transplantation into the myocardium.
Types of stem cells
Adult stem cells comprise at least three different groups: bone marrow-derived stem cells, the circulating pool of stem or progenitor cells, which, at least in part, are derived from the bone marrow, and tissue-resident stem cells. Bone marrow contains a complex assortment of progenitor cells, including hematopoietic stem cells (HSCs), so-called 'side population cells' (SP cells; defined by the expression of the Abcg2 transporter, which enables export of a Hoechst dye) [
7
], mesenchymal stem cells (MSCs) or stromal cells [
8
], and multipotential adult progenitor cells (MAPCs), a subset of MSCs [
9
], (see Table
1
).
Table 1
Summary of cell derived factors in different cell populations.
| Stem cell type | Stem-cell derived factors |
| --- | --- |
| Bone marrow | |
|    BM-MNCs | VEGF, bFGF, Ang-1, IL-1β, TNF-α [26] |
|    BMSCs (HSCs and MSCs) | VEGF, bFGF, IGF, SDF-1, Akt, eNOS [27] |
|    MSCs | VEGF, bFGF, Ang-1, IL-1, SDF-1, PIGF, MCP-1, FGF-7, IL-6, TGF-β, PDGF, PA, MMP-9, TB4, Sfrp, Tenacin C, Thrombospondin-1 [28, 29] |
|    MAPCs | VEGF, MCP-1, TGF- β, PDGF-BB [32] |
|    Multipotent BM-derived cells (non-HSCs and non-MSCs) | VEGF, bFGF, Ang-1, Ang-2, IGF-1, SDF-1α, PDGF-B, HGF [34] |
| Circulating | |
|    Cultured PB-MNCs | VEGF, HGF, G-CSF, GM-CSF [35] |
|    EPCs | VEGF-A, VEGF-B, SDF-1, IGF-1 [72]; VEGF-A FGF-2, IGF-1, HGF, Ang-1, SDF-1 [36] |
| Tissue resident | |
|    Cardiac stem cells | |
|    c-kit+, MDR-1+, Sca-1+ | IGF-1, HGF [71] |
|    Adipose stem cells | |
Another population of progenitor cells that has also been shown to have therapeutic potential is the pool of progenitor cells circulating within the blood. Asahara and Isner isolated the so called 'endothelial progenitor cells' (EPCs), defined by their function to form new blood vessels and enhance neovascularization after ischemia (for a review, see [10, 11]. However, the definition of these cells has recently been challenged [12] and it appears that these cells, isolated and cultured from the mononuclear cell fraction, may actually consist of a mixture of cells including HSCs, EPCs, and myeloid cells. Regardless of the exact definition of these cell populations, it appears that these cells have the capacity to acquire an endothelial-like phenotype, or at least, have the capacity to promote neovascularization.
Tissue-resident stem cells in the heart, the 'cardiac stem' cells, include cells characterized by c-Kit+ marker expression [13], Sca-1+ marker expression [14], cardiac SP cells [15] and cells expressing the protein Islet-1 [16]. Another type of cardiac stem cell has been identified by growing self-adherent clusters (termed 'cardiospheres') from subcultures of murine or human biopsy specimens. Whether these cells and c-Kit+, Sca-1+ and cardiac SP cells comprise distinct cell populations is not entirely clear. Furthermore, the exact origin of these c-Kit+, Sca-1+, SP, Islet-1+, or cardiosphere-derived cardiac stem cells and the mechanisms maintaining the cardiac stem cell pool are unclear. Two recent studies suggest that c-Kit+ and cardiac SP cells may arise from the bone marrow [17, 18]. However, these studies cannot entirely exclude that specific subpopulations of cardiac stem cells originate from the heart and these cardiac stem cells may represent remnants from embryonic development in selected niches within the heart.
Clinical trials
Most of the clinical trials using stem/progenitor cells to treat patients following an ischemic event have, to date, used cells derived from the bone marrow [19–22]. Using a systematic review and meta-analysis of all of the completed clinical trials using bone marrow-derived stem cells to treat ischemic heart disease, Abdel-Latif et al. [23] and Lipinski et al. [24] suggested that the transplantation of these cells is safe and efficacious beyond the benefits achieved using traditional therapy using pharmaceuticals. Using such analysis, these studies found that there were decreases in infarct scar size, improvements in ejection fraction, and decreased left ventricular end systolic volume, suggesting improvement in overall global function. Interestingly, these studies found no significant differences in outcomes with the use of less or more than the median number of transplanted stem cells; however, since most of the clinical trials used different cell isolation protocols and subsets of bone marrow-derived cells, it remains unclear which cell subpopulations would have the most beneficial effects [25].
While it is virtually impossible to define the precise mechanisms involved in bone marrow cell-mediated improvement in LV function in patients, the use of animal models of heart disease aids not only in the discovery of which stem cell population is the most efficacious, but also in determining whether there are overlapping or differential mechanisms between stem cell populations, such as the release of paracrine factors. Paracrine factors, such as growth factors and cytokines, are normally released from endogenous cells of the heart in response to injury. These factors may signal via the circulation to mediate stem cell homing from the circulation, bone marrow, or tissue to the site of injury, thus aiding in tissue repair. As a focus of this review, we discuss how exogenously transplanted cells also secrete paracrine factors, which may be more advantageous in mediating cardiac repair by regulating endogenous factors that play direct and important roles in the regulation of neovascularization, fibrosis, inflammation, cardiac myocyte survival, contractility and bioenergetics and endogenous repair.
Conclusion
Paracrine factors from stem cells transplanted into the myocardium play an important role in modulating LV remodeling after an ischemic injury. It should be noted that the evidence supporting this idea is based on numerous studies in animal models. The contribution of the paracrine effects in clinical trials (compared to cell intrinsic functions) cannot be exactly determined as long as autologous cells are implanted and the availability of tissue restricts information on local cytokine production. However, the clinically used cell populations, namely total bone marrow nuclear cells [
26
,
86
], cultured endothelial progenitor cells [
36
,
72
], and MSCs [
28
,
29
,
41
–
45
], were all shown to release paracrine factors when transplanted into ischemia models. In the future, not only will it be important to determine which paracrine factors are up- or down-regulated, but also to characterize the spatio-temporal release and the local concentrations produced by the injected or infused cell populations. Furthermore, an understanding of synergistic or additive interactions between these factors is crucial, as well as of whether these factors act on one or a combination of mechanisms that lead to heart failure. This may ultimately lead to the generation of pharmacological agents that can be used to treat heart failure, possibly negating the need for cell-based therapy altogether, (see Figure
1
).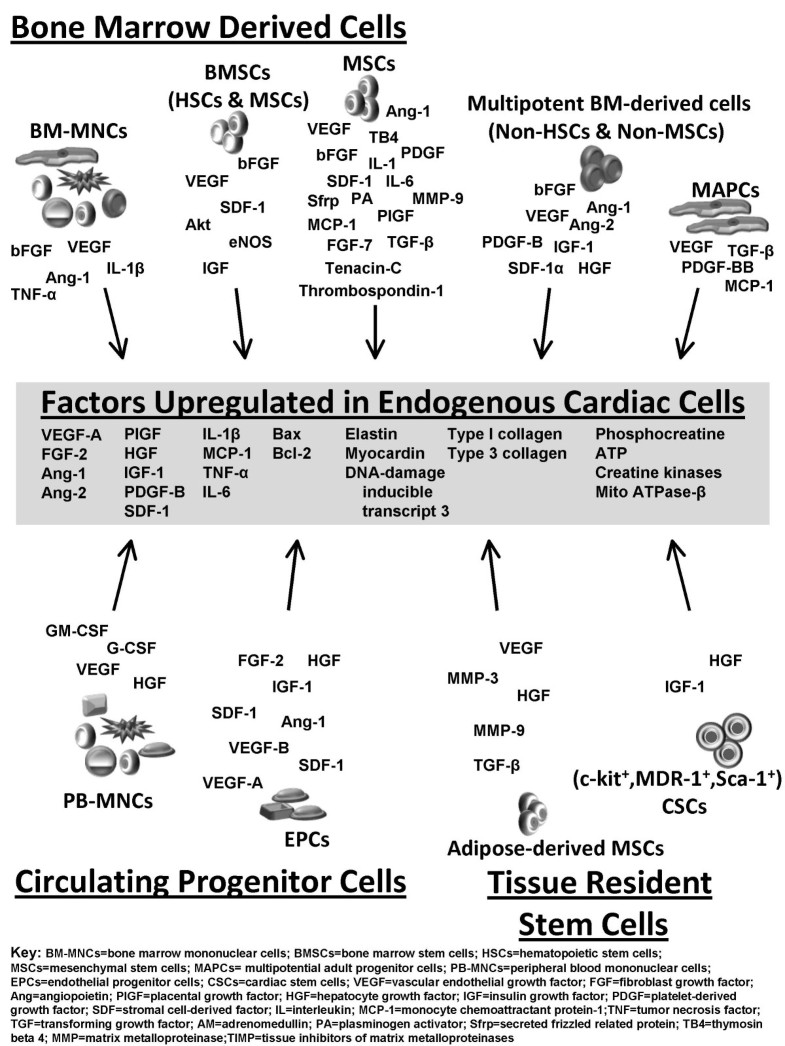 Declarations
Acknowledgements
This work was supported by a grant from the Leducq Foundation to S Dimmeler.
Authors' Affiliations
(1)
Institute of Cardiac Regeneration, Center of Molecular Medicine, University Frankfurt, Theodor Stern Kai, Frankfurt, Germany
Copyright
© Burchfield and Dimmeler; licensee BioMed Central Ltd. 2008
This article is published under license to BioMed Central Ltd. This is an Open Access article distributed under the terms of the Creative Commons Attribution License (http://creativecommons.org/licenses/by/2.0), which permits unrestricted use, distribution, and reproduction in any medium, provided the original work is properly cited.