Viruses as co-factors for the initiation or exacerbation of lung fibrosis
Fibrogenesis & Tissue Repair
2008
1:2
Received: 12 March 2008
Accepted: 13 October 2008
Published: 13 October 2008
Abstract
Idiopathic pulmonary fibrosis (IPF) remains exactly that. The disease originates from an unknown cause, and little is known about the mechanisms of pathogenesis. While the disease is likely multi-factorial, evidence is accumulating to implicate viruses as co-factors (either as initiating or exacerbating agents) of fibrotic lung disease. This review summarizes the available clinical and experimental observations that form the basis for the hypothesis that viral infections may augment fibrotic responses. We review the data suggesting a link between hepatitis C virus, adenovirus, human cytomegalovirus and, in particular, the Epstein-Barr gammaherpesvirus, in IPF. In addition, we highlight the recent associations made between gammaherpesvirus infection and lung fibrosis in horses and discuss the various murine models that have been used to investigate the contribution of gammaherpesviruses to fibrotic progression. We review the work demonstrating that gammaherpesvirus infection of Th2-biased mice leads to multi-organ fibrosis and highlight studies showing that gammaherpesviral infections of mice either pre- or post-fibrotic challenge can augment the development of fibrosis. Finally, we discuss potential mechanisms whereby viral infections may amplify the development of fibrosis. While none of these studies prove causality, we believe the evidence suggests that viral infections should be considered as potential initiators or exacerbating agents in at least some cases of IPF and thereby justify further study.
Keywords
Idiopathic Pulmonary FibrosisInterstitial Lung DiseaseHCMV InfectionIdiopathic Pulmonary Fibrosis PatientFibrotic Response
Background
Idiopathic pulmonary fibrosis (IPF) is a progressive interstitial lung disease that severely compromises pulmonary function [1]. IPF likely results from an abnormal healing response to injury of the alveolar surface, and development of the disease is characterized by fibroblast hyperplasia and progressive collagen deposition that effaces normal lung tissue [2]. The median survival time for patients with IPF is 3 years from the time of diagnosis, and there is currently no effective treatment [3].
Fibrotic lung disease likely results from an inciting injurious event within the lung. Although the precise temporal sequence of events and mechanisms of disease are not understood, several common pathobiological characteristics are recognized. These include damage and loss of type I alveolar epithelial cells followed by hyperplastic expansion of type II cells [4]; variable chronic inflammatory cell infiltration [5]; a predominant T helper (Th)2 cytokine profile [6]; induction of pro-inflammatory cytokines, such as interleukin (IL)-8 and tumor necrosis factor (TNF)α [7, 8]; induction of fibroblast growth factors, such as basic fibroblast growth factor and platelet-derived growth factor [9]; induction of differentiation molecules, such as transforming growth factor (TGF)-β1 [6, 10]; an altered fibroblast phenotype characterized by exuberant proliferation and the transition to α-smooth muscle actin-positive myofibroblasts [11]; excessive deposition of extracellular matrix proteins [12]; derangements in eicosanoid synthesis, including increased leukotriene synthesis and diminished prostaglandin production [13, 14]; diminished activation of plasminogen and altered coagulation cascades [15, 16]; and recruitment of bone-marrow derived fibrocytes [17–19].
Despite ongoing research driven by the need for therapy, the initiating or injurious agents are unknown, and it is not understood why the fibrosis is dysregulated and progressive [20]. It is likely that the disease initiates with some form of alveolar epithelial cell injury. This could be in the form of inhaled toxins or due to genetic abnormalities, such as mutations in telomerase or surfactant protein C [21–25], but more research is needed to fully understand the etiology of lung fibrosis. The natural history of the disease can take at least two forms. Patients can experience a gradually progressive disease, characterized by steady worsening of symptoms, lung function and gas exchange [26, 27] or they can experience an acute respiratory deterioration termed an acute exacerbation noted by rapid worsening of symptoms over a short time frame (usually less than 1 month) [28]. Acute exacerbations can have extremely high mortality rates (reviewed in [28]). Both the development of IPF and the onset of acute exacerbations are idiopathic but may involve toxic exposures, genetics, aspiration, disordered coagulation and complications of comorbidities [28]. An emerging hypothesis is that occult infections may play a pathogenic role as co-factors for the development of IPF or acute exacerbations. It is possible that the chronic presence of an inflammatory agent like a virus in a genetically susceptible host disrupts the normal healing response, thus making the lung highly susceptible to a separate injurious trigger. Viruses are intriguing candidates for a role in IPF because of their ubiquitous incidence in humans and because of the nature of their lifecycle. Some viruses exist as an antigenic stimulant in the epithelial cells of the lung in an actively replicating and potentially injurious lytic phase while other viruses persist in a latent phase for an entire lifetime. It is interesting to note that some viruses, such as Epstein-Barr virus (EBV), which has been linked to IPF, are known to infect most people at some point in their life [29]. This raises the interesting question of why some people may develop IPF in response to this infection while others may not. Clearly, there is no easy answer, but it is likely that differential host responses to the virus may alter the pathogenesis. For instance, latent EBV infection is most often found in B cells [29]; however, in patients with IPF, EBV can be found in lung tissue, including epithelial cells [30, 31]. Alternatively, stress, drug exposures or immunodeficiency may be responsible for viral reactivation in some patients, but not others. In this review, we discuss the available evidence that hepatitis C, adenovirus and cytomegalovirus infections are found in association with IPF. By far the most compelling evidence for a viral co-factor in IPF comes from studies of the association between the gammaherpesvirus, EBV, and IPF. The data regarding the role of EBV in IPF will be discussed last and will then be followed by a discussion of animal models that demonstrate a pro-fibrotic role for gammaherpesvirus infections.
Human studies that have suggested a link between IPF and particular viral infections
Animal studies that support a role for gammaherpesvirus infections as initiators or co-factors for the development of fibrosis
Conclusion
The studies with MHV-68 discussed here can only suggest that similar human viruses found in the lungs of IPF patients have a pathogenic role in fibrosis. Given that fibrosis in humans is progressive, it seems important to better understand the chronic reactivation that can occur during herpesviral infections. It is possible that repeated activation may lead to repeated rounds of epithelial cell damage, cytokine release and fibrocyte recruitment. Additionally, it will be important to determine whether long-term latent MHV-68 infection of naïve mice augments the production of profibrotic factors and whether the same is true in EBV-infected human lungs. A latent infection does not appear to create a Th2 bias equal to that of IFN-γR-/- mice, but any bias may predispose a latently infected individual to a fibrotic trigger from an unrelated factor. It will also be helpful to more carefully study the cell types that harbor long-standing viral infection because the prolonged injury caused to such a cell type is likely responsible for increasing susceptibility to fibrosis. Flano
et al
. [
84
] found that long-term latency in the lung is maintained primarily in B cells, but they also showed that MHV-68 maintains persistent replication in the lung at least 3 months after infection, suggesting that cell types besides B cells may be re-infected. In fact, Stewart
et al
. [
68
] have suggested that lung epithelial cells may be long-term reservoirs of persistent viral infection. Epigenetic changes caused by infection should also be explored. Genetic deficiencies in leukotriene production and expression of the CCR2 receptor have been shown to be protective against fibrosis in animal models independent of viral infection [
90
,
91
]. As viral infections are known to induce the production of both leukotrienes and chemokines, it may be important to understand how significant such mediators are to a virus-induced predisposition to fibrosis. It is also possible that the additional inflammatory cells recruited by the lytic or latent virus may alter the fibrotic milieu. In summary, evidence from both clinical studies and animal models suggest that viruses, especially gammaherpesviruses, may be co-factors for the development or exacerbation of lung fibrosis and have suggested that fibrocyte recruitment may be one pathogenic mechanism. Figure
2
provides a schematic representation that depicts potential mechanisms whereby viral infections (either preceding the fibrotic response or subsequent to it) may enhance fibrotic outcomes. Through the use of new animal models, researchers should be able to elucidate additional pathogenic mechanisms with the hope of finding new therapies.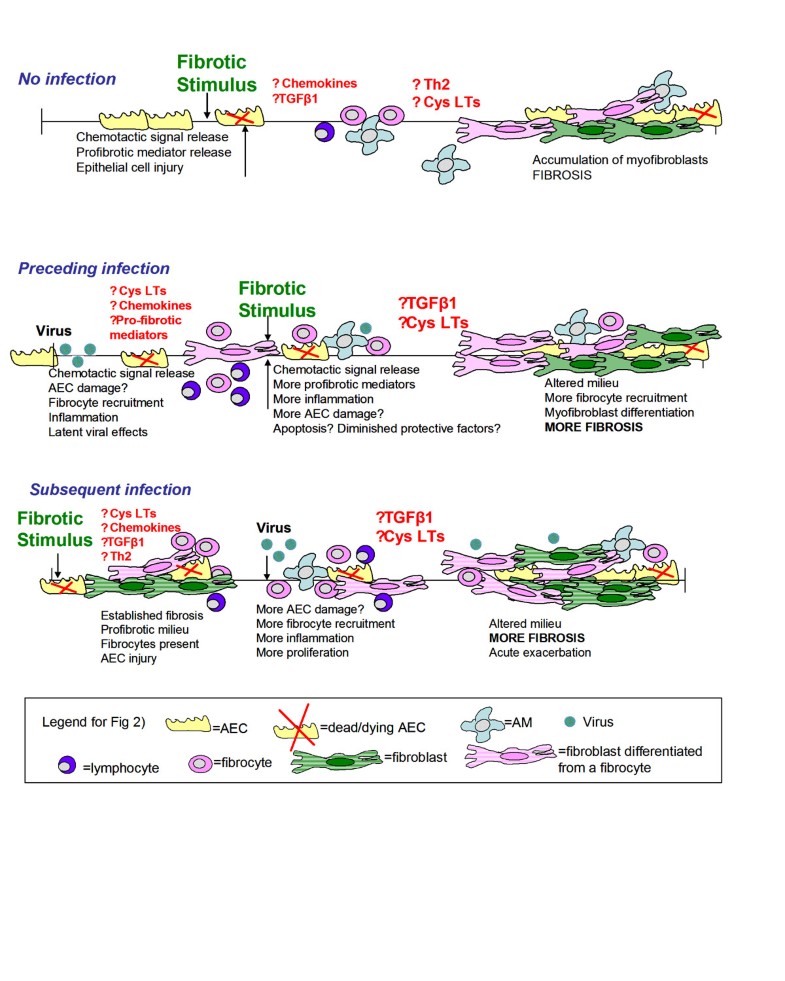 Declarations
Acknowledgements
Supported by NIH grant HL087846, a Career investigator award from the American Lung Association of Michigan (BBM) and grants from the Pulmonary Fibrosis Foundation and the Martin Edward Galvin Fund for Pulmonary Fibrosis Research.
Authors' Affiliations
(1)
Immunology Graduate Program, University of Michigan Medical School, Ann Arbor, USA
(2)
Department of Internal Medicine, University of Michigan Medical School, Ann Arbor, USA
Copyright
© Vannella and Moore; licensee BioMed Central Ltd. 2008
This article is published under license to BioMed Central Ltd. This is an Open Access article distributed under the terms of the Creative Commons Attribution License (http://creativecommons.org/licenses/by/2.0), which permits unrestricted use, distribution, and reproduction in any medium, provided the original work is properly cited.