Neutrophil roles in left ventricular remodeling following myocardial infarction
Fibrogenesis & Tissue Repair
2013
6:11
Received: 29 December 2012
Accepted: 11 April 2013
Published: 3 June 2013
Abstract
Polymorphonuclear granulocytes (PMNs; neutrophils) serve as key effector cells in the innate immune system and provide the first line of defense against invading microorganisms. In addition to producing inflammatory cytokines and chemokines and undergoing a respiratory burst that stimulates the release of reactive oxygen species, PMNs also degranulate to release components that kill pathogens. Recently, neutrophil extracellular traps have been shown to be an alternative way to trap microorganisms and contain infection. PMN-derived granule components are also involved in multiple non-infectious inflammatory processes, including the response to myocardial infarction (MI). In this review, we will discuss the biological characteristics, recruitment, activation, and removal of PMNs, as well as the roles of PMN-derived granule proteins in inflammation and innate immunity, focusing on the MI setting when applicable. We also discuss future perspectives that will direct research in PMN biology.
Keywords
PMNsMyocardial infarctionInflammationInnate immunityDegranulationMatrix metalloproteinases
Conclusions
This review summarizes the roles of PMNs and PMN-derived granule components in inflammation, innate immunity, and MI. PMNs regulate the post-MI wound healing response through several mechanisms (Figure
3
). PMNs are activated by cytokines and chemokines, and activated PMNs in turn release cytokines and chemokines to potentiate the inflammatory component of wound healing [
101
]. PMN degranulation releases an array of proteases that regulate LV remodeling by modulating immune cell infiltration and function, including ROS production. The PMN respiratory burst generates ROS to directly modify biological molecules. However, several aspects remain to be elucidated in order to better understand PMN roles after MI.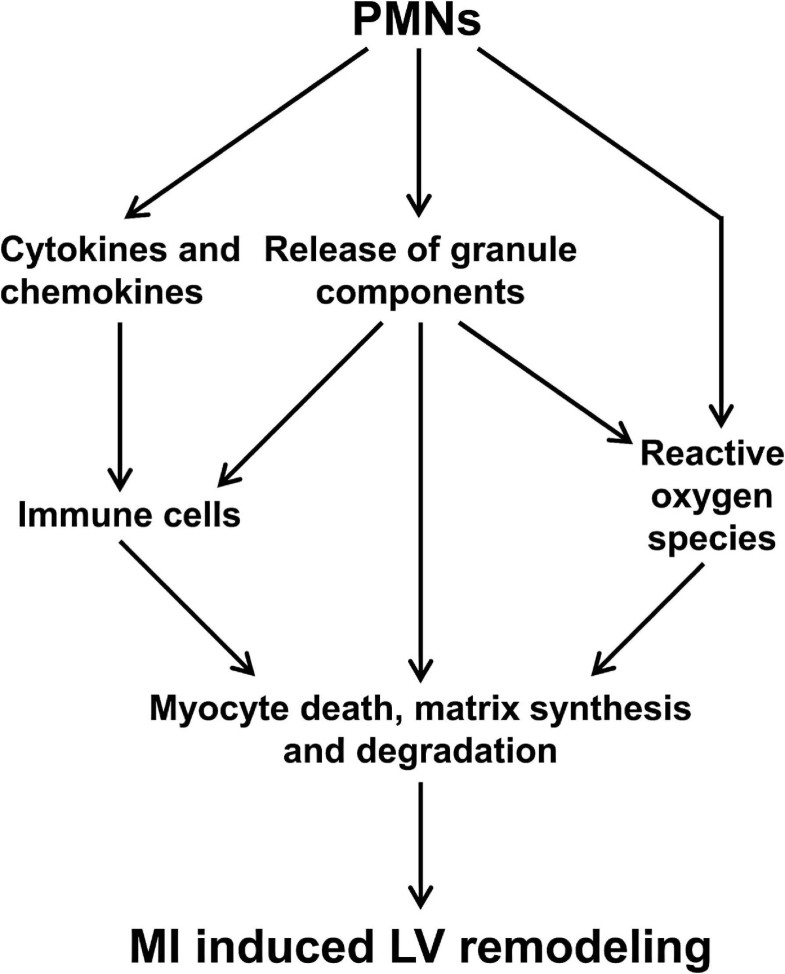 First, PMN roles post-MI need to be better understood, using systematic approaches that distinguish the negative and positive roles. In order for therapeutic strategies to be developed that promote healing while preventing adverse remodeling, we need to better understand the complexity of PMNs in mediating the early inflammatory response.
Second, there may be different activation phenotypes of PMNs following MI [102–104]. A recent study by Fridlender and colleagues suggests that tumor associated PMNs can be polarized towards different phenotypes [104]. Blocking TGF-β slows tumor growth by increasing the influx of PMNs to produce higher levels of proinflammatory cytokines, which are more cytotoxic [104]. PMN depletion without TGF-β blockade, however, also decreases tumor growth. TGF-β, therefore, promotes a PMN pro-tumor phenotype, while blocking TGF-β induces a PMN anti-tumor phenotype [104]. TGF-β effects on tumors and the post-MI LV are likely opposite, as TGF-β promotes post-MI infarct healing and blocking TGF-β increases MI-induced mortality and LV dilation [105]. PMN phenotypes should be examined by isolating PMNs from post-MI hearts at different time points and measuring the expression of key effector molecules. Before this can be accomplished, however, we need to determine what markers can be used to differentiate phenotypes and whether overall inflammatory status is sufficient.
Third, whether PMNs directly or indirectly regulate macrophage polarization (M1 or M2 activation) or function is not currently well understood. This could be evaluated by incubating resting macrophages with conditioned media from activated PMNs and monitoring the macrophages for M1 and M2 markers [106]. It may be that PMNs from different post-MI times promote differential macrophage activation patterns.
Fourth, whether PMNs regulate cardiac fibroblast phenotype and post-MI scar formation is not known [107]. The role of macrophages in activating fibroblasts has been studied, but whether PMNs exert similar or different activation functions is unknown. This can be addressed by incubating isolated cardiac fibroblasts with activated PMNs and measuring fibroblast phenotype and secretion of extracellular matrix [106].
In conclusion, understanding how PMNs regulate post-MI LV remodeling may provide promising intervention targets for MI patients. Understanding the detrimental and beneficial roles will provide mechanistic insight into how PMNs regulate inflammatory responses, both in the MI setting and in other diseases that have inflammation as a common response.
Abbreviations
DAMPs:

Damage-associated molecular patterns
HNPs:

Human neutrophil peptides
ICAMs:

Intercellular adhesion molecules
IL:

Interleukin
LTB4:

Leukotriene B4
LV:

Left ventricle
MCP-1:

Monocyte chemoattractant protein-1
MI:

Myocardial infarction
MMPs:

Matrix metalloproteinases
MPO:

Myeloperoxidase
NE:

Neutrophil elastase
NETs:

Neutrophil extracellular traps
NGAL:

Neutrophil gelatinase-associated lipocalin
ROS:

Reactive oxygen species
TLR:

Toll-like receptor
TNF:

Tumor necrosis factor.
Declarations
Acknowledgements
We acknowledge support from NIH/NHLBI HHSN 268201000036C (N01-HV-00244) for the San Antonio Cardiovascular Proteomics Center and R01 HL075360, and from the Biomedical Laboratory Research and Development Service of the Veterans Affairs Office of Research and Development Award 5I01BX000505 to MLL.
Authors' Affiliations
(1)
San Antonio Cardiovascular Proteomics Center, San Antonio, USA
(2)
Jackson Center for Heart Research, Department of Physiology and Biophysics, University of Mississippi Medical Center, Jackson, USA
(3)
Research and Medicine Services, G.V. (Sonny) Montgomery Veterans Affairs Medical Center, Jackson, USA
Copyright
© Ma et al.; licensee BioMed Central Ltd. 2013
This article is published under license to BioMed Central Ltd. This is an Open Access article distributed under the terms of the Creative Commons Attribution License (http://creativecommons.org/licenses/by/2.0), which permits unrestricted use, distribution, and reproduction in any medium, provided the original work is properly cited.