HDAC inhibitors in experimental liver and kidney fibrosis
Fibrogenesis & Tissue Repair
2013
6:1
Received: 19 October 2012
Accepted: 29 November 2012
Published: 2 January 2013
Abstract
Histone deacetylase (HDAC) inhibitors have been extensively studied in experimental models of cancer, where their inhibition of deacetylation has been proven to regulate cell survival, proliferation, differentiation and apoptosis. This in turn has led to the use of a variety of HDAC inhibitors in clinical trials. In recent years the applicability of HDAC inhibitors in other areas of disease has been explored, including the treatment of fibrotic disorders. Impaired wound healing involves the continuous deposition and cross-linking of extracellular matrix governed by myofibroblasts leading to diseases such as liver and kidney fibrosis; both diseases have high unmet medical needs which are a burden on health budgets worldwide. We provide an overview of the potential use of HDAC inhibitors against liver and kidney fibrosis using the current understanding of these inhibitors in experimental animal models and in vitro models of fibrosis.
Keywords
Histone deacetylaseHDAC and liverKidney or hepaticRenal fibrosis
Introduction
Both chronic kidney and chronic liver diseases have high unmet medical needs, which progressively strain health budgets worldwide. The chronic nature of both conditions and the need for long term therapy are the basis for this global burden on the healthcare systems. In addition, chronic liver disease (CLD) and chronic kidney disease (CKD) are considered as disorders with high mortality. It is estimated that annually >100,000 new patients are diagnosed with CLD in the United States, contributing to the increasing number of patients who need organ replacement therapy [1]. Furthermore, about 40% of patients on a waiting list do not receive a liver transplant due to donor shortage. A recent EASL report states that approximately 29 million EU inhabitants are affected by some degree of progressive liver disease, which equals to 6% of the population [2–5]. The mortality rate for CKD and diseases of the urinary tract is about 850,000 deaths every year, which ranks CKD, like CLD, in the top 15 of high mortality disorders. Moreover, CKD is associated with an 8- to 10-fold increase in cardiovascular mortality and is a risk multiplier in patients with diabetes and hypertension. Although more common in developing countries, disadvantaged and minority populations, at least 8% of the population of Europe currently has some degree of CKD, which means that roughly 40 million people are affected in the EU. This figure increases each year and if the present trend endures, the number of people with CKD will double over the next decade [6–10].
Conclusions
A great deal of work is still needed to fully understand the mechanisms of fibrogenesis, but a substantial amount of progress has been made over the years. When we reflect on literature discussed in this review, we find that HDAC inhibitors are potential antifibrotic agents for both liver and kidney fibrosis, as the common mechanisms of fibrosis like ECM accumulation and inflammation can be reduced with the therapy of HDAC inhibitors (Figure
3
). The modulation of the immune response by HDAC inhibitors has been extensively described in some recent reviews and is not unique to fibrosis. In general, HDACs play a role in leukocyte differentiation and survival, regulate the function of macrophages and dendritic cells by controlling inflammatory mediator production and can possibly modulate Toll-like receptor and interferon signaling pathways [
161
,
162
].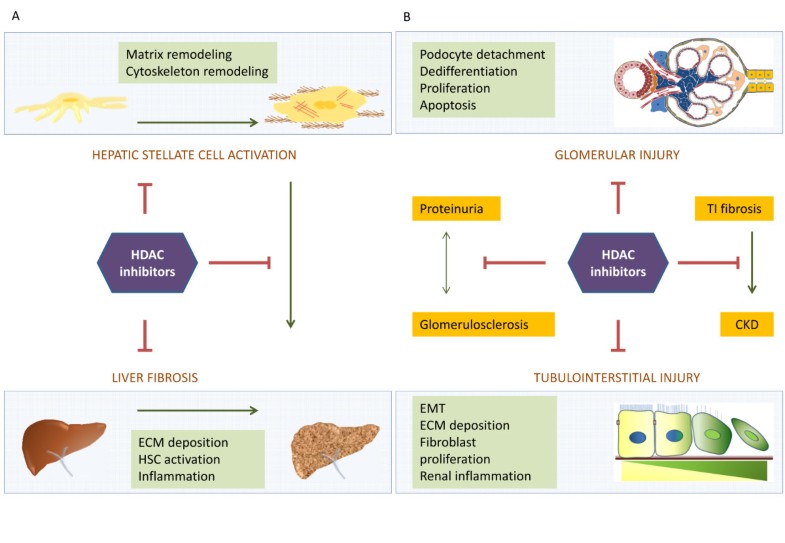 In general, inhibition of HDAC activity will lead to increased histone acetylation, which in turn will mostly result in gene activation, thus the diminution of the expression of inflammatory and fibrotic genes in an experimental setting is most likely due to indirect targeting through miRNAs or other transcriptional repressors. In the given overview, we find that mostly pan- or class I specific HDAC inhibitors are being used in the field of liver and kidney fibrosis. Further research dissecting the individual role of each HDAC during fibrosis would, therefore, be very interesting; this would contribute to the development of selective inhibitors that are more tolerable and effective. A possible good candidate with joined relevance in the pathological process of kidney and liver fibrosis might be HDAC1, as previously discussed. The development of a specific inhibitor remains challenging, since the catalytic site of all HDAC enzymes is highly conserved and thus most HDAC inhibitors will obstruct the catalytic site of all HDAC enzymes [163]. Despite our focus on (de)acetylation, we are aware of the possible additive effects of the inhibition of methylation during fibrosis. In preclinical cancer studies that combined an HDAC inhibitor with a demethylating agent (for example, 5'azacytidine), beneficial effects have been observed [164, 165]. The combination of HDAC inhibitors and 5'azacytidine could possibly be valuable for treatment of fibrosis in patients, as recent publications pointed out roles for methylation in hepatic stellate cells and in kidney fibrosis [45, 166–168].
To conclude, we only highlighted the promising findings on HDAC inhibition in liver and kidney fibrosis, but the intrinsic role of HDACs in fibrogenesis of other organs becomes clear [169–171]. While originally appreciated for their anticancer properties, a growing body of evidence now supports the safety and efficacy of HDAC inhibitors in experimental models of liver and kidney disease, potentially expanding their clinical application.
Abbreviations
α-SMA:

alpha-smooth muscle actin
ADDL70:

Adducing-like protein 70
Apr2/3:

actin related proteins2 and 3
CBDL:

Common bile duct ligation
CCl4:

Carbon tetrachloride
ChIP:

chromatin immunoprecipitation
CKD:

Chronic kidney disease
CLD:

Chronic liver disease
CREB:

cAMP-responsive element binding protein
CTGF:

connective tissue growth factor
EASL:

European association for the study of the liver
ECM:

Extracellular matrix
EGFR:

epidermal growth factor receptor
EMT:

Epithelium-to-mesenchymal transition
EndoMT:

Endothelial-to-mesenchymal transition
eNOS:

Endothelial nitric oxidase synthase
ERK:

Extracellular signal-regulated kinase
ESRF:

End-stage renal failure
EU:

European union
FSGS:

Focal segmental glomerulosclerosis
Fsp1:

Fibroblast-specific protein 1
GBM:

Glomerular basement membrane
HAT:

Histone acetyltransferase
HDAC:

Histone deacetylase
HSCs:

Hepatic stellate cells
IL-10:

Interleukin 10
iNOS:

Inducible nitric oxide synthase
I/R:

Ischemia/reperfusion
KDAC:

Lysine deacetylase
LPS:

Lipopolysaccharide
MCD:

Minimal change disease
MCP-1:

Monocyte chemotactic protein-1
MMP13:

Matrix metalloproteinase 13
NAD+:

Nicotinamide adenine dinucleotide
NF-κB:

Nuclear factor-kappa B
NO:

Nitric oxide
PAN:

Puromycin aminonucleoside nephrosis
PI3K:

Phosphoinositide-3-kinase
PDGF:

Platelet derived growth factor
RhoA:

Ras homolog gene family, member A
SAHA:

Suberoylanilide hydroxamic acid
Sir2:

Silent information regulator 2
TAA:

Thioacetamide
TGF-β:

Transforming growth factor-beta
TMMC:

2′,4′,6′-Tris(methoxymethoxy) chalcone
TNF-α:

Tumor necrosis factor-alpha
TSA:

Trichostatin A
UUO:

Unilateral ureteral obstruction
VPA:

Valproic acid.
Declarations
Acknowledgements
I. Mannaerts and L. A. van Grunsven are supported by the Vrije Universiteit Brussel through a Geconcerteerde Onderzoeksactie (GOA48 and GOA78) project and by the Fund for Scientific Research Flanders (FWO-V) (G.0260.09). K. Van Beneden and C. Van den Branden are supported by the Vrije Universiteit Brussel through an Onderzoeksraad project (OZR1428 and OZR1796).
Authors' Affiliations
(1)
Department of Human Anatomy, Liver Cell Biology Lab, Vrije Universiteit Brussel, Brussels, Belgium
(2)
Department of Cell Biology, Liver Cell Biology Lab, Vrije Universiteit Brussel, Brussels, Belgium
Copyright
© Van Beneden et al.; licensee BioMed Central Ltd. 2013
This article is published under license to BioMed Central Ltd. This is an Open Access article distributed under the terms of the Creative Commons Attribution License (http://creativecommons.org/licenses/by/2.0), which permits unrestricted use, distribution, and reproduction in any medium, provided the original work is properly cited.