Mesenchymal cell survival in airway and interstitial pulmonary fibrosis
Fibrogenesis & Tissue Repair
2010
3:15
Received: 1 June 2010
Accepted: 25 August 2010
Published: 25 August 2010
Abstract
Fibrotic reactions in the airways of the lung or the pulmonary interstitium are a common pathologic outcome after exposure to a wide variety of toxic agents, including metals, particles or fibers. The survival of mesenchymal cells (fibroblasts and myofibroblasts) is a key factor in determining whether a fibroproliferative response that occurs after toxic injury to the lung will ultimately resolve or progress to a pathologic state. Several polypeptide growth factors, including members of the platelet-derived growth factor (PDGF) family and the epidermal growth factor (EGF) family, are prosurvival factors that stimulate a replicative and migratory mesenchymal cell phenotype during the early stages of lung fibrogenesis. This replicative phenotype can progress to a matrix synthetic phenotype in the presence of transforming growth factor-β1 (TGF-β1). The resolution of a fibrotic response requires growth arrest and apoptosis of mesenchymal cells, whereas progressive chronic fibrosis has been associated with mesenchymal cell resistance to apoptosis. Mesenchymal cell survival or apoptosis is further influenced by cytokines secreted during Th1 inflammation (e.g., IFN-γ) or Th2 inflammation (e.g., IL-13) that modulate the expression of growth factor activity through the STAT family of transcription factors. Understanding the mechanisms that regulate the survival or death of mesenchymal cells is central to ultimately developing therapeutic strategies for lung fibrosis.
Keywords
Mesenchymal CellIdiopathic Pulmonary FibrosisPulmonary FibrosisConnective Tissue Growth FactorLung Fibrosis
Background
Fibrosis is a feature of many environmental and occupational lung diseases where pathological changes occur either around the conducting airways [
1
] or within the pulmonary interstitium of the distal lung parenchyma [
2
]. In many instances, the insulting agent causes a sustained and progressive fibroproliferative response that compromises lung function. In chronic fibrosis, including asbestosis [
2
,
3
], sarcoidosis [
4
] and idiopathic pulmonary fibrosis (IPF), mesenchymal cell survival and resistance to apoptosis favor the development of progressive disease that ultimately results in respiratory failure [
5
,
6
]. However, in other instances, the mesenchymal cell proliferative response to tissue injury by inhaled agents resolves to varying degrees. For example, asthma features airway fibrosis, but the lesions are relatively confined to the distal airways and fibrogenesis generally does not progress to the lung parenchyma [
7
,
8
]. Similarly, the transition metal vanadium pentoxide released from oil-burning power plants is a cause of occupational chronic bronchitis resulting in reduced airway function in workers, yet this disease rarely progresses to chronic interstitial fibrosis [
9
]. The precise cellular and molecular mechanisms that initiate fibrogenesis in the lung can be quite varied and depend on the insulting agent (e.g., metals, fibers, chemotherapeutic drugs, radiation). Genetic susceptibility also plays a major role in determining disease progression. Despite the complexities of gene-environment interactions that serve to initiate lung fibrogenic reactions, a common denominator that is central to the progression of fibrosis is airway and interstitial mesenchymal cells that provide the major source of secreted collagen that defines end stage lung fibrosis. The term
mesenchymal cell
is used throughout this review and includes several phenotypes (fibroblasts, myofibroblasts, smooth muscle cells and fibrocytes). There is also considerable plasticity among the mesenchymal cell phenotypes. For example, fibroblasts are known to differentiate into myofibroblasts in the presence of transforming growth factor (TGF)-β1. The most notable mesenchymal phenotype that contributes the majority of secreted matrix during the fibrogenic process is the myofibroblast [
9
]. Abundant evidence indicates that myofibroblasts provide the major source of collagen that defines the fibrotic lesion and that TGF-β1 is the dominant growth factor that stimulates matrix synthesis by lung mesenchymal cells [
2
,
9
]. Because myofibroblasts are the central source of extracellular matrix, the survival of these cells largely determines overall disease progression. Mesenchymal cell survival in the lung is a key determinant of whether fibrosis will progress or resolve. Whether the proliferative response to injury ultimately resolves through mesenchymal cell growth arrest and apoptosis or whether mesenchymal cell survival is sustained to perpetuate chronic and persistent matrix production is the central topic of this review. The overall premise of resolving versus progressive fibrosis is illustrated in Figure
1
. In both resolving and progressive fibrogenic scenarios, mesenchymal cell accumulation can result from several possible mechanisms (recruitment of circulating fibrocytes, epithelial-mesenchymal cell transition, or migration and proliferation of resident lung mesenchymal cells). However, in resolving fibrosis, the collagen matrix deposited by mesenchymal cells is degraded by protease activity such as matrix metalloproteinases and is also ultimately limited by mesenchymal cell growth arrest and apoptosis. In contrast, progressive fibrosis is the result of sustained matrix deposition or lack of matrix degradation, coupled with mesenchymal cell survival. Mesenchymal cell survival is likely due to multiple factors, including enhanced or sustained responsiveness of these cells to growth factor signals and the resistance of mesenchymal cells to apoptosis.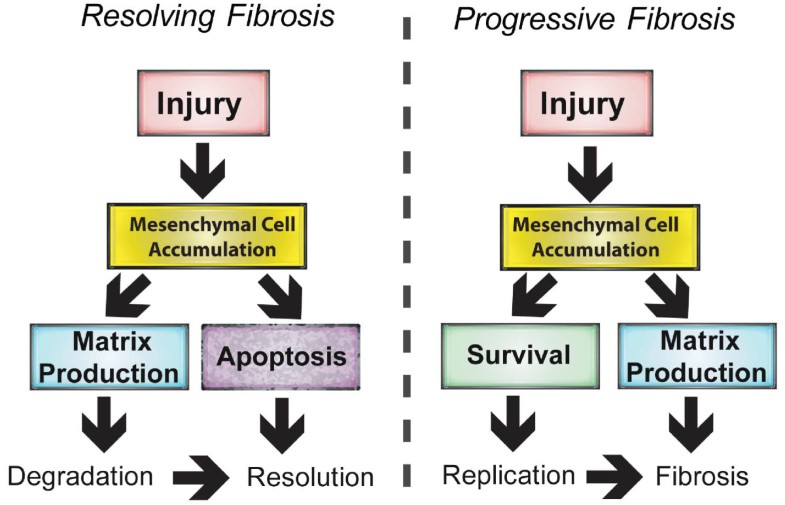 Conclusions
Lung fibrosis encompasses a wide spectrum of diseases and disorders that are initiated and perpetuated by a complex interplay of genes and environment. Despite the diversity of causes for fibrosis and the multiple mechanisms that initiate the disease process, a common denominator that is pivotal to disease progression is survival of mesenchymal cells. Nevertheless, current treatment strategies have not been effective in preventing or managing pulmonary fibrosis. Apoptosis of fibroblasts is required for successful wound healing and termination of collagen deposition [70], and resistance to apoptosis has been observed in fibroblasts from IPF patients [103]. Therefore, promoting mesenchymal cell apoptotic pathways at the appropriate time after lung tissue repair may help slow the progression of fibrosis. Targeted therapy aimed at growth factors (e.g., PDGF or TGF-β1) and their receptors to limit mesenchymal cell survival and collagen deposition seems a logical path for the treatment of fibrosis, given the important roles that these growth factors play in mesenchymal cell survival and collagen production. However, while growth factor tyrosine kinase inhibitors showed promising results in attenuating lung fibrosis in experimental animal models, recent studies with kinase inhibitors (e.g., imatinib mesylate or Gleevec) have shown no effect on the survival or lung function of patients with IPF [109]. Likewise, clinical trials with IFN-γ, which also showed promising results in animal models of pulmonary fibrosis, have failed to show any significant beneficial effect in IPF patients [77]. As discussed in more detail above, IFN-γ is clearly growth inhibitory to mesenchymal cells through STAT-1 signaling, but there is also evidence that indicates IFN-γ can promote mesenchymal cell survival through STAT-1-independent signaling [79]. It has been suggested that animal models of pulmonary fibrosis (e.g., bleomycin) do not adequately model IPF. However, fibrotic reactions in IPF patients undergoing treatment with IFN-γ or imatinib are relatively end stage after much tissue scarring has occurred, and interfering with mesenchymal cell survival at this point may simply come at a stage that is too late to be effective. Imatinib therapy might be effective in the early stages of fibrogenesis as in patients undergoing lung transplant who suffer a high incidence of bronchiolitis obliterans [110]. Some anticancer therapies, such as those targeting erbB2 (an EGF receptor family member) with monoclonal antibodies, might be considered for lung fibrosis therapy to reduce mesenchymal cell survival and resolve a fibrotic reaction. Finally, antifibrotic drugs tested in the future could be more efficiently administered to target tissues via nanoparticle-mediated drug delivery, although some caution should be used as some nanoparticles exacerbate airway fibrotic reactions in mouse models of allergic asthma [111]. Mesenchymal survival remains an important issue, and further research toward controlling the survival of these cells should eventually result in the development of effective treatments for lung fibrotic diseases.
Declarations
Acknowledgements
Funding was provided by NIEHS grants R21 ES015801-01 and RC2 ES018772-01.
Authors' Affiliations
(1)
Department of Environmental and Molecular Toxicology, North Carolina State University, Raleigh, USA
Copyright
© Bonner; licensee BioMed Central Ltd. 2010
This article is published under license to BioMed Central Ltd. This is an Open Access article distributed under the terms of the Creative Commons Attribution License (http://creativecommons.org/licenses/by/2.0), which permits unrestricted use, distribution, and reproduction in any medium, provided the original work is properly cited.