Emerging role of the interleukin (IL)-33/ST2 axis in gut mucosal wound healing and fibrosis
Fibrogenesis & Tissue Repair
2012
5:18
Received: 8 August 2012
Accepted: 31 August 2012
Published: 14 October 2012
Abstract
Interleukin (IL)-33 (IL-1F11) is the newest member of the IL-1Family of cytokines and has been best characterized as a potent inducer of T helper (Th)2 immune responses. Increasing evidence, however, indicates that IL-33 also represents an important mediator of mucosal healing and epithelial restoration and repair. As such, IL-33 follows the trend of several innate-type cytokines, including members of the IL-1Family (for example, IL-1α, IL-1β, and IL-18), that possess dichotomous roles of inducing a potent proinflammatory response, while also promoting protection and the return to immune homeostasis. This dual function is best depicted in the gut mucosa and is dependent upon the immunological/genetic status of the host and/or the type and phase of the ongoing inflammatory process. IL-33 has also been described as a prototypic 'alarmin' that has the ability to signal local, innate immune responses of trauma or infection in an effort to mount an effective, physiologic inflammatory reaction to induce mucosal healing and restore normal gut equilibrium. Finally, several recent studies have reported the role of IL-33 during fibrogenesis as fibrosis is commonly thought to occur as the end stage of dysregulated wound healing wherein chronic tissue damage is paired with uncontrolled activation of mesenchymal cells. Taken together, aside from its established function of promoting potent Th2 immune responses, IL-33 is emerging as an important cytokine for the induction of mucosal healing and restoration of intestinal homeostasis, as well as playing a central role in fibrosis and wound repair. The present review will focus on what is currently known regarding IL-33's role in gut mucosal wound healing and fibrosis, as well as touch on its potential contribution to tumorigenesis and GI-related cancer, an alternate outcome of dysregulated epithelial proliferation.
Keywords
IL-33/ST2 axisIL-1FamilyAlarminInflammatory bowel diseaseMucosal healingEpithelial restoration/repairIntestinal fibrosisTumorigenesis
Conclusions
The present review provides evidence that, aside from its central role as a classic proinflammatory cytokine promoting Th2 immune responses, IL-33 also plays a critical role in modulating epithelial repair, mucosal healing, and fibrosis in the GI tract during normal gut homeostasis and in the setting of chronic intestinal inflammation (summarized in Figure
1
). Although less developed, a potential association between IL-33/ST2 in the process of tumorigenesis and GI-related cancer may also exist. Based on this new information, novel pathogenic hypotheses can be formed that have important translational implications in regard to the prevention and treatment of chronic intestinal inflammation, including CD and UC. IL-33 may also play a potential role in sustaining tumor growth, by modulating host immune responses against tumor cells and/or in the recruitment of SEMFs to support their growth. Further mechanistic studies will clarify the precise physiologic and pathophysiologic role of IL-33 in the GI tract.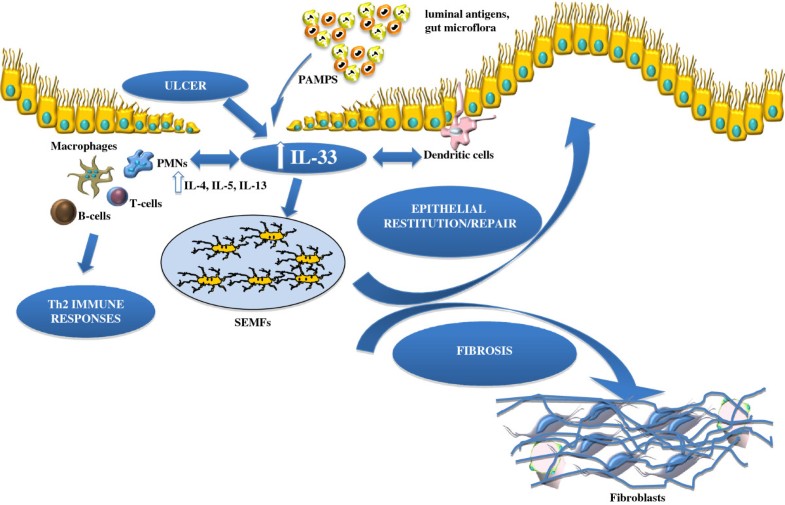 Abbreviations
AP-1:

activator protein-1
CD:

Crohn's disease
DSS:

dextran sodium sulphate
GALT:

gut-associated lymphoid tissue
GI:

gastrointestinal
HSC:

hepatic stellate cell
IBD:

inflammatory bowel disease
IEC:

intestinal epithelial cells
IFNγ:

interferon gamma
IL:

interleukin
LPS:

lipopolysaccharide
MAPK:

mitogen-activated protein kinase
SAMP:

SAMP1/YitFc
SEMF:

subepithelial myofibroblast
TGFβ:

transforming growth factor beta
TLR:

toll-like receptor
TNBS:

trinitrobenzene sulfonic acid
TNF:

tumor necrosis factor
Treg:

T-regulatory cell
TSLP:

thymic stromal lymphopoietin
UC:

ulcerative colitis
WT:

wild-type.
Declarations
Acknowledgements
The authors would like to acknowledge continued support for their work from the National Institutes of Health (DK056762 and DK057880/PPG5 to TTP).
Authors' Affiliations
(1)
Department of Pathology, Case Western Reserve University School of Medicine, Cleveland, USA
(2)
Department of Internal Medicine, Gastroenterology Division, Catholic University of Rome, Policlinico Universitario Agostino Gemelli, Rome, Italy
Copyright
© Lopetuso et al.; licensee BioMed Central Ltd. 2012
This article is published under license to BioMed Central Ltd. This is an Open Access article distributed under the terms of the Creative Commons Attribution License (http://creativecommons.org/licenses/by/2.0), which permits unrestricted use, distribution, and reproduction in any medium, provided the original work is properly cited.